Mental Health System Fails with Lethal Results
We see signs of how the mental health system suffers, but too often, the mental health system fails with lethal results. We all know that the mental health system fails, but have we ever thought of the results of that failure? In the case of Jamycheal Mitchell, another #BlackLivesMatter death no one is talking about, a $5 theft and subsequent jail stay proved fatal. Once again, the mental health system fails with lethal results.
How the Mental Health System Failed Jamycheal Mitchell with Lethal Results
According to The Guardian, Jamycheal Mitchell had bipolar disorder and schizophrenia. One day, he stole $5 worth of groceries. He was arrested for petty theft and trespassing, and held in a Virginia jail. The judge found him incompetent to stand trial, and ordered him sent to Eastern State Hospital. This is where the outrage starts.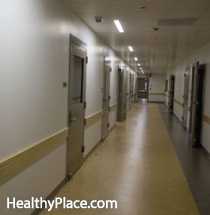 Mitchell was held without bail. According to the jail, there were no beds available at the hospital. According to Mitchell's family, the hospital had no information about the court order and no information regarding bed availability. Months passed, and Mitchell began to refuse food and medication. His emaciated body was found in his cell. His death was treated as "natural causes" (A Broken System: Mental Illness and Correctional Facilities).
Whose fault is it that Mitchell died while waiting for transportation and a bed? The court clerk told The Guardian "It's hard to tell who's responsible for it."
There was a small blurb in the local media about an inmate death, but mostly no reaction from the media until The Guardian picked up the story.
Mental Health System Failure: More Need Than Beds
I spent 13 months in the state hospital system. Four of those months was at a hospital in east Indiana, where I was sent to wait for a bed to become available on the unit that my treatment team wanted to send me. The committing psychiatrist told me it would take months for the transfer to go through--there was more need than there were beds.
This is a story that's repeated all across the country, and if you ask a mental health professional why, they'll blame former President Ronald Reagan. Reagan announced the closure of several state hospitals and the reduction of beds in many more to focus on community-based treatment. Said treatment never materialized. So now we have a significant number of people who need to be in the psych ward either on the streets or in jail.
The problem is so bad here in Indianapolis that several years ago the local alternative newsweekly ran a satirical piece announcing the merger of one of the local psychiatric facilities and the Marion County Jail. The public was outraged--they'd taken the article seriously. Even then, however, there was no will to fix the problem. So our jails continue to be the leading provider of mental health services.
Jails are poorly equipped to handle mental health problems. Staff are trained to punish, not treat. And the jail environment is not conducive to treatment. For example, according to the book Criminalizing the Seriously Mentally Ill: The Abuse of Jails As Mental Hospitals, in Flathead County, Montana, the county jail routinely accepts emergency psychiatric admissions--which means they frequently hold people without charges. The "soft cell" is
a barren, padded room with a grate in the floor serving as a toilet and a TV monitor by which the person can be constantly observed. Meals are passed through a slot in the door. There is a window in the door but it can be closed from the outside so the person cannot see out at all. It is, in essence, a padded tomb in which the person is under constant observation.
Try getting better in that environment.
Mental Health System Failure: Communication
I believe the jail when they say there were no beds available at the state hospital, but they should have searched the area for short-term hospitals for a bed or allowed him to bail out and gotten an emergency outpatient commitment order (that forces you to comply with treatment or sent to a psychiatric hospital). What concerns me is that the state hospital had no idea whether or not a bed was available, not to mention no idea about the treatment order. Communication failed with lethal results.
Mitchell's family was also out of the loop, even though they tried to advocate for him. Mitchell did not list his family as authorized visitors, so they were not allowed to visit or call him. His family called both the jail and the state hospital multiple times to try and get him into treatment. But because he didn't approve their visits, their pleas went unheard. His right to medical privacy trumped his right to treatment.
Do Some Lives Matter More Than Others?
There is next to nothing in the media about Mitchell's death. The story has mostly been covered in foreign media. I have not seen a #JusticeForJamycheal hashtag on Twitter and have not seen his death connected to the #BlackLivesMatter movement.
Do some lives matter more than others? Are psychiatric patients' lives worth less than the "normal" lives? In Jamycheal's case, his life was worth $5--surely we matter more than that. But in order to matter, we have to have the public ready and willing to help pay for treatment. We must act when the mental health system fails with lethal results to make sure it never happens again.
You can also find Becky Oberg on Google+, Facebook, Twitter and LinkedIn.
APA Reference
Oberg, B. (2015, August 31). Mental Health System Fails with Lethal Results, HealthyPlace. Retrieved on 2023, November 28 from https://www.healthyplace.com/blogs/recoveringfrommentalillness/2015/08/mental-health-system-fails-with-lethal-results
Author: Becky Oberg
My friend recently died from dysphagia that doctors said was caused by tardive dyskensia. He was on anti-psychotics for decades. I always felt he was overmedicated. The last year of his life he had troubled with falls (he was middle aged). I kept asking if the could reduce his meds but the stupid, bureaucratic system he was in could not seem to do that. He was a poor African America on medicaid. He was super smart and self educated. I feel that the protocols of mental health treatment including overuse of drugs do indeed kill people. Unable to swallow without a tube he was placed in hospice with loads of morphine and died in a week.
Again, I feel strongly we are overmedicating people in the United States and killing them.
Well HELL there is indeed way entirely more severe abuse to a Psychiatric Mental Patient with in an Inpatient locked unit of any given Mental Health Behavioral Psychiatric Wing of every Hospital Nation Wide! Depressed Psychiatric Patients are prescribed massive doses of over seddating Anti-Depressives that virtually render them both Catatonic & Comatose W/ their tongues hanging out, dangling & drooling as a form of invisible strait jackets knocking them the Fuck out intentionally for the low maintenance & interactive challenges to Psychiatric Doctors, Nurses & after release for the low labor needed to be exerted by that Psychiatric close family relatives home he is being sent home together to interactively live W/! Anti-Depressant's do nothing more than literally render a Psychiatric Mental Patient Catatonic, Comatose & drunk on sedatives easy to care for & manage by every one around them ...because their literally asleep 19 hours out of any given day immediately after just awakening from an 8 hour nightly rested sleep & following breakfast instantly once again after being forced to consume their Anti-Depressants ....absolutely a bother to no one as their immediately snoring & slobbering & dreaming their entire day away convieniently a nuscence & trouble nor challenge to no one! This is down right GOD DAMN FULL THROTTLE ...ABUSE! How terribly tragic & indeed sad! ~Hollister Ann Horn~
Leave a reply