I Want to Give Up on Antidepressants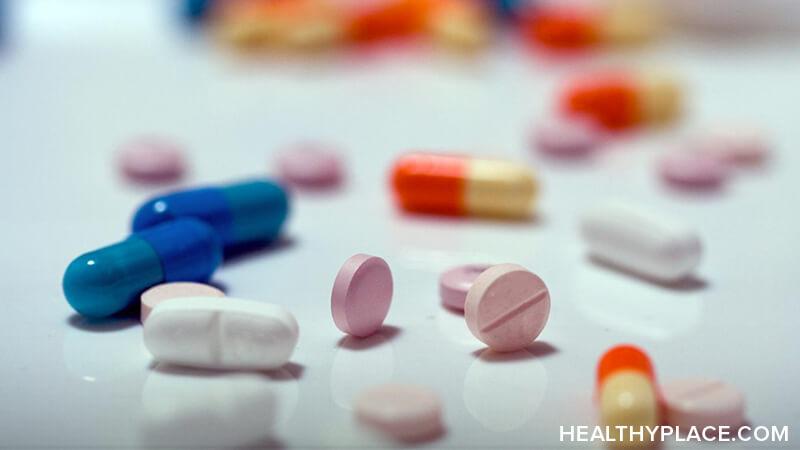 A couple of weeks ago, my therapist suggested a change in my medication. I'm currently on my fifth antidepressant in two years. No matter how much a medication seems to work to treat my depression and anxiety symptoms, it seems that there always comes a time when I need to try something else. And at this point, I almost want to give up on antidepressants.
Why I Feel Like Giving Up on Antidepressants
Finding the Right Medication Is Frustrating
The journey has been long and often disappointing. It typically takes four-six weeks for the benefits of a new medication to kick in, so it's a commitment as much as it is a leap into the dark. Giving up on antidepressants seems like the easier choice: less disappointment, fewer negative side effects, less time invested in something that feels futile.
I don't even have the motivation to eat three meals a day; how could I possibly find the motivation to try (yet another) new antidepressant? I've been doing this for a long time. Each change comes with potentially damaging side effects, including suicidal thoughts, weight gain, appetite changes, sleep disturbances, and difficulty concentrating. 
I never know if an antidepressant will work until it very clearly doesn't--which could be anywhere from four days to three months after I begin taking it. There aren't many sure-fire ways to know what medication will work for an individual. It comes down to trial and error. And I've experienced a lot of errors in my recovery journey.
The Side Effects of Antidepressants Are Hard to Tolerate
With some antidepressants, I stuck with them long enough to know that they lessened mental illness symptoms. However, I still don't feel like I've found the perfect one. Each has its side effects, and I have to choose which side effects are worth tolerating.
For example, the medication I'm on right now allows me to be in social situations without getting anxious, but getting going in the morning is tough, and I find myself restless at night. I've been living with these side effects because I'm simply thankful that I can be around people again.
As someone on a quest for the best medication for me, I must appreciate the victories, no matter how small, even if they're clouded by what looks like losses. I'm open with my psychiatrist about the pros and cons of each. The decision to try a new medication is still ultimately up to me, which is empowering. That being said, the process still leaves me overwhelmed and downtrodden occasionally.
I Won't Give Up on Antidepressants
Antidepressants give me a chance at feeling better. I may need a few more years to find the dosage and the medication that work best for me, but I think I'm willing to keep going.
As frustrating as the process is, and as much as I want to stop taking antidepressants, I believe that medication is a good tool for me right now. I hope that the medication can act as a glue that puts the damaged parts of my brain back together so that one day I won't need antidepressants anymore. But for now, I'll keep trying.
APA Reference
Clawson, A. (2021, June 2). I Want to Give Up on Antidepressants, HealthyPlace. Retrieved on 2023, October 4 from https://www.healthyplace.com/blogs/mentalhealthforthedigitalgeneration/2021/6/i-want-to-give-up-on-antidepressants
Author: Annabelle Clawson