Providing Support for a Suicidal Friend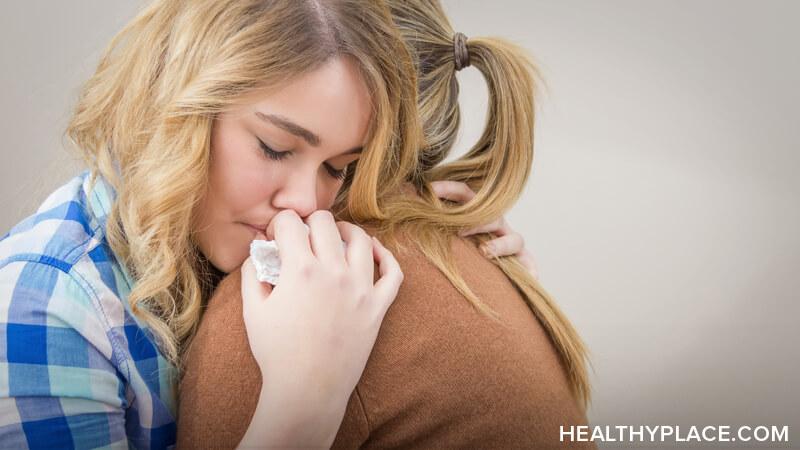 Trigger warning: This post contains a frank discussion of suicide as it pertains to supporting a suicidal friend.
Let's face it; most people feel uncomfortable when the word suicide comes up in conversation because we don't know how to support a suicidal friend or loved one. No one wants to think about losing someone to suicide. It can be painful to hold space for someone struggling with suicidal thoughts. You might think, "I don't know what to say. What if I make it worse?" Luckily, providing support for a suicidal friend or loved one is more straightforward than it seems.
Providing Support When a Friend Is Suicidal
When I was in graduate school, I worked for the National Suicide Prevention Lifeline. I worked on a mobile unit that responded to calls in the field. If a person called the hotline and said they were suicidal, they were offered a pair of crisis specialists to come to them wherever they were, day or night, to support them and create a safety plan with them. We also provided transportation to the hospital for those who could not be stabilized in the field, but the vast majority of people who called didn't need to go to the hospital. People needed someone to listen to them, to validate their pain, and to show compassion for their suffering. More often than not, once they felt heard and cared about, they were willing to make a safety plan and send us on our way ("Is Talking About Suicide with a Suicidal Person Dangerous?").
My experience working for the National Suicide Prevention Lifeline taught me many valuable lessons, but one stood out among them all: everyone wants to be seen. We want our existence to matter. We want our pain acknowledged and comforted. We want to know we aren't alone. When we meet these basic needs for others, it gives them the strength to keep going. It provides hope that things will get better.
How to Help and Support a Suicidal Friend
You don't need to be a mental health professional or a trained crisis specialist to support a suicidal friend. Don't be afraid to ask a loved one if he or she is considering self-harm. Asking a person questions about suicide will not make that person suicidal. If one is considering self-harm, that person might be relieved to know you see that person's suffering and care so much about it.
Consider saying the following helping statements:
I care about you and I support you.
Let's call the crisis hotline together.
You aren't a burden. I want to be here for you.
How can I help you stay safe?
We don't have to talk right now. I can just sit with you.
We will get through this together.
Your pain is valid.
If you feel that you may hurt yourself or someone else, call 9-1-1 immediately.
For more information on suicide, see our suicide information, resources and support section. For additional mental health help, please see our mental health hotline numbers and referral information section.
APA Reference
Green, H. (2019, September 11). Providing Support for a Suicidal Friend, HealthyPlace. Retrieved on 2023, December 8 from https://www.healthyplace.com/blogs/livingablissfullife/2019/9/providing-support-for-a-suicidal-friend
Author: Heidi Green, Psy.D.