Dissociative Identity Disorder: Glossary of Terms
Understanding Dissociative Identity Disorder depends somewhat on your grasp of the terminology, at least initially. Certainly discussing DID is easier if we're all using the same glossary of terms. Following is a list of words and phrases I tend to use when writing about Dissociative Identity Disorder, along with my definitions for each. If you have anything to add, or if my definitions don't quite match up with yours, I hope you'll share in the comments section.
Glossary of Terms I Use when Discussing Dissociative Identity Disorder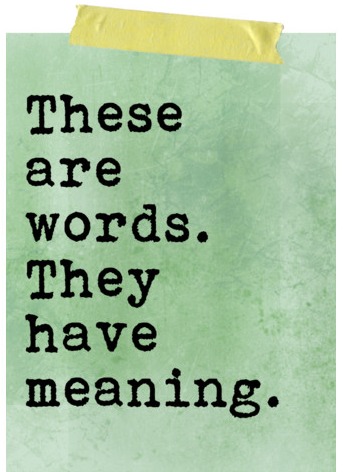 Alter. I define alters as dissociated parts of self that:
operate independently
perceive themselves and the world in their own, unique way
have either the capacity to assume control of the mind and body, or
the ability to exert enough influence to impact the thoughts, feelings, and behaviors of the presenting alter.
In my personal life I prefer the term personality states. I use alter in my writing because it's more universally recognized.
Host. The personality state that spends the most time out, interacting with the world. If you know a better word I'd love to hear it. I hate host. It makes me feel like I'm either throwing a party or harboring parasites.
Integration. The blending of two or more alters. Some people with DID achieve total integration - complete fusion of all alters into one reasonably cohesive, though still multi-faceted identity.
Losing time. When people with Dissociative Identity Disorder experience dissociative amnesia, it often feels as though a chunk of time is missing. This can be anywhere from minutes to years.
Multiple. Because DID was known as Multiple Personality Disorder in the United States until 1994, and is still referred to as such in other countries, multiple is widely used shorthand for someone with Dissociative Identity Disorder.
Do I contradict myself?
Very well then I contradict myself,
(I am large, I contain multitudes.)

- from "Song of Myself" by Walt Whitman
Parts. Another word for alters.
System. We refer to all alters of an individual with Dissociative Identity Disorder as a system. This particular word really deserves it's own, more in-depth post to properly explain why we say system rather than, for example, team or group. I worked with a doctor once who used the term self-system, which I like very much as it reinforces that we are all really parts of one self, though we experience ourselves separately.
How Does Your Glossary of Terms Differ?
Certainly not an exhaustive list, these definitions are gleaned from personal experience and years of research. You may define some words or phrases differently. The words we select to define and express our lives with DID reflect how we feel about the disorder itself, and ourselves as people who have it. As we grow and change, so may our perspectives of Dissociative Identity Disorder change and, in turn, the words we use to talk about it. Regardless of what those attitudes and perspectives are, having the words to name your own truth is a powerful and liberating thing.
Follow me on Twitter!
APA Reference
Gray, H. (2011, January 3). Dissociative Identity Disorder: Glossary of Terms, HealthyPlace. Retrieved on 2019, September 15 from https://www.healthyplace.com/blogs/dissociativeliving/2011/01/dissociative-identity-disorder-glossary-of-terms
Author: Holly Gray
Hi Laurie,

Thank you so much for commenting. I'm really glad you've found Dissociative Living to be a fair representation of some of what you experience as someone with Dissociative Identity Disorder. I want very much to do justice to those living with DID. So your words mean a lot to me.

It sounds like nobody really like the term "alter" all that much. And I really like what you had to say about the word "system" and your experience with family systems theory.

"Using the word system allows what is ME to be a work in progress."

Yes! I feel that way too. And I completely agree that everyone has parts in a way, aspects of self. Cohesive identities are still multi-faceted. This is why I believe even those who don't have DID can relate to it if they can get past the mythology and stereotypes.

Thanks again, Laurie. I hope to see you again!
Hi beautifulstones,

I will say that I don't believe anything about a DID system "must" or "must not" be. Not all alters have names, not every system has one host, etc. We're all unique. There are certainly hallmarks of Dissociative Identity Disorder - and those are where we can relate so well to each other and feel less alone. My hope is that validation helps to minimize the feelings of "otherness" that are so common with this disorder.

Thank you for reading, beautifulstones, and taking the time to comment. I hope to see you again!
Leave a reply