Kurt Cobain's Suicide, My Schizoaffective Suicidal Thoughts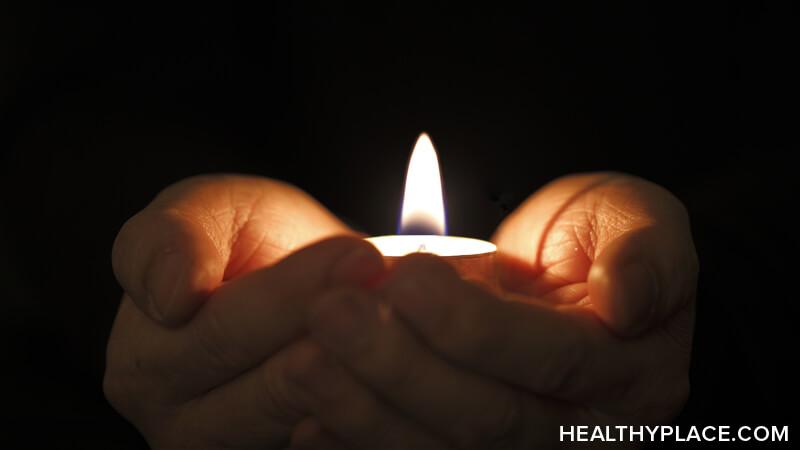 Trigger warning: This post involves a frank discussion of suicidal ideation.
Even though Kurt Cobain died by suicide years before I started experiencing schizoaffective disorder's suicidal ideation, his death would have a big impact on my suicidal thoughts.
How Kurt Cobain's Life Impacted Me Pre-Schizoaffective Disorder
Before I tell you about how Cobain's death affected me, I want to share how his life and music influenced me. Grunge--the lifestyle that his band Nirvana and other early 1990s bands like Pearl Jam, the Smashing Pumpkins, and Sonic Youth ushered in--reveled in offbeat, pseudo-punk anti-fashion, and an underdog philosophy. That resonated liberation for me at the age of 13. All of a sudden, it was cool to be a weirdo, and a weirdo I definitely was.
So, even though I didn't yet experience suicidal ideation when Cobain died in 1994, I was shocked and bewildered by his suicide. I was almost 15. I remember the day I heard the news from a friend over the phone; I went for a walk and lay down under a swing set in a playground and thought about Kurt Cobain. I had just read an interview with him in Rolling Stone magazine, and he sounded so articulate, intelligent, and astute. I'd gained even more respect for him than I'd already had. And then he was gone.
Kurt Cobain's Impact on My Schizoaffective Suicidal Ideation
I want to say here that I've lost friends, people I actually knew, to suicide, and of course, those deaths affected me more than Kurt Cobain's did, especially since they occurred after I had been diagnosed with schizoaffective disorder and was starting to struggle with suicidal ideation as I found out later he had struggled. Unlike people with a plan to take their lives, suicidal ideation can often mean just thinking about it. Unlike many of us, ideation took him into darker territory.
Cobain was one of the most iconic figures of my generation, and knowing he had struggled with some of the same feelings I was struggling with and that he, like my friends, had lost the battle made me feel even more vulnerable than I already did.
I still struggle with schizoaffective suicidal ideation. However, I've developed coping skills to deal with these feelings. The first thing I do is call someone to talk about my feelings. If no one is available to talk, I try to distract myself by watching a movie I really like, listening to music, or, if I'm up for it, going for a walk. In the past, I've gone to the emergency room a couple of times, and I've even been an inpatient in a psychiatric ward. But I haven't felt the need to go to the hospital for my ideation in years.
I chose to write this article because April fifth was the 27th anniversary of Kurt Cobain's death, and he was 27 years old when he died. His suicide left a wound that scarred my generation, especially for those of us who struggle with suicidal thoughts now.
If you are having thoughts of harming yourself, these thoughts should be taken very seriously. Please click here for suicide hotlines and resources.
APA Reference
Caudy, E. (2021, April 29). Kurt Cobain's Suicide, My Schizoaffective Suicidal Thoughts, HealthyPlace. Retrieved on 2023, September 22 from https://www.healthyplace.com/blogs/creativeschizophrenia/2021/4/kurt-cobains-suicide-my-schizoaffective-suicidal-thoughts
Author: Elizabeth Caudy