I'm Not Changing Antipsychotics for Schizoaffective Disorder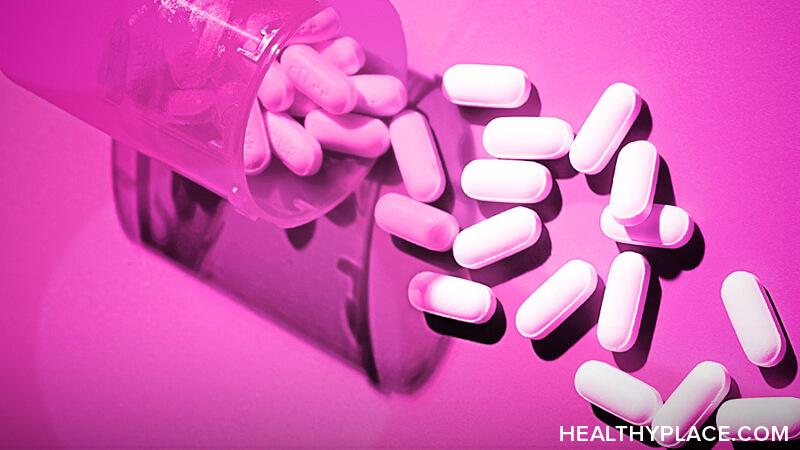 The medication cocktail I take is far from perfect. For one thing, it doesn't stop my schizoaffective anxiety from remaining a disabling challenge. For another, my antipsychotic causes a ridiculous amount of weight gain. So you'd think that when I learned about a new antipsychotic on the market, I'd jump at the chance to try it. I'm not jumping. Here's why.
Changing Antipsychotics I Take for My Schizoaffective Disorder
As far as the weight gain goes, those of you who follow this column know I'm not talking about 10 or 15 pounds here. When I first went on it over 20 years ago, it caused an astonishingly significant weight increase and does so to this day. And later, under the guidance of a doctor, I did go from medication to medication, looking for an antipsychotic that treated my schizoaffective disorder without causing the upward weight swings.
The first antipsychotic I tried made me nauseous--I headed to the bathroom often. The next few made me intensely manic. While I was on them, I picked fights and said nasty things to people I care about. Friendships ended--and I sent out nonsensical emails to everyone on my list. The last medication I tried caused symptoms of obsessive-compulsive disorder (OCD). So, I went back to my original antipsychotic, and I've stayed on it.
With this history, I'm very skittish about medication changes, especially with antipsychotics. In my opinion, these medication changes are the worst changes.
Schizoaffective and Feeling Healthy
So I am not even considering a switch from the antipsychotic I take for my schizoaffective disorder, even if there's a possibility that I could lose weight. I exercise five days a week, and I've all but cut out refined sugar, so I think I'm pretty healthy.
And I feel the most mentally healthy I've ever felt. That's the truth. What my medication lacks in decreasing my schizoaffective anxiety, I am compensating for with cognitive behavioral therapy (CBT), a type of therapy that seeks to change the way you think about circumstances and people in your life. It's a lot of work, but it's good work. I do CBT with a therapist who I see every week. (Right now, in this era of the pandemic, I see her virtually.)
My husband, Tom, agrees and says he thinks I'm doing the best I've ever done on any medication mix. I haven't heard voices in almost two months, either.
The weight gain is harsh, I'll admit. But I choose to put my mental health before my weight.
APA Reference
Caudy, E. (2021, April 15). I'm Not Changing Antipsychotics for Schizoaffective Disorder, HealthyPlace. Retrieved on 2023, October 2 from https://www.healthyplace.com/blogs/creativeschizophrenia/2021/4/im-not-changing-antipsychotics-for-schizoaffective-disorder
Author: Elizabeth Caudy