Fall Soothes My Schizoaffective Disorder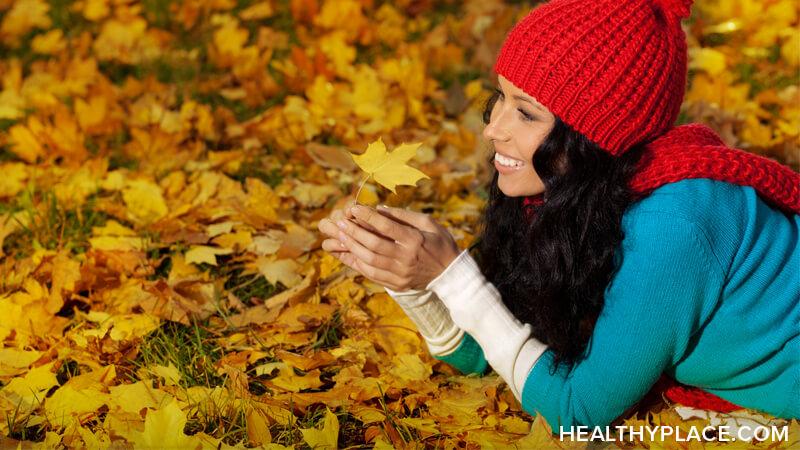 Fall is my favorite season. It's a very healing time of year for me and my schizoaffective disorder with the cooler weather and still sunny days. And this year, I'm appreciating fall as much as I can.
Why Fall Is Healing for My Schizoaffective Disorder
The cooler weather is a big part of why fall is a good season for my schizoaffective disorder. The summer heat triggers my schizoaffective anxiety. I really like wearing hooded sweatshirts and jackets, and fall is the perfect weather for that.
Fall has been my favorite season since I was a little kid. I remember one of my friends in middle school saying she thought it was unusual to like fall more than spring. But in Chicago, we don't really get much of a taste of spring. It's basically winter until May. And, in what passes for spring here, it rains a lot--my schizoaffective anxiety makes me skittish about going out in the rain. I can't explain why.
Because of My Schizoaffective Anxiety, I Celebrate Halloween My Own Way
Now, I know plenty of people with schizoaffective disorder and with anxiety can celebrate Halloween, but, for me, my illness makes it hard for me to celebrate, even though I love autumn.
First of all, parties stress me out. I realize this Halloween won't involve too many parties because of COVID-19. But in the past, that's been a hard thing for me. I don't decorate for Halloween either because my apartment is so messy and disorganized, and it's really hard for me to decorate at all. Then there's the final blow--I don't like scary movies.
So, my husband Tom and I celebrate Halloween in our own way. We watch a Halloween-themed movie that isn't a horror movie, like Ed Wood, Tim Burton's movie starring Johnny Depp about the B movie director who is famous for his bad movies that tended to revolve around scary themes. And I usually wear a simple costume: a hat with cat ears that Tom knitted for me, eyeliner whiskers, and a dab of pink lipstick on the tip of my nose.
When I was a kid, my parents used to take us apple picking in the fall, and we'd carve jack-o-lanterns. Tom and I don't do those things, but, again, we celebrate fall in our own way. I've been taking more walks outside to enjoy the weather. Because of COVID-19, it's a challenge, though. I get angry at people who aren't social distancing or bothering to wear a mask. But I feel that being outside is the most important way I can enjoy fall, and walking outside is good for my schizoaffective anxiety.
Also, I bought a selection of lotions with fall-inspired scents such as pumpkin latte and apple. Tom and I even got a pumpkin-scented bathroom spray that smells just like fresh-baked pumpkin pie.
I'm enjoying myself. Having joy in my life is one of the most important supports to fight my schizoaffective disorder and the anxiety that comes with it.
APA Reference
Caudy, E. (2020, October 15). Fall Soothes My Schizoaffective Disorder, HealthyPlace. Retrieved on 2023, June 10 from https://www.healthyplace.com/blogs/creativeschizophrenia/2020/10/fall-soothes-my-schizoaffective-disorder
Author: Elizabeth Caudy