A Virtual Walk to Fight Schizoaffective Disorder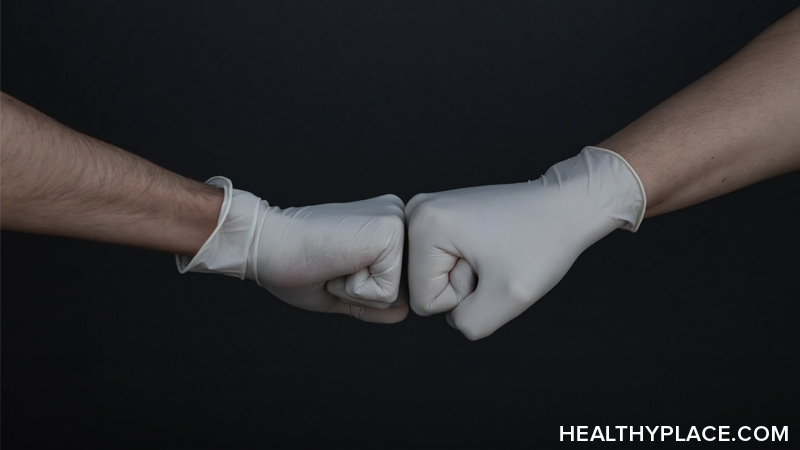 On October 10, World Mental Health Day, my husband, Tom, my mother, and I embarked on a National Alliance on Mental Illness (NAMI) Walk. We had raised almost $1,000 for NAMI. We'd certainly raised more than we ever had in the past. So that was great. But this walk was different than any other NAMI Walk. It was a virtual walk. Allow me to explain what that means.
This Year, I Walked to Fight Schizoaffective Disorder Virtually
First of all, you should know that we walk mainly because I have schizoaffective disorder and because my Uncle Bud, who died last year, also had schizoaffective disorder, though with more serious symptoms. The way I see it is that if you have an illness like schizoaffective disorder, be proactive about the way the world views that illness. One of NAMI's main priorities is fighting stigma. So, I want to help.
But this year, because of COVID-19, the officials at NAMI didn't think it was safe for a whole group of us to meet and walk together, even if it was outside, and we all wore masks. So, as I said, they had each team of fundraisers do a virtual walk. It didn't even have to be a walk. Some people did yoga on their own for the amount of time it would take to do a five-kilometer walk.
My mom, Tom, and I did our own walk. We walked through the lakefront suburb north of Chicago, where we live. The fall colors were in full bloom on the trees. I took pictures on the walk and shared them on Facebook, with the hashtags #NotAlone, #MentalHealthforAll, and #NAMIWalks. We were asked by NAMI to share our photos and experiences in the Zoom meeting I had attended to plan the walk when it was still upcoming. I even took a selfie of all of us donning our masks in the apple-tart sunshine that blessed us that day.
My Mom, Tom, and Many Others Support Me in My Fight Against Schizoaffective Disorder
Tom and I have been doing the NAMI Walk every year since 2007, the year we got engaged. We've only missed one year, 2018, because we were in Door County for our 10th wedding anniversary. This year, my mom joined us.
Although I missed the rousing fervor of the crowd walking together, I liked the intimacy of the virtual walk. We walked through our shoreline park and our neighborhood streets. I was so grateful to have my mom and Tom on the walk with me. Doing the virtual walk with me is just one of the ways they, as well as the rest of my family and my friends, show their love and support with me in my ongoing fight against schizoaffective disorder and anxiety.
See Also
APA Reference
Caudy, E. (2020, October 29). A Virtual Walk to Fight Schizoaffective Disorder, HealthyPlace. Retrieved on 2023, May 31 from https://www.healthyplace.com/blogs/creativeschizophrenia/2020/10/a-virtual-walk-to-fight-schizoaffective-disorder
Author: Elizabeth Caudy