A Wake-Up Call About My Schizoaffective Suicidal Thoughts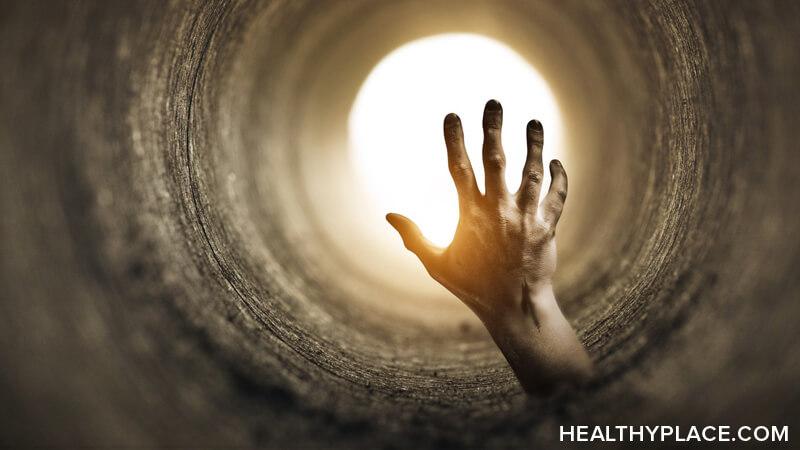 Warning: this post contains a frank discussion of suicidal thoughts related to schizoaffective disorder.
I woke up to the sound of the phone ringing. This wasn't unusual—the medication I take for my schizoaffective disorder makes me sleep late. But the call I was about to take would prove to be very unusual.
The Phone Call that Changed My Mind About My Suicidal Thoughts
I pressed the "accept" option on my cell phone to take the call.
"Hello?"
"Biddit, is that you?"
It was my youngest brother, John. "Biddit" is my nickname--one that he started to use when he was a toddler.
"Yeah, it's me," I replied.
I noticed it was 9:30 a.m. Chicago time—so it was 7:30 a.m. in California, where John lives. That's pretty early for him.
"Is everything okay?" I asked.
"Oh, my God," he cried. "It's so good to hear your voice!"
"Yeah . . . um, it's good to hear your voice, too," I answered, confused.
"It's just, uh—I had a nightmare you weren't here anymore. I dreamed you went up to heaven."
When I asked him how I died, he said that he'd rather not say. But, later, I coaxed it out of him that I'd died by suicide. When he told me that, he started crying.
"I really don't want you to do that," he said.
I started telling him the facts. Yes, I have schizoaffective disorder and, from time to time, I experience suicidal ideation, which means you think about suicide but are far from actually doing anything. I have never attempted suicide. I had a close friend who died by suicide, and I didn't want to do to my friends and family what his suicide did to us.
This Schizoaffective Does Not Want to Die
That phone call stayed with me. I named an amber ring John gave me when he was little my "anti-suicide" ring. I now wear it whenever I'm experiencing suicidal thoughts. It reminds me of that phone call—and him.
Another thing that reminds me of that phone call is a photo of John that I keep by my bed. He's little and adorable, with a mischievous smirk and laughing eyes. I look at that picture and think to myself, "Would I want to kill that sweet little boy's big sister?"
I also have a picture of myself from when I was about two by my bed. I'm playing in a sprinkler and I look so happy. When I look at that picture, I think, "Would I want to kill that precious little girl?"
When I experience schizoaffective suicidal thoughts, it scares me much more than it makes me want to hurt myself. I am lucky that I have so much to live for. I have my family—especially my husband, Tom. I have this blog. Would I still be here if it weren't for that phone call? Probably. But it was not just a phone call. It was a wake-up call.
If you are having thoughts of harming yourself, click here for hotlines and resources.
APA Reference
Caudy, E. (2019, December 26). A Wake-Up Call About My Schizoaffective Suicidal Thoughts, HealthyPlace. Retrieved on 2023, September 28 from https://www.healthyplace.com/blogs/creativeschizophrenia/2019/12/a-wake-up-call-about-my-schizoaffective-suicidal-thoughts
Author: Elizabeth Caudy
This was hard to read but Im so glad you're still with us too! You are so strong Elizabeth, and so inspiring. Thank you for sharing. I love you so much!
Thanks for the comment. I love you too!
Leave a reply