Journaling And Schizophrenia Or Schizoaffective Disorder
People do a lot of things to help with their schizophrenia or schizoaffective disorder, including journaling. I believe taking medication and seeing a therapist are the most important strategies. But there are other things to do for self-care besides that. I know a lot of people swear by meditation. I swear by exercise for schizoaffective disorder, as I've written about previously. But something new has come into my life that helps with my schizoaffective disorder that I'd like to share with you. Well, it isn't exactly new. It's something I've been doing on and off since I was five. Recently I've decided to get serious about it. I'm talking about journaling with schizophrenia or schizoaffective disorder.
Schizophrenia and Taking Journaling Seriously
I've always noticed that my schizophrenic symptoms are better when I'm regularly journaling (Mental Health Benefits of Journaling.). I can think more clearly, and look at situations and relationships more objectively. Most importantly, I can look at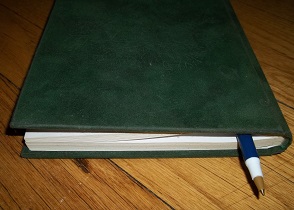 my thoughts and emotions more objectively. So, how have I gotten more serious about journaling? It's mainly a shift in perspective. I've officially labeled it part of my mental health regimen and so I commit to journaling every day, even if I just write a sentence.
A lot of people, including people with schizophrenia or schizoaffective disorder, would like to journal. But it's easy to get stuck and think, "I don't know what to write about." I've had that problem, too. My advice is to start by journaling about your dreams. This is a great way to come to know your inner mind. And once you get started writing, other ideas to write about will come to you.
Journaling Will Not Cure Schizophrenia
I cannot stress enough that journaling will not cure schizophrenia or treat it. It can't replace medication prescribed by a psychiatrist or psychopharmacologist. Medication and regular talk therapy remain the best ways to treat schizophrenia. I see my therapist once a week, and I'm on a cocktail of medications that works for me. Running, and now journaling, simply offer an added boost of wellbeing and confidence. And they help create a routine that can help with sleep cycles and reduce the toll of sleep deprivation. So many other activities within easy reach can reinforce these benefits. Sometimes I do yoga. I also go to church – I find it brings me a sense of peace. Journaling is a great supplement to medication, therapy, regular exercise, and all the rest. I call it spring cleaning for my brain.
My Video about Schizophrenia and Journaling
Photo by Elizabeth Caudy.
Find Elizabeth on Twitter, Google+, Facebook, and her personal blog.