Depression and Being Thankful During the Holidays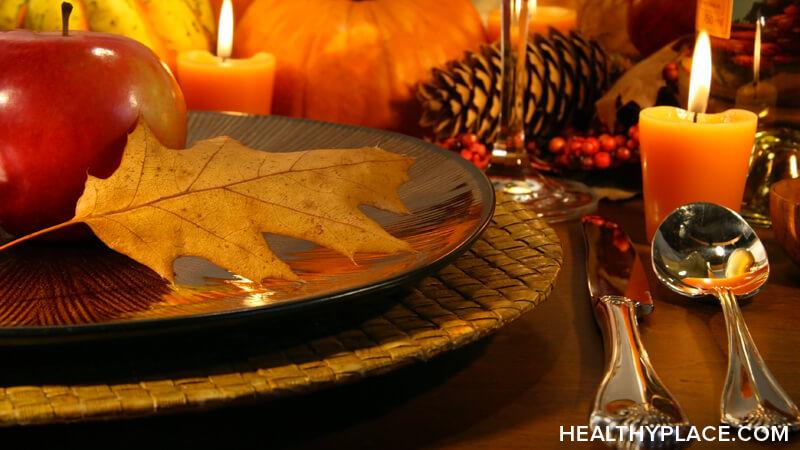 Some of you may immediately be turned off by the mere thought of having depression and being thankful during the holidays, but hear me out. I'm not talking about gratitude here. Rather, I'm talking about using the word "thankful" as an acronym to remind us to practice healthy coping skills, which will allow us to better manage our depression throughout the holiday season.
Depression and Being Thankful This Holiday Season
T is for time-management. Do your shopping a little at a time. You can cook/bake ahead and freeze the food and then thaw and reheat it when it's time for the event. Also, be sure to schedule in time for rest and relaxation for yourself.
H is for hygge. Hygge is a Danish concept that basically means the art of being cozy. I fell in love with this concept while browsing Pinterest and it has truly made a difference in my daily outlook. Think of candles, warm blankets, comfort foods, books, fellowship with people you love -- pretty much anything that makes you feel comfortable. Surround yourself with these things. Decorate your home in such a way that it makes you feel warm and cozy. Make it a safe space and a haven for you. When the stress of the holidays becomes too much to bear, retreat to your special place.
A is for alcohol. We need to monitor our alcohol intake. For some, that may mean no alcohol consumption. For others, it means limited alcohol consumption. With depression, there is a temptation to self-medicate and many turn to alcohol to do that. The holidays only increase this temptation, so be mindful of that.
N is for no. It's okay to say no to family and friends. It's okay to say no to purchasing gifts you cannot afford. It's okay to celebrate or not celebrate the holidays however you choose. You set boundaries, and then you stick to them. When we're coping with depression, sometimes we're not able to handle the big family get-togethers. Don't let anyone make you feel guilty about that. Also, going into debt is not what the holiday season is about. You'll only feel worse later, and then you'll be dealing with negative thoughts and stress that will serve to exacerbate your depression. Learn to say "no."
K is for kindness. Be kind to yourself during the holidays. Do something you really want to do. Take yourself to lunch or a movie. Have you been wanting a nice outfit or set of pajamas? Now is the time to treat yourself. Just do something fun and maybe even a bit frivolous. We so often neglect this part of ourselves when we have depression. When we're in the depths, we're just trying to survive. But we still need to remember that we are people, too. We're still in here. We can still have fun, and we deserve to treat ourselves. Take this holiday season to do something kind just for you.
F is for food. Yes, it's fine if we splurge here and there over the holidays. Keep in mind, however, that we need to eat healthy foods on a consistent basis throughout the season. It's a struggle for many of us to maintain healthy diets anyway, and I know this time of year makes it harder; yet, we know we're only going to feel worse if we overindulge in too many sweets and unhealthy foods and neglect healthier options altogether. Let's keep it balanced so that we can manage our depression and hopefully enjoy the holidays. 
U is for understanding. If this is your first holiday season with depression, you need to understand that it's going to be different. Learn to practice mindfulness. Don't compare this holiday season with the holiday seasons of the past, which is actually good advice for all of us. We need to be compassionate and understanding toward ourselves, and we also need to give a measure of grace and understanding to others as they adjust, too. 
L is for limits. Know your limits. You need to know your limits when it comes to scheduling. You don't want to overschedule during the holidays, especially when you have depression. You need to set your budget limit and then stick to it; overspending is stressful and completely not worth the problems it will cause later. Finally, it's important to know your mental limits. How much time do you need for rest and downtime at home between parties and family functions? How many events can you manage to attend during the holiday season? Are there people at certain functions that are toxic or in some way detrimental to your mental health? Do you go and avoid these people, or do you opt to stay at home? You know your limits. You do what makes the holidays the best possible for you.
How do you stay thankful when you're depressed? Share your thoughts in the comments below.
APA Reference
Smith, J. (2019, November 28). Depression and Being Thankful During the Holidays, HealthyPlace. Retrieved on 2023, June 7 from https://www.healthyplace.com/blogs/copingwithdepression/2019/11/depression-and-being-thankful-during-the-holidays
Author: Jennifer Smith
I love the use of an acronym for this! Holidays and feelings of gratitude are such an assumed part of our general society, but this isn't the case for everyone. I love that you talk about limits and showing kindness to yourself. This is truly so important to remember at all times, but especially at times like the holiday season can leave us all stretched a little thin.
Hello, Lizanne. Thank you for your comment. I'm so glad you found this post helpful. The holidays can be especially difficult for some, and being kind to ourselves can go a long way toward making this season more bearable.
Leave a reply