Self-Medication of a Mental Health Problem
Dual diagnosis is the relationship between substance abuse and mental illness; where people self-medicate using drugs or alcohol to cope with their psychiatric disorder.
Using Drugs or Alcohol to Mask the Symptoms of a Mood Disorder or other Psychiatric Condition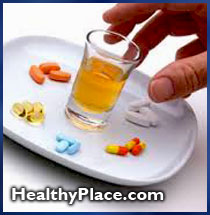 Sometimes people may use alcohol or use drugs to help cover up or mask symptoms of a mood disorder. For example, if a person's mind is racing because of mania, a drink of alcohol may slow it down. If a person has intense sadness or hopelessness because of depression, a drug may help him or her feel happy or hopeful for a period of time. This "self-medication" may appear to help, but it actually makes things worse. After the temporary effects of the alcohol or drugs wear off, a person's symptoms are often worse than ever. Self-medication can cause a person's mood disorder to stay undiagnosed for a long time.
To get better, someone with a dual diagnosis must treat both conditions. First, the person must go for a period of time without using alcohol or drugs. This is called detoxification. The next step is rehabilitation for the substance problem and treatment for the mental disorder. This step might include medicines, support groups and talk therapy.
Sources:
Depression Bipolar Support Alliance
next: How to Treat Coexistent Mental Illness and Substance Abuse
~ addictions library articles
~ all addictions articles
APA Reference
Gluck, S. (2008, December 13). Self-Medication of a Mental Health Problem, HealthyPlace. Retrieved on 2023, October 4 from https://www.healthyplace.com/addictions/articles/self-medication-of-mental-health-problem
Last Updated: June 28, 2016