65 Ways to Improve Your Mood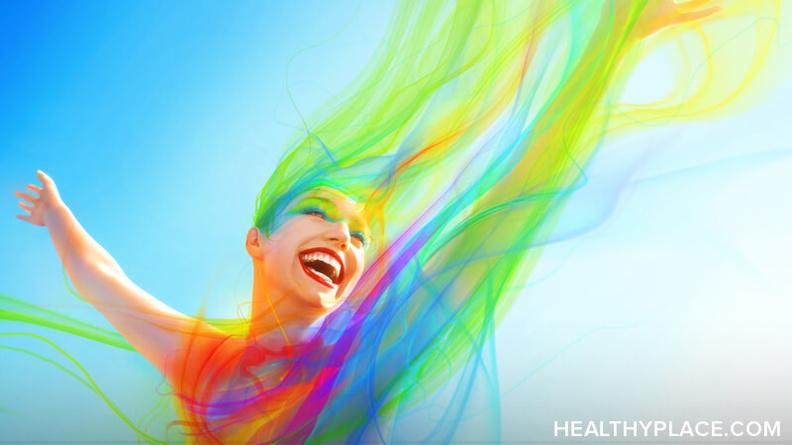 As trivial as it may seem, small behaviors can really impact your mood. The more we spiral into the negative thinking patterns, the more it affects our view of the world and our self-esteem. When a toxic environment takes over or unhappy thoughts to engulf your mind, it leads to anger, resentment, frustration, and bad vibes.
Recently I was stuck on a car ride from hell. The two in the front seat were as judgmental as they come, arguing about politics, the news, anything that was a hot topic. After being in the car for what seemed like an eternity I realized their negative energy was putting me in a terrible mood. I started to think about what I could do to shift my positive energy back into play before getting to the event. I didn't want to show up in a bad mood, frustrated, or feeling bad about myself.
Short-term positive experiences can move your bad mood or low-level thinking into a more positive place, which helps you feel better. I looked up funny dog pictures, emailed a friend, found inspirational quotes, and did a little research on my phone for something I was interested in learning. In my mind, I thought of ways I could rearrange my office and daydreamed about what my home could look like someday. Guess what? It worked, I was able to move forward without their negative vibes (and mine too).
Most of us probably already do something like this in our lives. If you increase pleasant things that give you positive emotions, you feel better about your life. Doing more of this makes us feel good, which we deserve, even in the midst of all the chaos, and it gets us in the habit of having positive feelings.
This helps your self-esteem because the more uplifted you are, the more likely you develop positive feelings about yourself as well. A fine day can turn fabulous if you allow yourself to make more room for positive experiences and thoughts. Here are a few.
65 Ways to Improve Your Mood and Thinking
Enjoying your favorite (non alcoholic) beverage
Buying fresh flowers
Listening to an upbeat song
Going to the park and people watching
Watching a Spoken Word video on YouTube
Going to the gym
Planning a future menu for a dinner party
Going to a pet store and holding puppies or kittens
Planning a future vacation (even if it's 5 years away)
Painting
Doing something spontaneously
Going to the bookstore and browsing
Shopping for something you want, but don't need
Doodling or drawing
Entertaining, or planning a future get together
Going on Pinterest
Hiking
Making something from Pinterest
Researching a topic of interest
Research a new recipe
Playing musical instruments
Doing arts and crafts
Making a gift for someone
Calling an old friend
Watching your favorite sport
Cooking
Writing (poems, articles)
Sewing
Donating to charity
Going out to dinner
Volunteering
Discussing books
Sightseeing
Gardening
Playing a game on your phone
Early morning coffee and newspaper
Going to plays and concerts
Daydreaming
Make a list of goals (non judgmentally)
Going bike riding
Walks in the woods (or at the waterfront)
Photography
Thinking about pleasant events
Playing with animals
Reading fiction
Writing diary entries or letters
Finding a new blog to follow
Dancing
Going on a picnic
Thinking "I did that pretty well" after doing something
Meditating
Having lunch with a friend
Dressing up and looking nice
Getting a massage
Thinking about my good qualities
Taking a sauna or a steam bath
Sitting in a sidewalk café
Reflecting on how I've improved
Going to museums
Buying a magazine you like
Lighting candles
Thinking about having a family
Making a new playlist
Make a vision board
Thoughts about happy moments in my childhood
Which ones work for you? Are there some that you are already doing that others should know about? Share your advice below and take good care.
APA Reference
Roberts, E. (2014, April 25). 65 Ways to Improve Your Mood, HealthyPlace. Retrieved on 2023, September 24 from https://www.healthyplace.com/blogs/buildingselfesteem/2014/04/65-ways-to-improve-your-mood
Author: Emily Roberts MA, LPC
I know of some other ways of going for peoples self esteem. I heard them from Catholic militants. I got atttacke dby Catholic militants and i thought when they attacked me. Äh well they are shriving me, I can anwer questions so I let them attack me but verbal abuse is about confusing a person about their real self and making htem feel bad for the bad they have doen but also when they have not been bad at all. I learnt a lot about verbal abuse.
My experience with them has made me think that there seems to be, in the church, some surviving admiration for the Inquisition. I was not feeling very Catholic and got tortured.
One piece of abuse I remember really well was beig told that I had not loved my grandmother that I had only visited her in old age for her money.
I think that inheritance must be a good opportunity for trying to tell someone they dont like a member of their family. When a family member dies you suffer their loss and also might recieve some money so, have a reason to be happy as well as sad, this means that confusion about your interest or emotions can be created.
I was told when i said I liked my grandmother, that my mind constructed that like in order for me to bare being so mean as to do something for money.
I was also told that the militant could see deeper into me than I myself could, so knew I was not right about thinking I loved my grandmother. .
In the case of this particular attack, I knew that my grandmother could not leave me a penny, her money was already pre left to my father and uncle. So, thank heavens, I could not be confused on the subject, I knew I would not get money because of my visits.
My grandmother had alzheimers and so seeing her was not as gratifying as it had once been, so it could have been easy to confuse me on the subject of how much I loved her. I certainly felt i should have loved her more, so, to be asked whether I loved her was confusing. I did know that I wished I had visited more and that I did care that she was alone.
People can feel confused about how much they love others. I did not know I loved my sister ¡n the sect much but when I found her playing endless evil tricks on me, in the end she herself attacked me, I found that I was terribly upset by how mean she has got. You dont always realise the depth of your feelings for others. and this can allow people to confuse you on the subject.
If you can make people feel they don´t love their nearest and dearest, then you can make them wonder about love itself, what love is.This sort of trick can make them think nothing is really, real love. and as people are nicer to children than adults making them feel they dont like their parents or granmother can mean to make them lose all their barings on what kindness and love is. A really wicked thing to do to others.
The religious want nuns and such to love all the world, not just their family, so maybe this sort of verbal abuse serves to confuse them about people they are close to and convince them to live in the convent, to work just for the group, and not to want a family and friends.
It also tortures people. Torture is part of brainwashing. The communists used it on American prisioners of war in the Korean war. The group who attacked me wanted to getp eople to woek in their sect so wanted to pull htem into line with the sect, brain wash me. their sect their sect.
Nothing takes the place of family. If you see a teacher they are more likely to always be in their professional role, while a family member, who you see so often, you are more likely to see losing it and so is really an example of a lot more of the ranges of human relationships than many other relationships are and so gives you many feelings others dont give. Sympathies for their suffering for example when they cry. .
I suffer from PTSD and extreme social anxiety...so depression is in the backseat driving most of the time. It is very hard for me to get myself out of it..especially when you can't talk to people about it, because you have trust issues...I did like what you had to say about trying to stop the negative thoughts in their tracks...which may be tough because depression is an insidious creature...sometimes you don't realize it is controlling you. I do find the old movies, and music do help...and I also set small tasks for myself...because that helps to keep you aware that you can accomplish things. Sometimes, I fall into the trap of sleeping...and I try to control that too...I keep in mind that if you put 2 feet on the floor....it is only a little tougher to stand up. Thank you for the article. It always helps to know that you are not alone. <3
Great points and I appreciate your ideas. I like the idea of setting small tasks for yourself as well as having an accountability buddy or someone helping you stick to goals (on challenging days I have a friend who will keep me accountable). Good Work and keep it up Marty!
Take Good Care,
Emily
Marty I thought I responded to you earlier and I am so sorry it didn't go through! Thanks for posting and I appreciate your words of wisdom. Keep up the good work you are doing the best you can and it's fantastic. On days when things get rough I like to just praise my self for one thing at a time (getting out of bed and eating breakfast- yay). Self-care is so important and you can be your biggest cheerleader. Keep up the awesome work!!!!
-Emily
I'm just completing my internship needed for my state testing LPC . I graduated with my M.A. In may 2012. And I also have 18 extra hours in psychology but I,m terrified in taking my board since I have limited money and have to work and it seems I have no time to study while raising 7 yr old granddaughter with no parents. So please advise on what books you studied before your licensing test. I test in MS. I.m 51 and used all savings for my 7 yr adventure after my children left home. And I need accreditation to get job in small 30,000 census with no sight of relocating. Please help.
The correlation between mood and psycho-motoric activity is intertwined one. If our thoughts lead on the mood to anyone, then our behave manage with whole system of mind. Therefore, we may moderate our mood as predictor of global welfare by some simply activities, that going on concordance with our personal needs and deeds, as well. Your list of practical psycho-mental activities and performances offers excellent choice to achieve this healing goal. Let's accept with pleasure this form of relation with our daily functioning, in order to ameliorate common life problems. The same are without any charge in our family budget. It ought to change only the manner of thoughts and activity that destroys our psycho-social welfare. On the other hand, positive model of thinking improves and develops our social network, through which one we build up our personal, occupational and social happiness. In contrary negative set of thinking and behave diminish the probabilities to increase our global assessment scale of functioning (GAF) as crucial parameter of mental health statement.
Never go the pet store and cuddle puppies and kittens unless you intend to take one home. It's cruel to the baby when after receiving love and getting its' hopes up, it is thrust back into the cage. And if you DO purchase a puppy, then understand you are most likely supporting a puppy/kitten farm which is an abhorrent practice of business. Adopt from a licensed shelter, or 501c rescue group. If animals make you happy, and you can't have one, considering donating to a 501c animal rescue group. They rely solely on donations, and pull the majority of their animals out of killing shelters. Thank you.
Hi Katherine, This is one of many. Many pet stores actually love when people come in- it helps them give care. Volunteering is great and adopting a pet too, but for the purpose of this article, for things that instantly boost your mood, these were not options. Thanks for your insight about the shelters- I am a dog mom and huge advocate of ending puppy mills! Any good rescue group that you can recommend to donate too? I love that idea!
I am in terrible trouble as I face withdrawing from the drug Abilify, which gains a black box warning as you taper off of it. Withdrawal can cause death, psychosis, or INCREDIBLY painful, intense states of mind. In addition, I am facing a layoff from my church. This kind of list helps to get my mind off of my black mood, and interrupts thoughts of suicide. Plus, these things can be done alone, and are virtually cost-free. Thank you for the list!
I believe the point here is to get your mind off your negative thoughts. I had someone tell me to "just change your thinking". I didn't know how to do that until one day when I was in a negative mood, I put my favorite music on while I was doing something else and my negative mood lifted. I don't always remember to "change my thinking", but I'm working on it and it seems to make things better every time I do it.
I appreciate the effort it takes to get 65 items. Most of them one doesn't havve to be particularly athetic for.
which would you add? We can make it 100 :)
One, all of these take time and energy... Not something I have to spare.
Two, a lot of them would just stress me out.
Not a fan at all of this list.
Leave a reply