What to Do When You're Hypomanic from Bipolar
People want to know what to do when they're hypomanic from bipolar. Should you stay in hypomania as long as possible if you enjoy it? Should you try to moderate it in some way? Should you try to end the bipolar hypomania as quickly as possible? People will have different thoughts on this one but here are my thoughts on what to do when you're hypomanic because of bipolar.
Bipolar Hypomania Attacks
So I'm sitting here and brain is racing – singing songs and writing articles, mostly – with so many categories of thought intertwined it's almost impossible to pick out one from the next. I keep singing a specific phrase of music again and again and I'm talking in streams to myself very crowded and racing thought and I'm rocking back and forth my thoughts are too fast to type and my cats look and me and know something is wrong.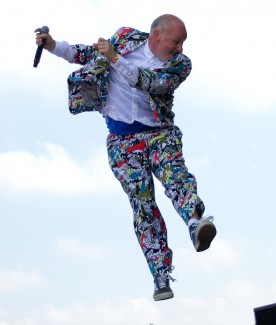 I'm hypomanic, of course.
Hypomania is hardly the end of the world – for me anyway. (People are different and some people can absolutely blow up their lives when hypomanic. People are individuals that way.) But what I've learned is that the farther up you go, the farther down you fall afterward and the bigger a crater your fall into and have to climb out of. The worse the hypomania, the worse the following depression, in my experience.
What to Do When You're Hypomanic -- Should You Stay in Hypomania?
Some people would argue that they like hypomania and so they aim to stay in it as long as possible. Well, if that's you, that's your business but I wouldn't recommend it. The problem with hypomania may not be the hypomania itself but, rather, the depression that you have to pay for it with, and hypomania is very, very expensive indeed.
And I know, from all my experience with bipolar depression and bipolar hypomanias that a momentary high (I don't let them last long or encourage them) is not worth the absolute beating I will receive afterwards. Seriously, my last depression after a hypomania made my brain feel like it actually exploded and it took weeks of mostly sleeping to put it back together again.
You absolutely have to have this insight to force yourself to abandon even a pleasant hypomania so you don't risk, well, death on the other side.
What to Do When You're Hypomanic -- How to Get Out of Hypomania
Please don't consider any of this a medical recommendation. I am not a doctor. Only take medication as prescribed by your psychiatrist.
My, personal, way of getting out of hypomania is to sleep. Now, many people with bipolar hypomania will tell you they can't sleep. I understand. That's why I have sleeping medication. I take extra medication and go to bed (at the regular time) and when I wake up, if they hypomania hadn't been around long, it'll be gone the next morning and I'll be at baseline. If I had encouraged the hypomania, though, and it had lasted for days, this might not work.
In the case of a more severe hypomania I will use both tranquilizers and sleeping medication together (as instructed by a doctor. Don't just take whatever you want). This will calm me during the day and then force sleep at night and that will generally end a hypomania but I may suffer a depression anyway as I hadn't nipped the hypomania early enough in the bud. (Some people avoid tranquilizers in these situations and may use antipsychotics on an as-needed basis and that works too.)
Of course, there may be other ways of quelling the over-abundance of energy such as by vigorously exercising, meditating, doing yoga or doing other things that you know calm you. Now, none of that works for me but that's not to say it wouldn't work as a drug-free option for you.
I'm Getting Out of My Hypomania
Honestly, even though hypomanias aren't necessarily painful, I don't like them nonetheless because I'm acutely aware I'm acting and feeling crazy. I know I'm nowhere near my normal and this makes me uncomfortable. I know I'm less likely to be able to control myself and I don't like that. I know that if it gets worse the trailing depression will crush me and I'm desperate to avoid that. In short, it's not me, and I know it.
So I'm getting out of this bipolar hypomania by actively taking steps to terminate it. Whether you choose to do the same thing is up to you but no matter what, do talk to your psychiatrist or therapist about it because it could be the start of a very rocky, very dangerous path and someone should be made aware you're walking it.
You can find Natasha Tracy on Facebook or Google+ or @Natasha_Tracy on Twitter or at Bipolar Burble, her blog.
Image provided by Drew McLellen.
APA Reference
Tracy, N. (2015, July 2). What to Do When You're Hypomanic from Bipolar, HealthyPlace. Retrieved on 2019, July 18 from https://www.healthyplace.com/blogs/breakingbipolar/2015/07/what-to-do-when-youre-hypomanic-from-bipolar
Author: Natasha Tracy