Overidentification with Bipolar
There is this whole notion that simply by saying the words, "I'm bipolar" you're somehow overidentifying with bipolar disorder. In other words, you're allowing the disease to define who you are. Well, naturally, I find this to be ludicrous and I don't need to play word games in order to individuate myself as a person.
Nevertheless, I admit that bipolar is a huge part of my life and I make no apologies for that. If you were sick every moment of your life it would have quite an impact on you too.
Overidentifying with Bipolar Disorder
The nice people at Merriam-Webster define overidentification as, "excessive psychological identification." And, in case you were wondering, "identification," in the psychological sense, is defined as, "a process by which one ascribes oneself the qualities or characteristics of another person."
Or, in this case, thing.
So in my little, ol' layperson's terms, it's allowing the disease to define who and what you are.
Perhaps a person who is overidentifying might say, "I can't do that, I'm bipolar." Or, "I shouldn't behave that way, I'm bipolar."
Or is that really overidentification at all?
Thinking about Bipolar
How often do you think of your bipolar disorder? If you're me and you're an actively, not-very-well-controlled bipolar person, you might think about it all day long.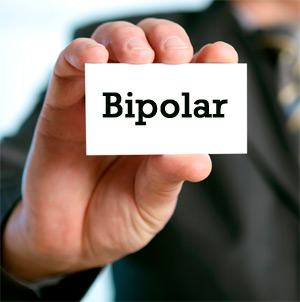 For example, I think about it when I wake up because my sleep cycle is strictly timed due to bipolar. Then I think about it when I take my meds for bipolar. Then I think about it when I force myself to eat so I'll have the proper nutrition for bipolar. Then I think about it as I try and beat back the fatigue that is the hangover of the night-time meds because of bipolar. Then I think about it because I'm trying to calm the anxiety of bipolar. Then I think about it around 11:00 because I can't take the nap that I desperately want because it would mess up the strict schedule I need because of bipolar. Then I think about it as I meet with my friend and can't tell him that I've been suicidal because of the bipolar. Then I think about it when I have to push it aside to get my work done because of the bloody bipolar.
In other words, it contributes to most hours of most days of my bloody life. Why can't I go out? Bipolar. Why can't I stop crying? Bipolar. Why do I have to moderate every thought in my head? Bipolar.
Bipolar, bipolar, bipolar. And believe me when I tell you, I could go on.
Seriously. My whole life is built around all the things I have to do to be normal in spite of the bipolar on my back. So when I say "I am bipolar," it's at least a little true.
Is the very Natasha of my Natasha-ness bipolar? No, of course it isn't, but everything I think, feel, say and do is affected by bipolar so that's what you'd call a strong impact.
Overidentification with Bipolar
So is overidentification with a disease a danger? Well, yes. No one should think they are a disease in their entirety. But I think people underestimate the impact a serious mental illness has on the everyday life of the person living with it. Simply saying, "You're not bipolar, you're a person with bipolar disorder," is such an oversimplification it's almost insulting. I'm more like a person bound to, and being constantly tortured by, bipolar. But somehow, that doesn't roll off the tongue.
You can find Natasha Tracy on Facebook or GooglePlus or @Natasha_Tracy on Twitter.
APA Reference
Tracy, N. (2012, October 16). Overidentification with Bipolar, HealthyPlace. Retrieved on 2019, September 23 from https://www.healthyplace.com/blogs/breakingbipolar/2012/10/overidentification-bipolar
Author: Natasha Tracy