Bipolar Disorder Thought Types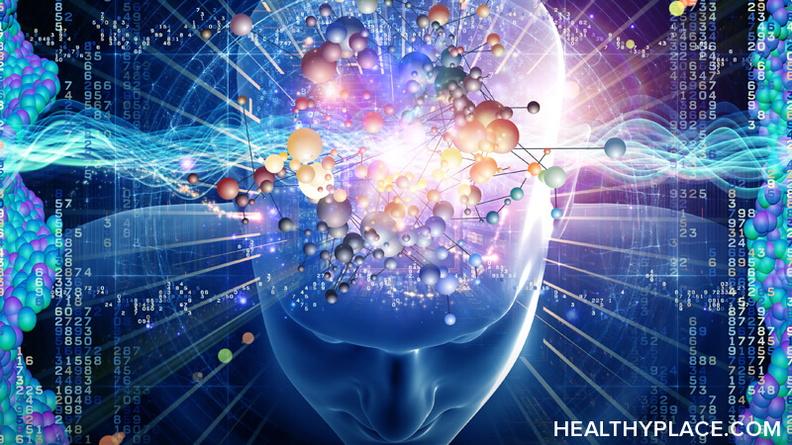 Recently a doctor stopped by my blog and asked about types of thoughts people with bipolar disorder have. Specifically, he was asking about "crowded" thoughts. Crowded thoughts are likened to "too many people jammed into this office." Crowded thoughts constitute the experience of having too many thoughts at one time.
So it got me to thinking, what are the types of thoughts and what types of thoughts are typical for bipolar disorder.
What is a Thought?
A thought is a "product of mental activity," or an idea. OK. So what's a "normal" thought"?
In my mind your average ideas are like someone whispering in your ear. You know, "I like carrots," or, "why does nail polish flake so easily?" or, "I really should do laundry."
They are just random ideas that pop out of nowhere in particular. They may lead to other thoughts about maple-glazed carrots, manicures and Tide, or perhaps not. Either way, no big deal.
Bipolar Disorder Thought
But your average thoughts can be controlled to some extent. You can have the thought, look at it and decide what to do with it. Most thoughts get thrown out as soon as we have them. For example, thinking about carrots on the way to work isn't very helpful so that errant thought gets thrown out with the traffic report on the fives.
Bipolar thoughts are not so much like that. Someone doesn't whisper bipolar thoughts nor are they typically easy to shed. No, bipolar thoughts are like being yelled at.
Loud Thoughts
This brings me to the idea of loud thoughts. Rather than the thought being a whisper it is a yell. It is a thought being screamed at you so loudly that it bounces around on the inside of your cranium. These are thoughts that are impossible to ignore and just come right back if you try to put them away. They aren't necessarily crazy or disturbing thoughts, just ones that are yelled at you louder than you can bear. And loud thoughts tend to be repetitive.
(This is similar to the concept of intrusive thoughts, a technical term, but intrusive thoughts are involuntary and unpleasant.)
(Neither "loud" nor "crowded" thoughts are technical terms, just useful ones.)
Racing Thoughts in Mania or Hypomania
Racing thoughts, as they sound, are fast thoughts. So fast, in fact, you can't keep up with them. Before one thought is done another appears. And they often have no relation to each other except in a crazy world of rapid thoughts were logical leaps are flying ones from one pinpoint to another in vastly different spaces. Often the mouth is a slave to the speed of the thoughts and others tend to have no idea what you're talking about.
Racing thoughts are, of course, standard to bipolar mania or hypomania and a fairly common experience for people with bipolar. Racing thoughts are not, de facto, disturbing and might even be creative or useful.
(And none of this speaks to delusional thoughts which are a whole other beastie.)
Thought About Thought
All these thoughts made me realize, some of the thought types I have always had, like loud thoughts, are probably just the product of bipolar disorder. I've always wondered why sometimes one exchange of words can beat at the back of my brain with great insistence, noise and repetition. And it's probably just the crazy acting up. I find it causes extreme anxiety when there's a thought that refuses to quiet itself and it's somehow relieving to know it isn't just me; it's really just the bipolar.
And crowded thoughts themselves are an interesting notion and something I've experienced many times. "Get all of these people out of my office," is just about right.
Have you had interesting thought patterns that are perhaps related to a mental disorder?
You can find Natasha Tracy on Facebook or GooglePlus or @Natasha_Tracy on Twitter.
APA Reference
Tracy, N. (2011, November 28). Bipolar Disorder Thought Types, HealthyPlace. Retrieved on 2019, July 21 from https://www.healthyplace.com/blogs/breakingbipolar/2011/11/bipolar-disorder-thought-types
Author: Natasha Tracy