Bipolar Treatment: What Happens When Your Doctor Gives Up?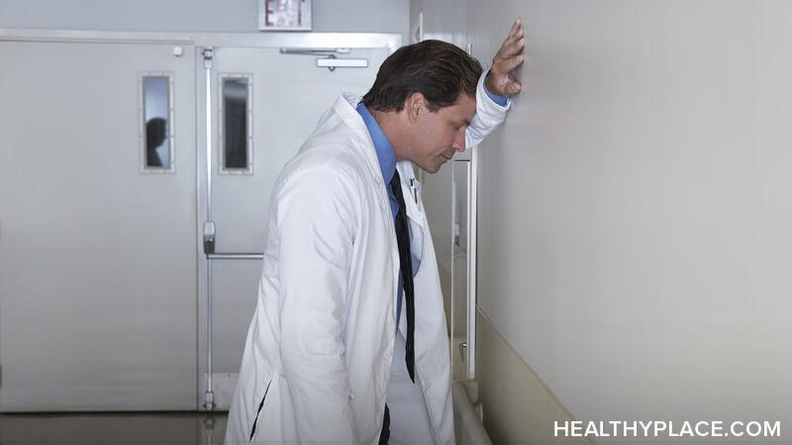 As a seriously ill person, I can honestly say that I have given up. Many times. I have lain on my floor praying that someone would kill me. I have taken too many pills hoping that I would die. And yes, I have even cut into myself hoping that I would bleed out.
We give up. After years of trying. Years of bipolar medication. Years of side-effects. Years of therapy. Years of doctors. Years of hospitals. We give up. We're done.
But what happens if in one of these moments your doctor gives up too?

A Doctor Gives Up
When I first started treatment and doctors kept flipping diagnoses from unipolar to bipolar depression and back again, I saw a doctor at my university. He was an older doctor, well-acquainted with treatment resistant bipolar disorder. We tried every type of drug to lift my depression. When it didn't work, he sent me to a specialist for a consult.
Unfortunately, the specialist didn't have much to suggest. Because I experienced such severe side effects from medications, I could almost never get on a therapeutic dose of anything. And no one saw a way around it. So one day, in the spring of 2000, my doctor just gave up. I came into his office and he told me that it would be our last visit. Done.
A Second Doctor Gives Up
Recently I moved from one country to another and had to get a new psychiatrist. I was in a pretty bad state, as all the recent stress had made me suicidal. After months of waiting, I finally got in to see someone at our mood disorder clinic. The doctor took a history, said she couldn't help me, I would not be a patient there, and that I should go off my medications because obviously the side-effects were harming me. She did not refer me to anyone and seemingly didn't care what happened to me.
What Happens When a Doctor Gives Up?
Suicide.
I hate to put it that bluntly but that's what happens. When the one person in the world who is supposed to help you throws you to the lions, there is very little to stop you from dying. I would think that "health care professionals" would understand that and take action to prevent it, but they don't seem to. I don't know why.
What NOT To Do If You're Doctor Gives Up
If you're like me, you're going to want to throw yourself in front of a car. Don't do that. You're going to want to hurt yourself. Don't do that. You're going to want to stop taking your medication. Don't do that.
As much as giving up is a part of what we do as treatment resistant patients, doctors are victims of the same type of desperation. They don't want to see you, their failure, day after day, when they can't think of any way to help you.
It Is Unacceptable for a Doctor to Just "Give Up"
The fact is that no matter how many treatments you have tried, there are always more. There are almost innumerable combinations of medications available. Yes, I understand, it's like looking for a needle in a stack of needles, but it's still true: there are always more drugs. There is vagus nerve stimulation (VNS), there is repetitive transcranial magnetic stimulation (rTMS), there is electroconvulsive therapy (ECT), there so on. Giving up is bull.
What TO Do If Your Doctor Gives Up
Get a referral. To someone new. To someone different. Just because your existing doctor can't think of anything, it doesn't mean that no doctor can. This is your doctor's failure, not yours. It sounds like the end of the road, but it isn't. It's just the end of the road for one doctor.
Get enough meds. It's going to take time to get a new doctor, so make sure you have enough meds. Do not go off your medication – even if an idiotic doctor tells you to. Never go off meds without a doctor's direct supervision.
Get help from others. Even if you understand it isn't your fault, a doctor giving up on you is going to sting. It'll probably upset you no matter what you do, so try to get yourself into a safe place with safe people who can help you get that new doctor and take care of you while you're down.
This is Not Your Fault
You didn't do anything wrong. You didn't fail. A doctor's abandonment is their failure, not yours. It hurts, it sucks and it's hard, but there is life after patient dismissal.
You can find Natasha Tracy on Facebook or @Natasha_Tracy on Twitter.
APA Reference
Tracy, N. (2010, July 15). Bipolar Treatment: What Happens When Your Doctor Gives Up?, HealthyPlace. Retrieved on 2019, August 22 from https://www.healthyplace.com/blogs/breakingbipolar/2010/07/bipolar-treatment-what-happens-when-your-doctor-gives-up
Author: Natasha Tracy