Closure of Mental Health Court Makes Everyone A Loser
Recently I was at Three Carrots vegan restaurant in Indianapolis City Market when I struck up a conversation with a prosecutor. I mentioned the city's mental health court, and she told me it no longer exists. It was phased out after the judge retired. When I expressed my concern, she said she was sympathetic. "I've got a guy right now who needs to be in mental health court. We can't let him go because he has nowhere to live, he needs treatment, and we can't keep him in jail forever . . ." She shook her head, and we both agreed it was sad that the leading provider for mental health services is the Marion County Jail.
The Closure of the Court and What it Means
According to WRTV6, about 30% of Marion County Jail inmates suffer from mental illness.
Jennifer Deiter, Deputy Director with Community Corrections, told WRTV6, "Mental illness is on the rise because of the shutdowns with the state hospitals . . . It's very prevalent."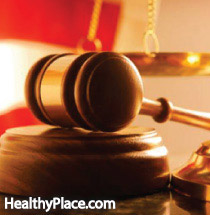 Deputy Prosecutor Andrew Fogle told WRTV6 there is a diversion program, Psychiatric Assertive Identification and Referral (PAIR), but it is only for non-violent misdemeanors that are not sex offenses. Everyone else goes to jail.
"The jail is no place to treat people that are mentally ill," he said. "That has to be done on the outside, but the public has to know they're getting their treatments."
Chief Public Defender Bob Hill told WRTV6, "I'm concerned a lot of our clients probably aren't getting the attention and insight they should get."
And if the prosecutors are concerned, you know there's a problem.
Effect of Mental Health Court
According to a study on PubMed.gov, four mental health courts, including Indy's, were studied to see how they affected time in jail and re-arrest rates.
The [Mental Health Court] MHC graduates had lower rearrest rates than participants whose participation was terminated both during MHC supervision and after supervision ended. Factors associated with better outcomes among the MHC participants include lower pre-18-month arrests and incarceration days, treatment at baseline, not using illegal substances, and a diagnosis of bipolar disorder rather than schizophrenia or depression.

Mental health courts meet the public safety objectives of lowering posttreatment arrest rates and days of incarceration. Both clinical and criminal justice factors are associated with better public safety outcomes for MHC participants.
Cities need mental health court, for the sake of society and for the sake of the offender.
Another PubMed.gov study reports
A large percentage of persons with severe mental illness received their acute psychiatric inpatient treatment in the criminal justice system rather than in the mental health system . . . The resources of the mental health system need to be greatly expanded, with priority given to treating persons who are criminalized or who are in danger of becoming criminalized.
What it Means for Your Area
A PubMed.gov review reads:
Clinical studies suggest that 6 to 15 percent of persons in city and county jails and 10 to 15 percent of persons in state prisons have severe mental illness . . . Offenders with severe mental illness generally have acute and chronic mental illness and poor functioning. A large proportion are homeless. It appears that a greater proportion of mentally ill persons are arrested compared with the general population. Factors cited as causes of mentally ill persons' being placed in the criminal justice system are deinstitutionalization, more rigid criteria for civil commitment, lack of adequate community support for persons with mental illness, mentally ill offenders' difficulty gaining access to community treatment, and the attitudes of police officers and society. Recommendations include mental health consultation to police in the field; formal training of police officers; careful screening of incoming jail detainees; diversion to the mental health system of mentally ill persons who have committed minor offenses; assertive case management and various social control interventions, such as outpatient commitment, court-ordered treatment, psychiatric conservatorship, and 24-hour structured care; involvement of and support for families; and provision of appropriate mental health treatment.
In other words, without the proper treatment that a mental health court can provide, everyone loses.
You can also find Becky Oberg on Google+, Facebook and Twitter and Linkedin.
APA Reference
Oberg, B. (2014, November 18). Closure of Mental Health Court Makes Everyone A Loser, HealthyPlace. Retrieved on 2023, December 6 from https://www.healthyplace.com/blogs/borderline/2014/11/closure-of-mental-health-court-makes-everyone-a-loser
Author: Becky Oberg