Leaving an Abusive Relationship
People with borderline personality disorder(BPD) are especially vulnerable to abusive relationships due to the intense self-hatred and fear of abandonment common to the disorder. Due to the relatively weak sense of self, it is difficult for a person with BPD to leave a relationship, even an abusive one. People with BPD may believe they deserve the abuse and have a hard time believing the relationship is abusive.
Recognizing abuse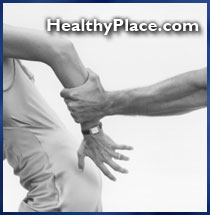 An abusive relationship has a cycle of three phases: the honeymoon phase, where the abuser showers the victim with affection, attention, and promises it will never happen again; the tension-building phase, where the abuser's anger and potential for violence build; the acute battering incident, in which the abuse occurs.
Several sources, including Fay A. Klingler and Bettyanne Bruin in their book Shattered, give a list of questions to ask yourself if you think you're in an abusive relationship.
Do you:
• Fear your partner a large percentage of the time?
• Change your normal activities to avoid upsetting your partner?
• Feel controlled or intimidated by your partner?
• Avoid certain topics because you're afraid of angering your partner?
• Feel that you can't do anything for your partner right?
• Ever think you deserve to be mistreated?
• Wonder if you're crazy?
• Feel afraid your partner will hurt you? Kill you?
• Feel afraid that your children will be taken away?
• Feel emotionally numb or helpless?
• Think that violence is normal?
• Feel that no one else would like you if your partner didn't?
If the answer to any of these questions is yes, it's time to re-examine the relationship.
The difficulty of leaving
Dr. Aphrodite Matsakis, author of I Can't Get Over It: A Handbook for Trauma Survivors, writes "Most battering victims stay for the kiss, not the fist—for the love and attention of [the honeymoon phase], not the anxiety and physical and emotional pain of [the other two stages]. … Both battered women and incest victims may have protective, loving feelings toward their abuser because of the affection the abuser has showered upon them."
Leaving is dangerous, according to the Indiana University School of Law Protective Order Project. Separation violence is a common problem. About 75 percent of the abused women seeking emergency medical treatment sustained their injuries after leaving their abuser. Almost 25 percent of the women killed by their abuser was separated or divorced from their abuser. Another 25 percent were attempting to end the relationship. The time of separation is the time the woman is most likely to be murdered by her former partner.
So how does one leave safely? Sue Ellen Kubiak writes "What you need to do is assemble an emergency plan, obtain counseling, and plan your exit. You can't just leave without a plan, because the man will feel as if he has power over you and be confident that you will return to him when you run out of resources. You have to have a plan."
Check the Yellow Pages or call the National Domestic Violence Hotline at 1-800-799-7233 for information about shelters in your area. It is safest to go to a shelter, as they will have security that a friend's house or motel room can't offer. Some abusers, like mine, threaten to kill the family pet so many shelters are now pet-friendly or will help you find lodging for your pet. The hotline can help you prepare to flee--don't do what I did and leave with just the clothes on your back unless you have no time to prepare.
Survivor's Bill of Rights
• We have the right to be believed when we say we have been abused.
• We have the right to not have the abuse downplayed.
• We have the right to be heard.
• We have the right to be treated equally, regardless of whether or not we are married to our abuser and regardless of our sexual orientation.
• We have the right to be treated with dignity and respect.
• We have the right not to be judged for being with an abusive partner.
• We have the right to confidentiality.
• We have the right to treatment for physical injuries.
• We have the right to mental health treatment.
• We have the right to a support system, and the right to an advocate to navigate the support system.
• We have the right to feel afraid, angry and/or confused, and we have the right to not be judged for these feelings.
• We have the right to choose whether or not to go to court in cases where children are not involved.
• We have the right to divorce without shame. We are neither selfish nor homewreckers; our abuser is the one who destroyed the relationship.
• We have the right to not be treated as masochists who like the abuse.
• We have the right to be safe.
APA Reference
Oberg, B. (2013, August 6). Leaving an Abusive Relationship, HealthyPlace. Retrieved on 2019, July 20 from https://www.healthyplace.com/blogs/borderline/2013/08/leaving-an-abusive-relationship-2
Author: Becky Oberg
Hi, I hope you're doing better, I'm in a similar situations. My boyfriend makes me feel very alone but because I have no other family or friends I'm scared to leave because then I'll be alone with my thoughts. I cannot afford therapy and I have no place to turn. I really hope you're doing better. You deserve so much more.
Hi Joy, I feel your anguish. I actually bought a house with my BF after being together for one year. I was a widow for only 2 months when I met him. I was trying to fill the hole in my heart of grief. When we moved in together, immediately he was a bully, wanting everything his own way. After 5 days I knew I had made a huge mistake. He was so verbally cruel, name calling and yelling at me to get his way. I've never been treated so bad in my life. I kept making excuses for him. I didn't want to be alone. I was accepted all his torture, believing my lack of worth, and trying hard to dismiss the treatment because immediately after he would once again be nice. I think he wants to be looked after, he wants me to be his mother. There now is no affection at all, not even hugs. He verbally abused my adult son recently and that was a light bulb moment for me. I asked him to leave, but he refused. He is now having therapy, which is great for him, but I have shut down emotionally. I want to be alone, but have nowhere to go, as I put all my money into the house. We have been in the house for 10 months. I feel trapped too
How are you now? That situation is not ok. You need someone to vent to
Leave a reply