Is It a Spiritual Experience--Or a Psychotic Episode?
I've often said that it would be interesting to do a study on psychosis among charismatic Christians or others who emphasize spiritual experiences in daily life. How many would be psychotic? And how do we know the difference between religious experiences and psychosis? How do we know the difference between a heavenly experience and the hell of mental illness? I once read a book that attempted to answer this question by saying that religious experiences are usually visual and pleasant.
Religious experiences are usually visual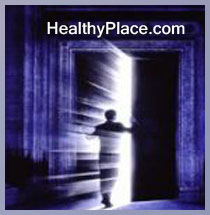 Many people believe visions can offer encouragement and guidance. Visions, as the name implies, are visual. While some people, such as St. Joan of Arc, hear voices as a religious experience, it is far more common for a religious experience to be visual than auditory.
This gives rise to the question "What is the difference between a religious experience and a hallucination?" Based on my experience, there are three key differences: length of time, nature of the vision, and whether or not it makes sense.
A hallucination is typically fleeting and lasts only a few seconds. When I start hallucinating, I see something very briefly and then it disappears. A religious experience, by contrast, lasts more than a few seconds.
Another difference is whether it is in the mind or actually visible. A religious experience is often in the mind's eye as opposed to actually visible. The person knows that it's not a literal occurrence but a spiritual experience.
And, finally, a religious experience usually makes sense. The person experiencing the event is still in touch with reality. In addition, the person experiencing the event can incorporate it into his or her life. I remember one time I had a vision of me beating God's chest in frustration until I finally cried and let him hold me. It was in my mind's eye, it lasted for a minute or two, and I was able to relate it to my life.
By contrast, a hallucination rarely makes sense. I remember I once saw a flaming skull with bloodshot eyes and a knife between its teeth. Another time I saw a spider made entirely out of human eyes. They made no sense and were not relevant to my life in any way. This leads to another important difference between a psychotic episode and a religious experience--and that is how the experience makes one feel.
Religious experiences are usually pleasant
I left the charismatic movement not because I didn't like it, but because my mental illness was so controversial. To be honest, I miss it at times. I miss the emphasis on actually experiencing the presence of God and the belief that there is more to life than what we experience with our five senses. That said, one of the most important lessons charismatics can learn is that religious experiences are usually pleasant, while mental illness is usually unpleasant.
A religious experience will draw you closer to your Higher Power. A psychotic episode will leave you feeling distant from that Higher Power. A religious experience is something you desire. A psychotic episode is so horrific you don't ever want to experience it again. A religious experience will leave you humble, grateful for the insight, and eager to share what you've learned. A psychotic episode will convince you that you're the only one with this insight because you're one of the elite, and you're terrified to share it for fear of being thought crazy.
In conclusion
I've noticed that people who believe in religious experiences often have them precisely because they believe in that possibility. Faith is a key component of a religious experience. People with psychosis, however, don't have to believe in religious experiences to experience a psychotic episode. While some psychotic experiences have religious themes, a religious experience will generally be pleasant, be visual, and make sense. It will also uplift the person. Remembering these guidelines can often help a person to determine whether an event is a spiritual experience or a psychotic episode.
APA Reference
Oberg, B. (2013, April 9). Is It a Spiritual Experience--Or a Psychotic Episode?, HealthyPlace. Retrieved on 2023, December 8 from https://www.healthyplace.com/blogs/borderline/2013/04/is-it-a-spiritual-experience-or-a-psychotic-episode
Author: Becky Oberg
Psychosis in my culture [im a 1/4 african] is called intwaso that translates as 'spiritual emergence' having the illness is called ukuthwasa kwegqira which translates as 'to emerge as a healer'. It's suppose to be disjointed, arcane, esoteric, symbolic, metaphoric, riddled like all unconscious knowledge it's not meant to be clear, precise and literal. Psychosis is nothing like the medical illness it supposed itself to be, there is so much spiritual content within the episodes of the majority of peoples 'psychosis' that it should be understood as a spiritual illness as it had been for thousands of years. Diabetics don't get loads and loads of spiritual content with their illness. I regret the medicalising of my illness very much. I think of my episodes only as intwaso and only as mystical experiences.
I had an episode a few years ago and an Asian boy appeared on the path [like a phantom] Spirit, he started singing otherworldly singing/ music for hours, it filled the whole street and I heard other singing too. It was like being at a concert. After I heard it all, I couldn't listen again to human music for a long time because it was so full of straining and so mundane, compared to what I heard. In another episode I heard fantastic music loudly coming out of every car that went past and when I looked on the ground I saw huge visions of other time periods, mermaids, scenes from the future of those I know, they were very vivid, ethereal and moving. .Another time I stood out the front and all the lights on the street and all the cars went out, every time I spoke the truth they'd come back on, every time it was a lie they switched off and I was in darkness. I consider myself an otherworldly woman for having experiences like this, a woman who lives in the liminal like a witch, which I dreamt five times I was in previous lives in Europe.
Again like psychiatry they say dreams mean nothing just a electrical impulses in the brain, they take all meaning, all depths from everything in favour of only surface level understanding. My dreams have been prophetic many times over, told me my old lives, old unions, the lives of my ancestors, been full of wisdom and riddles, and divine intuitive knowledge at all times. Psychosis is viewed the same way as dreams by the establishment, without meaning, they take no concern with the spiritual content or great meaning of what we could through. They fear the depths. Oh you didn't have a mystical experience it's just a glitch in your brain, surface level understanding.
I abhor it all, I hate this zeitgeist or age which everything has been reduced to masculine logic, science and cold objectivity. I loathe it and it will die one day.
Hi BECKY OBERG, thank you for sharing this experience. Your article has left me curious and more eager to know about you; as a person and as a Christian. For example, what do you think triggered this condition? In your opinion, is it of a spiritual origin (a sin) or is it a purely a health condition? Do you still think that hallucination has no spiritual component to it? Because maybe if you knew the answer, you maybe able to do something about it. But either way, there is something I'm confident about, that is God the Father loves you. He doesn't want you to have those hallucinations whether they have a spiritual component or not. Are you still fighting the condition with prayer or not? How is your spiritual life doing now?
The illness will try to get you to think that God somehow has ordered this or has allowed this. This is a lie from the pit of Hell to change your natural feelings towards God, to fill you with fear, resentment and make you grow cold.
God does not want you to have this. He empowered you with his Word (the bible) and with his church (find a good christian community that intercedes for you), and with his Holy Spirit so that you grow stronger than the condition. He sent His only Son to die for you, and go to Hell so that you maybe save.
You have the power to fight this illness. But if it doesn't go away, you have to sort out your theology in a way that it strengthens your ties with God, not leave stripped off all hope and all help.
Please let me know how you're doing.
Thanks so much for this article! Yes, everything that you say is so true. As a bipolar 1 sufferer, in past psychoses I have seen Christ, The Mother of God, & Archangels. But my last (lengthy) psychosis turned dark on me....I was tormented by demonic things....plus a non-stop voice referring to The Book of Ezra in the Old Testament. These devilish notions persisted for months. I used to be an avid Scripture-Sharing member...& attended daily Mass. But in the light of my last experience, I was so unnerved when the psychosis ended, that I was AFRAID to return to Church....although like you, I still miss it very much. The point being that I don't know if faith has a negative impact on my overall mental health...if it plays too much into an over-active imagination. That's why I've sadly had to distance myself from my Catholicism; in the event that I have another similar horrific experience.
Oh my goodness! Awesome article dude! Thanks, However I am experiencing troubles with your RSS. I don't understand why I cannot subscribe to it. Is there anybody having similar RSS issues? Anybody who knows the solution will you kindly respond? Thanks!!
This is so familiar to me. Schizophrenia hit me in my early twenties and coinsidently i was also going through a religious searching period at the time. I am so happy that the author here has been able to describe the basic differances, which can be so terrifying.
Very interesting. Many people with BPD (and many
without it) experience religiosity as a means of
trying to soothe or comfort themselves. There
can be a real need to look outside of oneself
for a sense of soothing and safety especially
the more one feels disconnected from who they
really are. It's important to have hope and
faith but in a balanced way. It's all about finding
self and middle-ground.
When I first saw the title of the article my back went up. What do you mean religious experience or psychosis! After I read the article with an open mind, I can now understand what it is all about. By this definition I have had a religious experience and I still close my eyes and go back to that time when I felt safe in the arms of Our Savior, Jesus Christ.
Leave a reply