Is It a Spiritual Experience--Or a Psychotic Episode?
I've often said that it would be interesting to do a study on psychosis among charismatic Christians or others who emphasize spiritual experiences in daily life. How many would be psychotic? And how do we know the difference between religious experiences and psychosis? How do we know the difference between a heavenly experience and the hell of mental illness? I once read a book that attempted to answer this question by saying that religious experiences are usually visual and pleasant.
Religious experiences are usually visual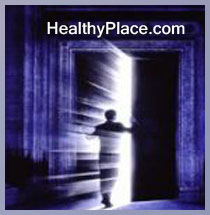 Many people believe visions can offer encouragement and guidance. Visions, as the name implies, are visual. While some people, such as St. Joan of Arc, hear voices as a religious experience, it is far more common for a religious experience to be visual than auditory.
This gives rise to the question "What is the difference between a religious experience and a hallucination?" Based on my experience, there are three key differences: length of time, nature of the vision, and whether or not it makes sense.
A hallucination is typically fleeting and lasts only a few seconds. When I start hallucinating, I see something very briefly and then it disappears. A religious experience, by contrast, lasts more than a few seconds.
Another difference is whether it is in the mind or actually visible. A religious experience is often in the mind's eye as opposed to actually visible. The person knows that it's not a literal occurrence but a spiritual experience.
And, finally, a religious experience usually makes sense. The person experiencing the event is still in touch with reality. In addition, the person experiencing the event can incorporate it into his or her life. I remember one time I had a vision of me beating God's chest in frustration until I finally cried and let him hold me. It was in my mind's eye, it lasted for a minute or two, and I was able to relate it to my life.
By contrast, a hallucination rarely makes sense. I remember I once saw a flaming skull with bloodshot eyes and a knife between its teeth. Another time I saw a spider made entirely out of human eyes. They made no sense and were not relevant to my life in any way. This leads to another important difference between a psychotic episode and a religious experience--and that is how the experience makes one feel.
Religious experiences are usually pleasant
I left the charismatic movement not because I didn't like it, but because my mental illness was so controversial. To be honest, I miss it at times. I miss the emphasis on actually experiencing the presence of God and the belief that there is more to life than what we experience with our five senses. That said, one of the most important lessons charismatics can learn is that religious experiences are usually pleasant, while mental illness is usually unpleasant.
A religious experience will draw you closer to your Higher Power. A psychotic episode will leave you feeling distant from that Higher Power. A religious experience is something you desire. A psychotic episode is so horrific you don't ever want to experience it again. A religious experience will leave you humble, grateful for the insight, and eager to share what you've learned. A psychotic episode will convince you that you're the only one with this insight because you're one of the elite, and you're terrified to share it for fear of being thought crazy.
In conclusion
I've noticed that people who believe in religious experiences often have them precisely because they believe in that possibility. Faith is a key component of a religious experience. People with psychosis, however, don't have to believe in religious experiences to experience a psychotic episode. While some psychotic experiences have religious themes, a religious experience will generally be pleasant, be visual, and make sense. It will also uplift the person. Remembering these guidelines can often help a person to determine whether an event is a spiritual experience or a psychotic episode.
APA Reference
Oberg, B. (2013, April 9). Is It a Spiritual Experience--Or a Psychotic Episode?, HealthyPlace. Retrieved on 2019, September 18 from https://www.healthyplace.com/blogs/borderline/2013/04/is-it-a-spiritual-experience-or-a-psychotic-episode
Author: Becky Oberg