Psychiatric Hospitalization: What I Wish I'd Known
... Before My First Inpatient Admission
For some reason, memories of my first psychiatric hospitalization have been on my mind lately. Back then, I knew nothing about going to a psychiatric hospital other than what I heard from my friends at a Christian high school: that during the first 24 hours you were bound to a chair and forced to stare at a blank wall, that psychiatrists listened to your parents and wrote the diagnosis in advance before they ever talked to you, that they would use force and strip-search you, that they would force you to take medication. Christian kids with "problems" were sent to strict boarding schools in the middle of nowhere to be "fixed".
None of this was entirely true. That's one of many things I wish I'd known before my first psychiatric hospitalization. So in honor of those thoughts, here's what I wish I'd known about hospitalization before my first inpatient admission.
Psychiatric hospitalization is not a punishment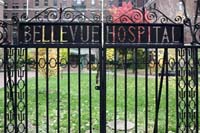 My first hospitalization happened when I was in college. I will never forget going to my therapist's office with a concealed bottle of sleeping pills. My plan was to overdose on those pills if I were going to be hospitalized--talk about cutting off your nose to spite your face. I was afraid to go to the hospital because I saw it as a punishment for having a psychiatric disorder, and I was in denial that it could help.
I hate to use the analogy of a broken leg, but it's an apt one. When we go to the hospital with a broken leg, it is a legitimate medical problem. The setting and cast, although unpleasant, are not a punishment for having a broken leg. They are medical procedures designed to prevent the injury from getting worse and to help promote healing. Treatment for a broken mind is the same way. Yes, the hospital is not fun, but it is a legitimate medical treatment for a real physical injury.
You are a member of the treatment team
I'm aware this is not the case at every hospital, but you are the most important member of the treatment team. Only you know how you feel. Therefore, while your psychiatrist may talk to other people (usually if you're a minor), you are the one with the most vital information. You know your sickness, and you know how the prescribed medication is affecting you. You are the most important member of the treatment team.
It is so vital that you be a member of the treatment team that I recommend seeking treatment elsewhere if you're not listened to and heard and believed. I did this myself; actually crossing county lines to get to a treatment center that gave me a voice in my own recovery. While this may not always be feasible, fight to be heard. You are the expert at living your own life.
The staff will not hurt you
I've never been tied to a chair and forced to stare at a blank wall; restraints are tightly regulated by law. First staff will try to talk to you, then they will offer medication, then if all else fails and you're in imminent danger, they'll restrain you until you calm down and can be evaluated, usually within an hour. Under the law, they have to use the least restrictive means to protect you.
I've never been forcibly strip-searched. I've been asked to shake my bra and underwear to prove there was nothing harmful in them, but never beyond that. When I turned hostile during one admission, staff remained calm, explained what they were doing, offered me medication and things went smoothly from there. I was always treated with respect, and many times the staff member searching me explained why the search was necessary.
Staff are not there to hurt you and, in fact, are legally and professionally liable if they do. I remember one case in which a nurse was fired for telling a person with borderline personality disorder (BPD) "Why don't you [expletive] do it?" when the patient said she was having thoughts of self-harm. When I was improperly restrained during one hospital stay, the hospital was cited for multiple violations of state law. You have rights and those rights are taken seriously.
So that's what I wish I'd known and would say to anyone facing their first stay in a psychiatric hospital. The hospital is not a punishment. You are a member of the treatment team. Staff will not hurt you. Remember these three things to make your stay easier.
APA Reference
Oberg, B. (2012, March 7). Psychiatric Hospitalization: What I Wish I'd Known, HealthyPlace. Retrieved on 2019, July 21 from https://www.healthyplace.com/blogs/borderline/2012/03/what-i-wish-id-known-about-hospitalization-before-my-first-inpatient-admission
Author: Becky Oberg