A New Beginning
It's time to say goodbye. School starts June 1st. It's nearly here. I can't believe it. I'm both excited and nervous. Will I be able to keep up? It's due to this nervousness that I've decided that I'm going to leave the blogging world.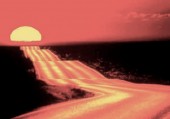 This decision didn't come lightly. I thought about it for months. I'll be giving up a lot by not blogging for HealthyPlace anymore, but it's something that I have to do. It's time for me to break out of my comfort zone. It's time for me to see if I can make it in the real world, not just the blogging world. I need to see if I can function at a normal level. This is a training session for me. I'm training to make it at a real job and a full-time life. I need to see if I can make it. I need to prove to myself that despite my bipolar, I can still succeed.
I will miss the blogging world. Oh, I may make an entry now and then at my home blog, but that will be it. It's going to be a change. I've been blogging full-time for almost four years. I've done well, too. I've been awarded "Best of Bipolar Blogs", "Top Ten Bipolar Blogs", and "Top Leading Bipolar Expert" by various organizations. It's touching that I've reached readers who've needed the help on how to proceed with their own bipolar disorder.
The Importance of Optimism When Living with Bipolar Disorder
My last bit of advice to you is to look to the sky. There's comfort in the sun and rain. The sun brings out happiness and the rain brings about renewal. Tomorrow will be a better day. Wait for another day to pass you by and you will find that it will bring a different outcome. There will always be a better day in your future. You just have to be patient and wait for it. Be positive. A positive outlook will help you get through the bad bipolar times. If you can remember that then you will be able to combat future bipolar days.
I will miss all of you. I want to thank each of you for making me feel welcome and listened to. But, it's time for me to take steps toward my future. It's time that I stood on my own two feet. I need this. I need to know if I can do this. I need to try. I've uncovered a part of me that I thought was lost and now I eagerly await the beginning of my new life.
APA Reference
Fender, C. (2010, May 31). A New Beginning, HealthyPlace. Retrieved on 2023, November 29 from https://www.healthyplace.com/blogs/bipolarvida/2010/05/a-new-beginning
Author: Cristina Fender
I wish you well in your schooling. I also go full-time but I go online because of my social anxiety and I hate exams. This way I can just write papers as my finals which work very well for me. I have time to think through what I want to say. Anyway, this is about you, not me. I think you will find school an amazing place to be and you will meet lots of new people. Even if they are younger then you, you would be amazed how mature some of them are for their age. Good luck to you!
Kassie
Wishing you happiness and lots of new opportunities, I know you will be successful in your new direction in life.
Hurrah for you, Cristina! I am thrilled to learn that you are also in school - you started summer semester last night, and this week is our third week of classes. I have to keep telling myself how much I love instructional technology! Ha! I'll get it - I intend to keep my GPA! My other class is a survey of special education and its legal issues. The instructor is so wonderful and has an incredibly diverse background. I feel so honored just to be in her class!
I plan on taking three classes in the fall; one is sort of a fun one on autism with 7 weeks of theory and 7 weeks of playing with the kids. I like that!
Anyway, I just had to let you know I'll keep you in my prayers as we both have a successful summer semester!
Sincerely,
Sandra
Hi Cristina,
I thought I would wish you farewell as I pick up the baton you've been so successfully carrying. You've set a high bar for my new Breaking Bipolar blog, so I hope I can reach it. Good luck in school. I actually just did a semester and will probably go back again. It's an amazing place to let your mind wander while nibbling at knowledge and drinking too much coffee over exams. Best of luck to you and I hope you'll drop by now and again and let me know how I'm doing.
I am sad to see you go. You've been an inspiration.
I wish you all the best!
Leave a reply