Ten Tools That Help Relieve Panic Attacks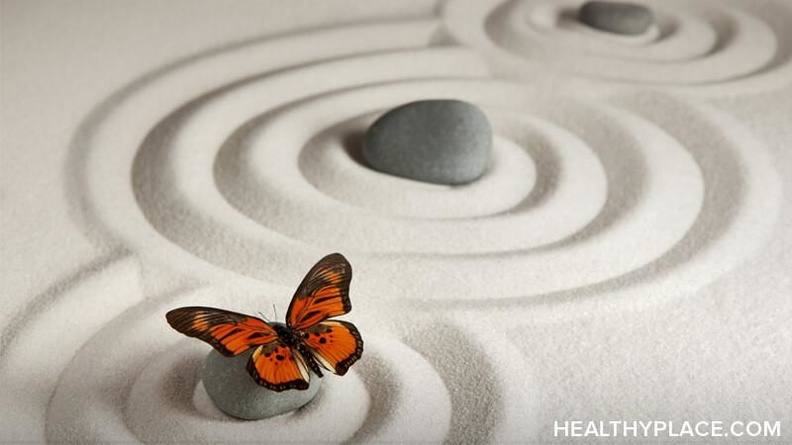 How can coping tools help relieve panic attacks? Especially since most panic attacks feel like they come out of the blue, even though there is usually a trigger. The trigger is that you are scared of panic attacks. And why wouldn't you be? They are one of the most uncomfortable experiences on this planet. Having a list of tools can help reduce the number of panic attacks you experience and help you feel less afraid of the panic coming.
10 Coping Tools for Panic Attack Relief
These coping tools will help you avoid panic attacks in the first place. Some of them you should do every day as part of good self-care. Others will help when you enter new situations or relationships. Put them all in your anti-anxiety toolkit and feel more in control.
1. Have an exit plan. Sometimes knowing we have a plan to leave a situation helps us not be so afraid of trying something new. For example, know you can excuse yourself, you can have your own car to drive home, or you have a friend to support you can make all the difference. We are often scared to get anxiety and not be able to do anything about it. We are afraid of being out of control. Making a plan will make you feel more in control and this counters the anxiety.
2. Have someone you can count on ready to call. In fact, have several, in case the one is busy. Someone who knows about the anxiety and can tell you you are okay, or even better--someone who can make you laugh.
3. Spend time with your pet. Animals tend to ease anxiety. So spend as much time with a friendly animal as you can. Here are some animal activities to enjoy: keeping a pet, bird watching, going to an aquarium, etc. (Animal Therapy: Easing Anxiety With An Animal)
4. Interact with water. There is something about water that stops the energy of panic. Sometimes crying releases it (tears). However, consider taking a hot bath or shower for immediate relief. Also drinking hot soup or a hot drink (non-caffeinated) can help.
5. Have a tranquilizer with you. Knowing you have anti-anxiety medication to calm you down within 15 minutes can help you not be afraid of anxiety. Again, we are afraid of being out of control of our anxiety so just knowing you have the medicine is all you need (With Anxiety, You Do Have Control). Panic needs you to be scared of it for it to stay.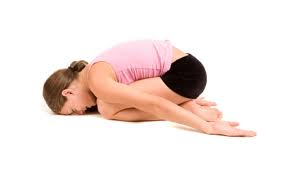 6. Give yourself a massage or have your loved one give you one. This really calms the nerves and calls our attention back out of the anxious mind and into the body.
7. Forward bend. Like a fetal position, any forward bend in yoga counters anxiety. You can get in child's position (see photo).
8. Stare at yourself in the mirror. This is called tratak meditation. It helps build trust in yourself. Do this when you are calm to prevent anxiety and panic.
9. Go for a walk. Get a change of scenery and use up some of that excess energy. The biology of fear indicates the release of adrenaline makes your body want to do something. Doing something and feeling a sense of control on the account of that activity is by far the best thing you can do for a panic attack.
10. Laugh. Watch some funny videos on YouTube. Laughter and anxiety cannot live in the same moment together!
What did I forget? What's worked for you?
I blog here: Heal Now and Forever Be In Peace
and here: Anxiety-Schmanxiety Blog,
share here: Twitter @JodiAman, Google+
and inspire here: Facebook: Heal Now and Forever Be in Peace.
APA Reference
Lobozzo, J. (2012, May 2). Ten Tools That Help Relieve Panic Attacks, HealthyPlace. Retrieved on 2020, July 14 from https://www.healthyplace.com/blogs/anxiety-schmanxiety/2012/05/ten-things-to-do-for-a-panic-attack
Author: Jodi Lobozzo Aman, LCSW-R
My problem is, my panic attacks always happen while I'm taking a shower and gets worse the longer I remain in the bathroom. I never have them anywhere else. Breathing doesn't help and sitting on the floor only helps until I stand back up. The only thing I found that helps in getting out of there and sitting infront of my fan. Even then it takes a few minutes to calm down.
It scares the hell out of me. I had my worst one I've ever had last night. If felt like I was drowning. I don't understand it. And all I wanna do is cry.
I have had panic disorder for over five years now. I have been on so many different medications I cannot remember the names of the all. My anxiety follows me everyday of my life like a cloud over my head. They come from nowhere and completely disable me. I know exactly what's happening every time but it's so intense that it overwhelmes me. I take 100mg of Zoloft everyday and I have xanax in my pocket at all times. Sometimes when I panic I read articles like this one just to remind me I'm not dying. I'm sure that I will have panic disorder the rest of my life. Sometimes it's hard to make it day to day. I suppose what triggers it for me is knowing that I am going to have a panic attack every day no matter what. I wake up in the middle of the night and instantly have a panic attack. (These are always the strongest attacks for me) so I'm often afraid to sleep but then lack of sleep causes panic anyway. It has complete controll of my life.
My panic attacks wont let me leave in peace nor let me work.......I need help please
WHAT IF THE FEAR IS THE CONDITION PLUS A SITUATION YOU FEAR FOR YOUR LIFE> AND COULD COST YOU YOUR LIFE!
[...] and relax every muscle group one by one, count backward from 100 or take a brief walk. Having a plan may prevent you from spiraling [...]
I am in fact happy to read this blog posts which carries
lots of valuable information, thanks for providing
these information.
I'm usually at school all day and if something important is happening, or we have a test I start to have panic attacks and I don't know how to stop them. Because I'm at school I don't really have any options to help them. Do you have any suggestions on what to do? My friends know I get them so if I start to panic they'll help me out but I'm really worried I'll faint and something will happen. I don't have medication or anything. Any ideas?
I had my worst panic attack ever yesterday. I have been Dealing with panic and agoraphobia now for two years. Yesterday I had to sign papers to sell our house. I could not breath going to the signing or coming from. I know all the breathing techniques. I just need someone to listen! It is not like I am young, but this keeps getting worse.
My anxiety attacks are always brought on by my family(parents). I'll go to visit them and either they will start fighting or they'll start fighting with me, and when I try to leave as my 'exit strategy', they make me feel bad for leaving and get more angry at me, and that makes my anxiety even worse. My chest gets really tight and it's hard to breathe. I start shaking and crying. I've had them last up to 45 minutes before. I'm not on medicine, and only a few of these tips help me. If you know of anything else I could try, I would greatly appreciate it.
Everything is very open with a precise clarification of the issues.
It was truly informative. Your website is
extremely helpful. Many thanks for sharing!
I used to get awful panic attacks many times a day, and was agoraphobic for years due to panic and anxiety. I've tried a couple fast acting (xanax, ativan) but they made me tired, and the next day my anxiety felt worse...
What finally worked for me, is total distraction! I still get moments where I have anxiety/panic, but I have trained my brain to completely immerse myself in whatever I'm doing at the moment (cooking, laundry, driving) and breath/whisper my favorite songs, so to distract my breathing. Hope that helps, this is such an awful disorder to live with, and I'm grateful to read others' coping mechanisms as well, and know I'm not alone.
Holding ice while it melts helps me, pinching myself to ground myself, going for a walk, any type of major distraction seems to help. But I suffer from residual anxiety for hours after the attack. Smetimes when the physical symptoms are gone I worry bc my body suddenly feels TOO relaxed. Does this ever happen to anyone? I feel like I'm living in hell.
I am regular visitor, how arre you everybody? This post posted at this site is iin fact good.
This is a great list. I do agree with water and tears. Sometimes, a lot is going on in my head and it just won't stop and when I watch really moving videos or movies, it kind of lessens. Cold shower works too. I also spend time with our dogs and talk to them. I also have my boyfriend who is always there to help me and talk to me.
Hi Molly.
I will testify that the yoga position really works.
Thanks for the information.
Hi. Some good idea's. The Yoga position is a good one for it encourages controlled relaxation.
Inspiring and educational post, thank you for sharing. Dealing with anxiety is certainly not a straight road, but a windy pathway to freedom.
Hey Molly I saw your post, this happened to me, at school socials I felt trapped with no where to go, if you can map out your whole surroundings, pick out quiet spots, exits, something that you are interested in, someone's hat etc can help, you may also find it beneficial to slowly take part in the crowd (as you get more comfortable slowly go deeper into the crowd. Hope this helps good luck. Candy//
I'm 16 and I started having panic attacks at the beginning of the year. My mom also suffers from panic attacks. So there is a history of panic attacks in my family. I constantly hurt all over and I constantly worry about my health. I'm a singer and I found that if it sing some happy or silly songs my panic attacks tend to disappear and I feel much better. Also I've found that standing or sitting in the sun tends to make my panic attack go away as well. But I'm looking for a way to deal with my panic attacks when I'm in large crowds and unable to leave. (Example: My 8th grade graduation) I never carry my medication with me because I feel like I'll get in trouble or something but there always somewhere close like in my moms purse.
Hey everyone,
I'm Candy, an older teenager, I've had severe crippling panic attacks since I was 8years old. I'm a senior student in college and I saw everyone's posts, I'm looking for advice on how to;
1. Cope with panic attacks at school.
2. Ways to tell my teacher about my panic attacks (teacher that already knows my panic attacks but doesn't understand them)
3. Ways to tell my friends (without feeling weak and helpless)
4. Ways to help relieve stress induced insomnia. (From panic attacks)
Any ideas will be much appreciated, thanks for your time! Candy
Hi! This post could not be written any better! Reading this post reminds me of
my good old room mate! He always kept talking about this.
I will forward this post to him. Pretty sure he will have
a good read. Many thanks for sharing!
I have recently started having panic attacks, went to the doctor and we'd told nevus ofthe recent move I made could have triggered something. I started doing yoga every day. But just today I started to get then back and have no idea why.. I get super scared.. please help. I don't like feeling helpless, I would appreciate some feedback.. I also get them mostly when I start to fall asleep or while I'm sleeping..
I'm in my middle 30's and I get extreme panic attacks at night mostly. Arms, face and hands go numb, cheady pain and rapid breathing. I've been to ER a few times and now its every night I now I'm having them. I'm not depressed I take xanax 1mg at night but doesn't help. What do I do!?
Hi guys im new here i have questions about my panic attacks as they are scary enough as is but ive have them for a couple years now im 30 and i used to smoke crack from age 22 to about 24 not super heavy but moderately on a daily basis ive been clean for 6 years now but was wandering if the drug abuse from then is the cause of my attacks or if my attacks are my bodys way of warning me that id damaged it even though i cant tell but perhaps long term damage that hasnt reared its ugly head yet and my body is freaking out trying to tell me somethings wrong ive been having them for 3 years but have been clean for 6 could these be related somehow should i be worried or is all these worries just my attacks found a way to fuel themselves im really scared
I'm a keen letter writer, and would like to know if there is in any case of creating a letter writing community as a result of this. Creative letter writers writing to creative letter writers the planet over.
I have been suffering from panic attacks for several years, I first started feeling like I was burning up from the inside out. I drink ice water to combat that feeling. I have more attack if I have something physically wrong like a cold, or stomach flu anything I panic it is something worse. I also have more when the Dr. gives me new medications or changes something. I have had my husband call 911 more than I care to say, I feel so foolish when they pass, and I have bothered everyone in the process, I usually wake up with them in the middle of the night and have to get my husband up (sometimes hes not too happy with that), but I really dont know what else to do. Thank you so much for this blog, I think I will try some of the things on the list. Some relief is better than nothing..
Leave a reply