How to Love Instead of Worry About Friends
Worry can have our anxiety all up and out of control, and worry never helped one person. Last week I posted a vlog: Love and Fear, The Only Two Emotions. Today's vlog picks up on that theme and lets us know how to love someone rather than worry about them.
Are You Worried About a Friend?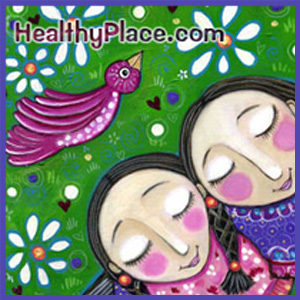 This is a traditional way to show you care, but it has limits (Worry: How Much Is too Much?). Your worry doesn't lift someone up. It doesn't help people see how much you believe in them. It most likely validates that they do indeed have something to worry about.
Love Friends, Don't Worry About Them
Having confidence in someone that they can get through a hard time can be very powerful! You hold hope even when they cannot see it, and your faith is contagious. Your friend begins to have faith, too, propelling them towards what will make them feel better: connecting with others, doing something to care for themselves or walking away from what is hurting them. Knowing they CAN do it makes all the difference. Watch this video to learn more.

Love is a win win situation, you both feel better!
How do you help a friend in need? Feel free to leave a comment!
I blog here: Heal Now and Forever Be In Peace
share here: Twitter@JodiAman, Google+
inspire here: Facebook: Heal Now and Forever Be in Peace,
APA Reference
Lobozzo, J. (2012, April 25). How to Love Instead of Worry About Friends, HealthyPlace. Retrieved on 2023, September 29 from https://www.healthyplace.com/blogs/anxiety-schmanxiety/2012/04/how-to-love-instead-of-worry-video
Author: Jodi Lobozzo Aman, LCSW-R
Hi, I do think this is an excellent blog. I stumbledupon it ;) I'm going
to return once again since I bookmarked it. Money and
freedom is the best way to change, may you be
rich and continue to guide other people.
Hello specific phobia,
I'm very glad you stumbled upon (stumbledupon) Anxiety-Schmanxiety. Please do return and interact in the community!
[...] a common fear. (Or something happening to someone you love.) These fears comes from a great love. The fear is love. But once you realize the love, and take action on that, there is no point to the fear. Fear is [...]
[...] I almost believed that this episode was different. But I let go of my own fear for them. (My worry doesn't help anyone.) I quickly assessed that they were not, in fact, psychotic. They were speaking rational and [...]
[...] Boundaries can be a skill in safety, or a barrier to relationship. It just depends. Depressed people might isolate themselves in their depression. In my opinion isolation makes things worse, so I might continue to reach out and be available, but respecting that the other person can say yes or no to it. I cannot make them decide to heal, but just offer kindness and love.  (Also see How Do We Know We Are Done Healing? which addresses our responsibility in healing others. And my video Love Instead of Worry) [...]
[...] "Rationalizing" is just an excuse to hold onto fear, which is never good for anyone. Fear doesn't protect or save relationships. Fear is fear. In fact, it very often contributes to the very thing one is afraid of, the demise of the relationship. It puts a rift between people, cause one to accuse the other, blame, and build resentment. Never good. Fear is not love. [...]
I watched the video many times. I do worry a lot about others, and I never looked at it as if I didn't believe in them, but now I understand the point. In fact I can divide my worries about someone in three different points:
I worry a lot about upsetting the person
I worry about not knowing when the person is feeling bad, not to be there for her
I worry about losing the person
Writing them down made me realize it's all about me, and not about them. I am the problem here, not the pther person I am worried about :(
[...] Newest post on Anxiety-Schmanxiety:  How to Love Instead of Worry (Video) [...]
Leave a reply