Kidding Around With Romance
Youthful and playful activities can add spark to your relationship. Being playful in adult relationships is a good thing. It's perfect for a first date and can even help light a fire under long-term couples whose affections have cooled.
Life happens in a blink! Take advantage of it. Your childhood is calling!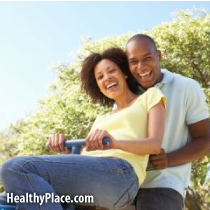 Love is eaten away by routine! Be playful.
Being playful isn't something logical. It's being the little kid in a big body, having fun, being happy and enjoying each other without concern about whether what you're doing is proper.
It's doing things with a sparkle in our eyes and with a laughing face. It's being a free-soul, with a sense of humor and in action with one another.
It's having an "I can hardly wait" attitude and taking a break from the fixed framework of your everyday life; it's celebrating distraction.
It's having the self-confidence to be or do something without the concern of what others might think. It's being okay with looking dumb, acting silly or stupid in a childlike way.
Bankrupt in the playful department? Spend an afternoon watching children play. It's childlike frolicking and drawing gleefully outside the lines.
It's being sponteneous with a childlike curiosity. Being playful is to be more candid, intimate, and outrageous. Being playful is being full of high-spirited fun: frisky, frolicsome, impish, mischievous. It's letting your playful spirit come out and play.
If they're not okay with you being who you are, that might be a clue as to whether you have a second date. Is that a great time saver or what?
You can also schedule a "PlayDate!" where you only play and focus on fun; no coversation about issues. Being playful is a great icebreaker, especially if sharing childhood memories - or favorite foods, worst nightmares, most embarrassing moments - is involved. Such honest revelations sometimes help determine if this is someone with whom you'd enjoy spending more time or you can learn more about the partner you're with.
---
---
Select a special day each week to compliment your mate. Be sure the compliment is personal and handmade; send an e-mail, a card or love poster, or a handwritten sweet note.
Take crayons to a family-friendly restaurant and draw pictures or write notes to each other on the placemats. Go to a Kids Cartoon Movie together.
Go out for ice cream, a movie, a concert or just take a walk. Attend church together. Play Frisbee in a park. Visit a local high school football game on the spur of the moment. Make it a weekly activity for you and your love partner to share throughout the year.
Slide down the hill on a large, flattened cardboard box or, in the summer, on a large block of ice. Go bicycling together. Have a food fight.
Jump rope. Read a Dr. Seuss book together. Get down on the floor and spend an evening together playing children's games or playing with children's toys.
Have some fresh-air fun. Get outside for a change. Wade in a stream. If you are brave, climb a tree. Notice the shape of the clouds. Pitch a tent (rent one for the night) and relax in each other's arms listening to a symphony of crickets or other sounds of nature.
Skip flat rocks across a pond. Mix up some soapy water and blow bubbles. Buy some bubblegum. Have a bubble blowing contest.
Blow bubbles during a slight breeze before sundown. Blow them big and let each one carry a secret wish.
Go out and buy a music CD together. When you return home, turn on the music, sit on the back porch and enjoy hot cider or a cold crink and each other's company.
Plan a picnic on a playground for children and play on the swings. Enjoy the feeling of flying through the breeze. Play on the slide or in the sand box.
Blindfold your date, drive him to an ice cream parlor and make him guess the flavor of as many samples as they'll let you try.
Power walk through the park, then stop for some social lubricant, relax and catch your breath.
Go to the library. Each quietly read a children's book, then go sit under a tree and take turns telling each other the story you read.
Buy a couple of disposable cameras and snap a few pictures of you and your partner "just being a kid again." Drop them off at a one-hour photo shop, then check out your adventure over some yummy desert.
Go jump in the lake (or pool)! Take a splashy, childlike swim. Remember to take your rubber ducky!
Visit a candy store. Suck on a lollipop. Sit under a tree and watch the squirrels. Recall a childhood memory or activity and engage your partner in reliving it. Whistle a happy tune. Create some lively conversation.
Take a hike! Leave your destination to chance. Carry a penny with you and when you come to a corner, flip the coin to see whether to go left (heads) or right (tails).
Make a "spur-of-the-moment" bouquet of freshly picked wild flowers or weeds with flowers and spontaneously present them to your partner.
The best things in life are free. Flinging dollars on a date is not what fun-focused dating is about. Sunsets, picnics in the park, walks on the beach, celebrating Love together and are all priced right! The same is true about special occasions and gifts. Design some of your own memorable moments. You don't have to be a "big spender" to have fun.
Make your date the luck-of-the-draw. Have each partner take some crayons and draw several possible dates, put them in a hat and pick one.
Date your mate! Plan it in advance. Preparation is the key to successful dating. Focus on having fun. Committed love partners know it is wise to plan their time together. Go on a date. Talk about it. Don't wait until the last moment.
Slow down the pace a little. Moving 70 mph through a date is not a good idea. Give yourself time to focus on fun. Take turns planning these events. Lovers show their consideration for each other this way. To do otherwise is to take your togetherness for granted.
It's never too late to begin a new, playful tradition. Being playful is a good thing!
- - -
A special "thank you" to Janie Magruder, The Arizona Republic for the inspiration for this article.
next: Romantic Ideas to Make it Valentine's Day All Year Long!
APA Reference
Staff, H. (2008, December 18). Kidding Around With Romance, HealthyPlace. Retrieved on 2023, December 11 from https://www.healthyplace.com/relationships/celebrate-love/kidding-around-with-romance
Last Updated: June 1, 2015