Jazz Up Your Relationship!
Teach your friend or lover to love jazz or to understand the concept of jazz and you'll have a friend for life.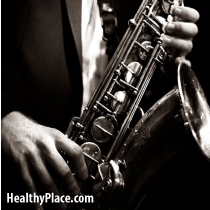 Jazz is one of the highest levels of communication from the Infinite to man.
When a jazz musician plays jazz, although he may not consciously know what the next note will be, he trusts his intuition enough to fearlessly play it.
Good jazz players trust their intuition. Mediocre jazz players do not.
When you can learn to fearlessly communicate with your partner at a level of jazz you create a whole new possibility for relationship to show up. One that is spontaneous, fun, exciting and more.
Jazz teaches us to trust our intuition.
When you begin to relate to how jazz gets created, you begin learning how you know that the next note is the right note.
"When you hit a wrong note, it's the next note that makes it good or bad." - Miles Davis
If it is true that "intuition is the voice of God," and I believe it is, your intuition can never be wrong.
Perhaps one of the most important keys to having a healthy and successful relationship is to learn to listen to and trust your intuition without question.
Trust yourself to write your own relationship music. Play what is right, not what feels right. Play the next notes fearlessly.
Communicating with your partner at a level of jazz is being willing to risk no undelivered communication relevant to your relationship with no expectations.
When the Infinite communicates, there can be no withholds.
Knowing this does not make a difference. Doing something about it does.
Go into the world and make beautiful music. . . together!
Whoever fails to try what his heart would have him do - because his mind tells him, "This you cannot do" - fails to hear the ever-present Voice of Reality forever shouting to all those who would dare: "No sincere effort ever goes without being rewarded." - Guy Finley
---
---
next: Communicating is Not Optional How to Listen So Your Partner Will Talk
APA Reference
Staff, H. (2008, December 30). Jazz Up Your Relationship!, HealthyPlace. Retrieved on 2023, December 3 from https://www.healthyplace.com/relationships/celebrate-love/jazz-up-your-relationship
Last Updated: June 1, 2015