Why? The Colorado Shooter
HealthyPlace Mental Health Newsletter
Here's what's happening on the HealthyPlace site this week:
Why? The Colorado Shooter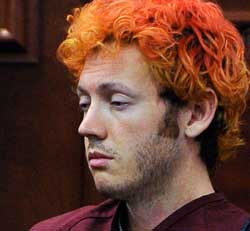 We are again left to make sense of another senseless act of violence. Why would Colorado shooting suspect, James Holmes, walk into a crowded theater and kill 12 people and wound another 58 others? So far, authorities say Holmes isn't talking.
Part of being able to stop these random acts of violence is to develop a behavioral pattern making it easier to identify future potential suspects. But James Holmes didn't show up on anyone's radar. His behavior didn't attract anyone's attention. Even the large cache of weapons, ammo and protective body gear were legally purchased.
So here's the scary thing, or maybe it's something we'll just get used to:
"There's no way you can prevent it. There's absolutely no way," said Peter Ahearn, a former FBI agent. "It was random. It happened. There was nothing that could have prevented that unless someone saw him loading his car with guns."
What follows are articles on how to help your child cope with violence and the fear that comes along with that. One important thing to keep in mind, a person does NOT have to experience a traumatic event firsthand to be traumatized.
Related Stories
---
continue story below
---
Share our Stories
At the top and bottom of all our stories, you'll find social share buttons for Facebook, Google+, Twitter and other social sites. If you find a particular story, video, psychological test or other HealthyPlace feature helpful, there's a good chance others in need will too. Please share.
We also get many inquiries about our linking policy. If you have a website or blog, you can link to any page on the HealthyPlace website without asking us beforehand.
------------------------------------------------------------------
Most Popular HealthyPlace Articles Shared by Facebook Fans
Here are the top 3 mental health articles HealthyPlace Facebook fans are recommending you read:
If you're not already, I hope you'll join us/like us on Facebook too. There are a lot of wonderful, supportive people there.
------------------------------------------------------------------
Mental Health Experiences
Share your thoughts/experiences with any mental health subject, or respond to other people's audio posts, by calling our toll-free number (1-888-883-8045).
You can listen to what other people are saying by clicking on the gray title bars inside the widgets located on the "Sharing Your Mental Health Experiences" homepage, the HealthyPlace homepage, and the HealthyPlace Support Network homepage.
If you have any questions, write us at: info AT healthyplace.com
------------------------------------------------------------------
From the HealthyPlace Mental Health Blogs
Your comments and observations are welcomed.
Feel free to share your thoughts and comments at the bottom of any blog post. And visit the mental health blogs homepage for the latest posts.
Gender, Race, and Mental Illness on HealthyPlace TV
Shawn Maxam is a black man living with bipolar disorder. He says the black mental health experience is different than what others may have come to know. How? Watch our interview with Shawn on the HealthyPlace Mental Health TV Show.
Child Phobia: Sports Phobia, Fear of Playing Sports
It's summer camp time and a lot of kids are engaged in sports. There are others, however, that have a sports phobia. Our Parent Coach, Dr. Steven Richfield, has suggestions for parents to help their child overcome their fear of playing sports.
That's it for now. If you know of anyone who can benefit from this newsletter or the HealthyPlace.com site, I hope you'll pass this onto them. You can also share the newsletter on any social network (like facebook, stumbleupon, or digg) you belong to by clicking the links below. For updates throughout the week:
APA Reference
Staff, H. (2012, July 24). Why? The Colorado Shooter, HealthyPlace. Retrieved on 2023, December 8 from https://www.healthyplace.com/other-info/mental-health-newsletter/why-the-colorado-shooter
Last Updated: September 4, 2014