Stigma Lies. Mental Illness Isn't Who You Are
HealthyPlace Mental Health Newsletter
Here's what's happening on the HealthyPlace site this week:
Stigma Lies. Mental Illness Isn't Who You Are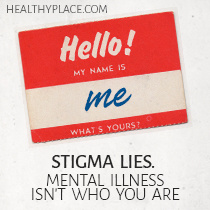 The word stigma is a detestable word. It exudes hatred and misunderstanding. To be stigmatized, to face stigma, is to be judged not for who you are but for a misunderstood label.
Mental Illness Diagnosis Beginning of Facing Stigma
Mental health challenges are common. It takes strength to seek help. Part of the help sometimes involves getting a diagnosis, such as an anxiety disorder or schizoaffective disorder or dissociative identity disorder or any other term used to describe what's medically called a mental illness.
Unfortunately, this diagnostic term sticks. Sometimes people feel shame about having a mental illness so begin to self-stigmatize, using a label to define who they think they are because of the medical term. Sometimes, friends, family, coworkers, and even strangers become confused, mistaking a diagnostic phrase for the whole person.
Regardless if the stigma comes from within the person or from outsiders, it's a lie. A term for a (mental) illness is only that: a medical term. It gives a common language to what someone is dealing with in order to make healing easier. Nothing more. Don't be fooled by stigma. A diagnostic label of mental illness is only something you're dealing with. It isn't who you are.
Related Articles Dealing with Stigma, Mental Illness, and Identity
Your Thoughts
Today's Question: Have you ever found yourself thinking a mental health label describes who you are rather than something you're dealing with? We invite you to participate by commenting and sharing your feelings, experiences and knowledge on the HealthyPlace Facebook page and on the HealthyPlace Google+ page.
---
---
Share our Stories
At the top and bottom of all our stories, you'll find social share buttons for Facebook, Google+, Twitter, Pinterest and other social sites. If you find a particular story, video, psychological test or other HealthyPlace feature helpful, there's a good chance others in need will too. Please share.
We also get many inquiries about our linking policy. If you have a website or blog, you can link to any page on the HealthyPlace website without asking us beforehand.
Most Popular HealthyPlace Articles Shared by Facebook Fans
Here are the top 3 mental health articles HealthyPlace Facebook fans are recommending you read:
If you're not already, I hope you'll join us/like us on Facebook too. There are a lot of wonderful, supportive people there.
------------------------------------------------------------------
From the HealthyPlace Mental Health Blogs
On all our blogs, your comments and observations are welcomed.
Feel free to share your thoughts and comments at the bottom of any blog post. And visit the mental health blogs homepage for the latest posts.
------------------------------------------------------------------
Stand Up for Mental Health
Thousands Have Joined the Stand Up for Mental Health Campaign
But we still need you. Let others know there's no shame in having depression, anxiety, bipolar disorder, trichotillomania, OCD, ADHD, schizophrenia or any other mental illness.
Join the Stand Up for Mental Health campaign. Put a button on your website or blog (buttons for family members, parents, mental health professionals and organizations too). We also have covers for Facebook, Twitter and Google+.
------------------------------------------------------------------
Latest Mental Health News
These stories and more are featured on our mental health news page:
Violent Video Games 'Linked To Aggression But Not Criminal Violence'
COPD Patients With Psychological Conditions Have Higher Rate Of Early Hospital Readmission
Long-Term Brain Changes Persist Years After Drug Abuse And Recovery
Increased Risk Of Depression For Mothers Undergoing Fertility Treatment
Just One Or Two Drinks A Day Could Increase Risk For Certain Cancers
Depression, Bipolar May Raise Heart Disease Risk In Teens
Retinal Changes May Serve As Measures Of Brain Pathology In Schizophrenia
That's it for now. If you know of anyone who can benefit from this newsletter or the HealthyPlace.com site, I hope you'll pass this onto them. You can also share the newsletter on any social network (like facebook, stumbleupon, or digg) you belong to by clicking the links below. For updates throughout the week:
APA Reference
(2015, August 19). Stigma Lies. Mental Illness Isn't Who You Are, HealthyPlace. Retrieved on 2023, December 8 from https://www.healthyplace.com/other-info/mental-health-newsletter/stigma-lies-mental-illness-isn-t-who-you-are
Last Updated: August 24, 2015