Living with a Mental Illness: Tired of Stereotypes and Stigma
HealthyPlace Mental Health Newsletter
Here's what's happening on the HealthyPlace site this week:
Living with a Mental Illness: Tired of Stereotypes and Stigma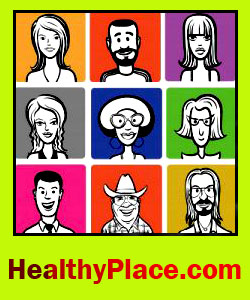 It seems people living with a mental illness are fed up with stereotypes of what it's like to have bipolar disorder, schizophrenia, depression, anxiety and other mental illnesses. Across our social networks this week, we asked our community members what most bothered them about having a mental illness. Here are a few responses:
Carolyn Clark (FB): Stereotypes and narrow mindedness toward mental illness and the effects it can have.
Scott P. Smith (FB) The public's stereotype that I'm either homicidal or suicidal just because I'm bipolar.
Grace M. Druzba (FB) That I am defective and therefore second class - someone not to breed with.
@kailejocelyn: I hate being known as "that girl who cuts" or "that girl who tried to kill herself" or "that girl who starves herself."
@leah_michal: Loss of credibility in a lot of situations.
@bipolarvoice: Stigma from others; the fact that your opinion can be treated as inferior if someone thinks you're in an episode.
What about you? What bothers you most about having a mental illness? We invite you to participate by commenting and sharing your feelings, experiences and knowledge on the HealthyPlace Facebook page.
Related Depression Treatment Information
Help Spread Awareness of Mental Illness
Get Our Mental Health Blog Widget
Some 70 sites and blogs are helping spread awareness of mental illness. How about putting our mental health blogs widget on your website, blog or social page? The latest HealthyPlace blog headlines appear as soon as the articles are posted on our site. Just click "Get Widget" at the bottom of the widget, grab the embed code and paste it into your page. You'll also see embed links for Wordpress, Blogger, Linkedin and other social sites there.
As a bonus, put the blogs widget on your site or blog, email us (info AT healthyplace.com) with a page link where it appears, and we'll give a shoutout to your site, blog, or social site on our Facebook and Twitter pages.
------------------------------------------------------------------
Share our Stories
At the top and bottom of all our stories, you'll find social share buttons for Facebook, Google+, Twitter, Pinterest and other social sites. If you find a particular story, video, psychological test or other HealthyPlace feature helpful, there's a good chance others in need will too. Please share.
We also get many inquiries about our linking policy. If you have a website or blog, you can link to any page on the HealthyPlace website without asking us beforehand.
---
continue story below
---
Most Popular HealthyPlace Articles Shared by Facebook Fans
Here are the top 3 mental health articles HealthyPlace Facebook fans are recommending you read:
If you're not already, I hope you'll join us/like us on Facebook too. There are a lot of wonderful, supportive people there.
------------------------------------------------------------------
Mental Health Experiences
Share your thoughts/experiences with any mental health subject, or respond to other people's audio posts, by calling our toll-free number (1-888-883-8045).
You can listen to what other people are saying by clicking on the gray title bars inside the widgets located on the "Sharing Your Mental Health Experiences" homepage, the HealthyPlace homepage, and the HealthyPlace Support Network homepage.
If you have any questions, write us at: info AT healthyplace.com
------------------------------------------------------------------
From the HealthyPlace Mental Health Blogs
Your comments and observations are welcomed.
Feel free to share your thoughts and comments at the bottom of any blog post. And visit the mental health blogs homepage for the latest posts.
Black and Bipolar on HealthyPlace TV
Shawn Maxam, author of "The Bipolar Griot" blog, talks about being a Black man with bipolar disorder and all that entails. Watch our interview.
That's it for now. If you know of anyone who can benefit from this newsletter or the HealthyPlace.com site, I hope you'll pass this onto them. You can also share the newsletter on any social network (like facebook, stumbleupon, or digg) you belong to by clicking the links below. For updates throughout the week:
APA Reference
Staff, H. (2012, November 14). Living with a Mental Illness: Tired of Stereotypes and Stigma, HealthyPlace. Retrieved on 2021, October 26 from https://www.healthyplace.com/other-info/mental-health-newsletter/living-with-a-mental-illness-tired-of-stereotypes-and-stigma
Last Updated: September 4, 2014