Obamacare and Actually Getting Mental Health Treatment
HealthyPlace Mental Health Newsletter
Here's what's happening on the HealthyPlace site this week:
Access to Mental Health Treatment Improving Under Affordable Care Act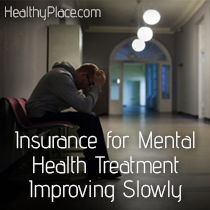 A recent U.S. News and World Report article titled, "Mental Health Now Covered Under ACA, but Not for Everyone" is a must-read for anyone trying to understand where mental health care and Obamacare intersect. The good news is that when it comes to mental health coverage, things are getting better but we're still far from parity with medical insurance coverage. In addition, politics and mental health stigma play a role in insurance coverage for mental illness from state-to-state.
In reading the article, there are a few key takeaways that I want to share:
The law allows young adults, up to age 26, to remain on their parents' health plans - important because half of all mental health and substance abuse conditions begin by age 14, and three-quarters begin by the age of 24.
Insurance companies can't reject you because of pre-existing conditions such as depression, bipolar disorder, schizophrenia, and drug or alcohol addiction.
Twenty-one states have opted out of expanded Medicaid coverage that would have paid for mental health care. But there are other states that have vastly improved access to treatment and quality of care.
So, for now, insurance coverage for mental health treatment is still a hodgepodge and a matter of being in the right state at the right time.
Related Paying for Mental Health Treatment Articles
---
---
Your Thoughts
Today's Question: Has the Affordable Care Act, aka Obamacare, helped you gain access to mental health treatment? We invite you to participate by commenting and sharing your feelings, experiences and knowledge on the HealthyPlace Facebook page and on the HealthyPlace Google+ page.
------------------------------------------------------------------
Share our Stories
At the top and bottom of all our stories, you'll find social share buttons for Facebook, Google+, Twitter, Pinterest and other social sites. If you find a particular story, video, psychological test or other HealthyPlace feature helpful, there's a good chance others in need will too. Please share.
We also get many inquiries about our linking policy. If you have a website or blog, you can link to any page on the HealthyPlace website without asking us beforehand.
Most Popular HealthyPlace Articles Shared by Facebook Fans
Here are the top 3 mental health articles HealthyPlace Facebook fans are recommending you read:
If you're not already, I hope you'll join us/like us on Facebook too. There are a lot of wonderful, supportive people there.
------------------------------------------------------------------
Mental Health Experiences
Share your thoughts/experiences with any mental health subject, or respond to other people's audio posts, by calling our toll-free number (1-888-883-8045).
You can listen to what other people are saying by clicking on the gray title bars inside the widgets located on the "Sharing Your Mental Health Experiences" homepage, the HealthyPlace homepage, and the HealthyPlace Support Network homepage.
If you have any questions, write us at: info AT healthyplace.com
------------------------------------------------------------------
From the HealthyPlace Mental Health Blogs
We are welcoming our new "Surviving Mental Health Stigma" blogger, Andrea Paquette aka "The Bipolar Babe". Stop by the blog, say hello, watch her video and discover how she got that nickname. On all our blogs, your comments and observations are welcomed.
Feel free to share your thoughts and comments at the bottom of any blog post. And visit the mental health blogs homepage for the latest posts.
------------------------------------------------------------------
Stand Up for Mental Health
Thousands Have Joined the Stand Up for Mental Health Campaign
But we still need you. Let others know there's no shame in having depression, anxiety, bipolar disorder, trichotillomania, OCD, ADHD, schizophrenia or any other mental illness.
Join the Stand Up for Mental Health campaign. Put a button on your website or blog (buttons for family members, parents, mental health professionals and organizations too). We also have covers for Facebook, Twitter and Google+.
------------------------------------------------------------------
Latest Mental Health News
These stories and more are featured on our mental health news page:
A Growing Number Of Young Adults Are Taking Psychiatric Medicines
Suicide Prevention Sheds a Longstanding Taboo: Talking About Attempts
Longer Education Linked To Better Recovery From Traumatic Brain Injury
Breakthroughs Could Lead To 'Powerful Treatment For Depression'
Activating Neurons That Trigger Depression Could Help Treat It, Study Suggests
Teens More Likely To Attempt Suicide Following Concussion
Reasons For Substance Use Vary Among Mental Health Patients
Talent, Born Or Made? Untangling The Effects Of Nature And Nurture
Deficit Schizophrenia Patients Show Reduced FA In The Left Uncinate Fasciculus
Raising A Moral Child. The Tactics Are Different From Those Used For Encouraging Achievement
That's it for now. If you know of anyone who can benefit from this newsletter or the HealthyPlace.com site, I hope you'll pass this onto them. You can also share the newsletter on any social network (like facebook, stumbleupon, or digg) you belong to by clicking the links below. For updates throughout the week:
APA Reference
Staff, H. (2014, April 29). Obamacare and Actually Getting Mental Health Treatment, HealthyPlace. Retrieved on 2023, October 2 from https://www.healthyplace.com/other-info/mental-health-newsletter/obamacare-and-actually-getting-mental-health-treatment
Last Updated: September 18, 2014