Replace Caffeine with 3 Things, Boost Your Mental Health
Here's what's happening on the HealthyPlace site this week:
---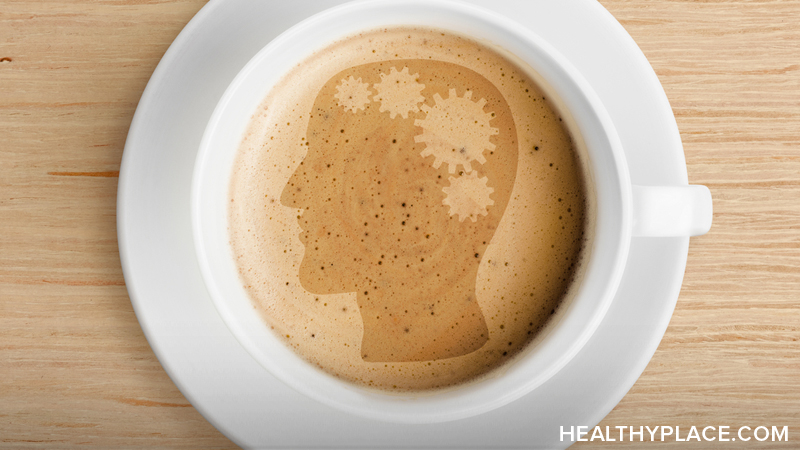 Replace Caffeine with 3 Things, Boost Your Mental Health
If you consume caffeine, how does it affect you? Knowing the answer can help you take care of your mental health.
Researchers are working to determine exactly what caffeine does to the human brain and body. Some studies indicate that moderate caffeine consumption can improve memory, focus, mood, and even ease depression symptoms, while others show that caffeine can increase anxiety, intensify panic disorder, and exacerbate the manic symptoms of bipolar disorder1.
The results are still mixed on what caffeine does to our brain, so what should we do to boost our mental health? If you decide that caffeine is causing more harm than good, gradually reduce the amount you consume daily and replace it with something better. Some caffeine alternatives include:
Water. We need at least 64 ounces daily to feel healthy and energized. If you crave flavor, add caffeine-free flavor products such as MiO or Dasani Drops.
Energizing snacks. Complex carbohydrates, protein, and fiber all increase energy, so if you down caffeine to stay awake and alert, switch to foods like almonds and walnuts, bananas, and whole grains.
Movement. Get up and walk, stretch, do jumping jacks—anything that gets you moving. It boosts blood flow to the brain and as such increases alertness.
Boost your mental health by gradually replacing caffeine with these healthy alternatives.
1 Lara, D.R. (2010). Caffeine, mental health, and psychiatric disorders. Journal of Alzheimer's Disease. 20(1), S239-48. Retrieved from https://www.ncbi.nlm.nih.gov/pubmed/20164571
Related Articles Dealing with Mental Illness Diagnosis
Your Thoughts
Today's Question: How does caffeine affect your mental health? We invite you to participate by sharing your thoughts, experiences, and knowledge on the HealthyPlace Facebook page and on the HealthyPlace Google+ page.
---
---
From the HealthyPlace Mental Health Blogs
On all our blogs, your comments and observations are welcomed.
Feel free to share your thoughts and comments at the bottom of any blog post. And visit the mental health blogs homepage for the latest posts.
------------------------------------------------------------------
From HealthyPlace YouTube Channel
How Does Your Bipolar Mind Work?
How does your bipolar mind work? It's a question I wasn't prepared to answer, especially when I'm out with friends.
------------------------------------------------------------------
Most Popular HealthyPlace Articles Shared by Facebook Fans
Here are the top 3 mental health articles HealthyPlace Facebook fans are recommending you read:
If you're not already, I hope you'll join us/like us on Facebook too. There are a lot of wonderful, supportive people there.
------------------------------------------------------------------
Mental Health Quote
"I'm trying my hardest not to act how I feel."
Read more borderline quotes.
------------------------------------------------------------------
That's it for now. If you know of anyone who can benefit from this newsletter or the HealthyPlace.com site, I hope you'll pass this onto them. You can also share the newsletter on any social network (like facebook, stumbleupon, or google+) you belong to by clicking the links below. For updates throughout the week, circle HealthyPlace on Google+, follow HealthyPlace on Twitter or become a fan of HealthyPlace on Facebook. Also, check out HealthyPlace on Pinterest and share your mental health pins on our Share Your Mental Health Experiences board.
back to: HealthyPlace.com Mental-Health Newsletter Index
APA Reference
Peterson, T. (2017, July 25). Replace Caffeine with 3 Things, Boost Your Mental Health, HealthyPlace. Retrieved on 2023, December 4 from https://www.healthyplace.com/other-info/mental-health-newsletter/replace-caffeine-with-3-things-boost-your-mental-health
Last Updated: July 26, 2017