How My Bipolar 2 Diagnosis Brought My Family Closer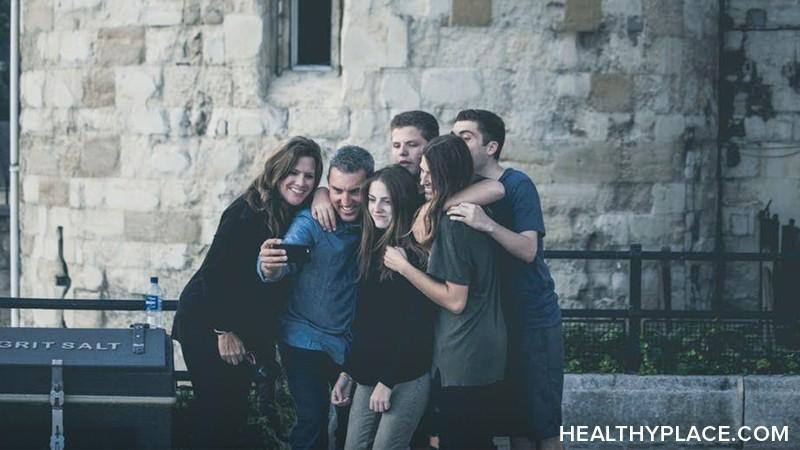 It's painful living with bipolar 2 aka bipolar depression. I realize there are many people with bipolar disorder who do not have supportive, understanding family members. I'm fortunate in that my bipolar 2 diagnosis didn't fracture my family. Instead, it brought us closer together. Here's my story.
My Family Didn't Talk about Mental Health
I grew up in a close family of seven, my mother and father, two older brothers and two cousins who moved in with us when I was barely a teen. We were raised to be open-minded and loyal to one another. However, discussing our feelings was not on the list of conversation topics at the dinner table. It was rare to speak about mental health. As a family, we pride ourselves on finding the strength to overcome obstacles without appearing vulnerable.
I worked to prove my strength as an athlete with a rugged attitude, but it never felt right to me. I felt trapped inside of my body. Behind closed doors, I was writing stories, journaling and finding ways to express myself creatively. The minute I walked out those doors, I put my tough persona on like a costume. It was hard for me to explain my emotional way of thinking to my parents and siblings. Crying without reason, and finding flaws in areas of myself, that in my family's eyes, appeared to be flawless. It didn't make sense to anybody, including myself, but logical thinking went out the window when I had my bipolar breakdown in college.
Loving Bipolar Support From My Family
When I went to the mental hospital after my breakdown, I assumed my family would think that it was a desperate attempt for attention. On family day, patients were unaware of those visiting. We would sit in the recreation room hoping that when the doors opened each time, we would be greeted by a familiar face. As time went by, I began to doubt that anyone would show up. Then, out of the corner of my eye, I saw someone peeking through the window. It was my brother. My father, both of my brothers and sister-in-law, came in one at a time. It is a moment I will never forget. To my family, I was not a mental patient; I was a daughter, a little sister and a friend. Whether they understood the meaning of bipolar disorder or not, they saw my pain. The concern over how I appeared to everyone else was irrelevant.
The experience taught us that attempting to mold ourselves into something that we are simply incapable of being at times is a waste. My diagnosis of bipolar 2 disorder, acceptance of it and coming forward about it helped my family and I redefine the meaning of strength. Strength is the quality of being honest about our downfalls and learning to embrace the parts of us that may seem weak to others. My family is more vulnerable nowadays, which has helped me tremendously. Even though they do not fully comprehend my bipolar 2 disorder, they support me. I seek out the proper resources to help me in ways that they simply cannot, and that's okay. Their pain is my pain, and for them to be strong, I have to be as well.
Check out the bipolar family support resources HealthyPlace has to offer you, as well as your family (plus learn how family and friends can support someone with bipolar disorder). Remember the most important person that needs to accept your diagnosis is you.
APA Reference
Blum, H. (2017, April 25). How My Bipolar 2 Diagnosis Brought My Family Closer, HealthyPlace. Retrieved on 2023, November 29 from https://www.healthyplace.com/living-with-bipolar-blog/how-my-bipolar-2-diagnosis-brought-my-family-closer
Author: Hannah Blum