Suicide: A Teacher's Experience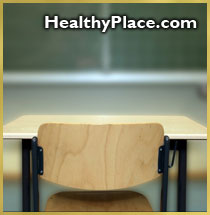 Although I've only been a teacher for eight years, I've already had to deal with a lot of problems in my classroom besides just teaching. By far, the worst experience I ever had to deal with was when one of my students tried to kill herself.
I knew, from other indicators, that Sarah was in trouble emotionally. She seemed sullen most of the time and tended to miss school a lot. Because I wanted to help her, I offered her individual attention and tutoring sessions.
I spoke to the school counselor about Sarah and my concern for her. The counselor suggested trying to help Sarah by showing her I cared and would listen if she needed a friend. I slowly gained Sarah's trust and became closer to her.
To my horror, however, I awoke one night to the sound of someone beating on my door. It was Sarah and she was holding a gun. I asked her what she was doing and she said that she had just tried to kill herself. I was horrified. I immediately called Child and Family Services for help.
Sarah was admitted to a hospital the next morning. I was relieved that she was finally getting the help she needed. Unfortunately, the nightmare didn't end there for Sarah. She had a long road back to recovery. It took several weeks in the hospital and over a year of therapy for her to fully recover from her depression. But, at least she had lived to be treated. The ending could have been much worse.
After my experience with Sarah, I was convinced that I had done something wrong. After a lot of research and talking to our school counselor, I realized I did many things right. I also realized that I could have done some things better.
Here is my list of some of the things a teacher should do if she or he has a severely depressed student:
Mention to the student that you notice he or she has been feeling down. Offer your support and ask if they need someone to talk to.

Know what your district policy and the law requires you to do. In every state, there is a law requiring that teachers report students who are in danger of hurting themselves. Your district probably has a set policy for the proper way to do this.

Tell the school counselor about the student regardless of whether you approach the student to help or not. The counselor will know of help groups, facilities, etc. to help the student.

Don't become the only person dealing with the student's problem. Make sure the counselor and administration knows of the student's situation.

Don't lie to the student. Do not make promises about confidentiality that you cannot keep. Be up front with the student about your role and responsibilities.

Work with the parents. Even if the parents are a part of the problem, the teacher needs to work with them, if possible.

Don't discount ANY reference to suicide - even if it sounds joking. Often joking about suicide is a way for the student to express himself/herself less vulnerably.

If a student seems to snap out of a depression be especially cautious. Often the student is suddenly happy because he/she has decided to commit suicide. This brings a sense of peace because the student feels as if an answer has been found.

Finally, explore options for help. You need to have emotional and legal security when dealing with a suicidal student. Find a way to help the student without putting yourself in a vulnerable situation.
Contributed By Joyce Carnes, Indiana University - Center for Adolescent Studies
next: Talking With Your School-Age Child About Depression
~ depression library articles
~ all articles on depression
APA Reference
Staff, H. (2009, January 7). Suicide: A Teacher's Experience, HealthyPlace. Retrieved on 2023, December 6 from https://www.healthyplace.com/depression/articles/suicide-a-teachers-experience
Last Updated: June 23, 2016