Acupuncture For Treating Depression
Electroacupuncture may reduce symptoms of depression. Massage decreases stress hormone levels, feelings of anxiety. Aromatherapy as a supplemental treatment for depression.
Two randomized, controlled, clinical trials suggest that electroacupuncture may reduce symptoms of depression as effectively as amitryptiline (Elavil), a tricyclic antidepressant medication. Electroacupuncture involves the application of a small electrical current through acupuncture needles. Other studies suggest that acupuncture may be effective for people with mild depression and for those with depression related to a chronic medical illness. Further research is warranted in this area.
Massage and Physical Therapy As Treatments for Depression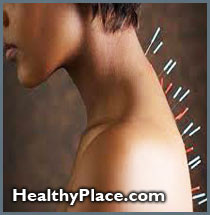 Studies of formerly depressed adolescent mothers, children hospitalized for depression, and women with eating disorders, suggest that massage decreases stress hormone levels, feelings of anxiety, and symptoms of depression. Giving massage may also be beneficial for people who are depressed. Elderly volunteers with depression showed notable improvement in their symptoms when they massaged infants.
Aromatherapy, or the use of essential oils in massage therapy, may also be of value as a supplemental treatment for depression. Theoretically, the smells of the oils elicit positive emotions through the limbic system (the area of the brain responsible for memories and emotions). However, the benefits of aromatherapy appear to be related to the relaxation effects of the treatment as well as to the recipient's belief that the treatment will be beneficial. Essential oils used during massage for depression are quite varied and include:
Basil (Ocimum basilicum)
Orange (Citrus aurantium)
Sandalwood (Santalum album)
Lemon (Citrus limonis)
Jasmine (Jasminum spp.)
Sage (Salvia officinalis)
Chamomile (Chamaemelum nobile)
Peppermint (Mentha piperita)
Source: NIH
next: Alternative Approaches to Mental Health Treatment
~ depression library articles
~ all articles on depression
APA Reference
Staff, H. (2008, December 19). Acupuncture For Treating Depression, HealthyPlace. Retrieved on 2023, November 29 from https://www.healthyplace.com/depression/articles/acupuncture-for-treating-depression
Last Updated: June 23, 2016