18 Ways to Reduce Anxiety This Year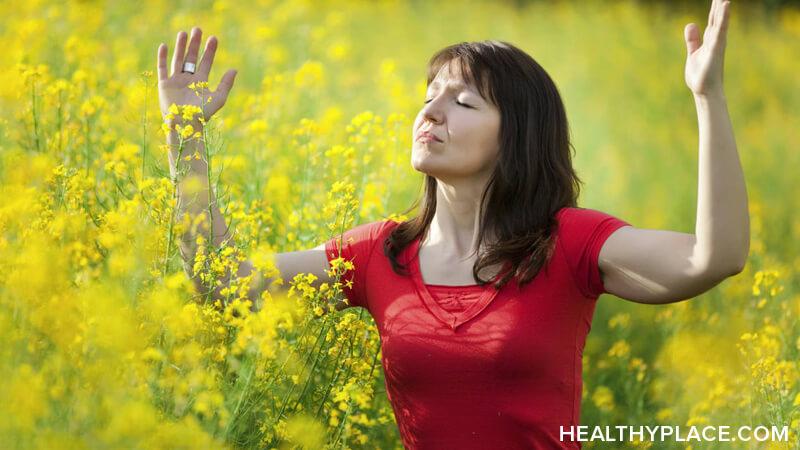 This is your year to find ways to reduce anxiety. Most likely, you've been working on doing so already, which means you have a head start. You may have already experienced successes, and you can build on that momentum this year. You might also have experienced setbacks and difficulties getting rid of worries, fears, social anxiety, racing or obsessive thoughts, and the myriad effects and symptoms of anxiety. This is why it's important to celebrate a new year. A new year is symbolic of a fresh start. You can learn new ways to reduce anxiety in 2018.
Think of anxiety as the New Year's ball that drops in New York City's Times Square. It's been hovering over your head. It's heavy. It's expensive (it's been costing you inner peace and joy as well as the freedom to live without restrictions). And it's going to drop. It will drop because you'll hit the button to make it fall. When it hits the ground, it will be on your level, and you'll be able to take action to send it rolling away from you. You are the one who will make this whole process happen. You just need various "buttons," or tools to do so. As a heartfelt New Year's gift, I offer you these 18 ways to reduce anxiety this year.
18 Ways to Reduce Anxiety in 2018
Create a vision board or visualize in a journal. What will your life be like when anxiety is gone? Be thorough, be specific, and believe in it.
Practice mindfulness. When your anxiety flares, pull your thoughts away from anxiety and onto what is happening around you.
Create a daily ritual. First thing in the morning, last thing before bed, or sometime in between, take a break to enjoy tea, read a book, or light a scented candle—whatever you find stress- and anxiety-reducing.
Follow a routine. Predictability helps relieve anxiety.
Determine your values. When you know what's important to you, you can take action to make it happen. This goes a long way in managing anxiety that comes from feeling adrift or out of sync with your values.
Take committed action. Determine what you will do to kick that anxiety ball away from you.
Accept that anxiety can't fully disappear. When you accept this, you stop struggling against it and thus free up energy and time to do other things. This, ironically, is a way to reduce anxiety.
Separate yourself from anxiety so you're not fused with it. You aren't your anxiety, nor are you your thoughts. There's a big difference between, "I'm terrible in social settings," and, "I'm having the thought that I'm terrible in social settings."
Take small steps. Determine what little steps you can take every day to move toward your vision and values and away from anxiety.
Know yourself. Anxiety tries to take over our identity. Take it back. What are your strengths? How can you use your strengths to move past your anxiety?
Reduce stress. Stress contributes to anxiety, so monitor your stress levels. Make adjustments and changes where needed.
Know your passions. What do you love? What brings you joy? Anxiety makes us avoid things, but concentrating on your passions gets you moving in the right direction.
Know your purpose. Why do you want to reduce anxiety? Knowing the reason provides extra motivation.
Do something every day (or almost every day) that takes you a bit out of your comfort zone. To beat anxiety, you have to face it, and that takes courage.
Meditate. Quiet anxious thoughts by sitting in silence, letting your thoughts drift by.
Maintain a healthy lifestyle. Physical health is vital to mental health and anxiety reduction. Take care of your mind and body through nutrition, hydration, and sleep.
Laugh. When it comes to anxiety, laughter really is one of the best medicines. It positively impacts the brain and our mind.
Exercise. A day a few days a week exercising 10-20 minutes will impact the brain positively and relieve anxiety.
Perhaps start with one or two on the list and gradually add more as the year progresses. Trying to do them all at once might increase anxiety, which of course you don't want. Use these methods as you wish so they can be helpful to you. That way, you will know your most effective ways to reduce anxiety in 2018.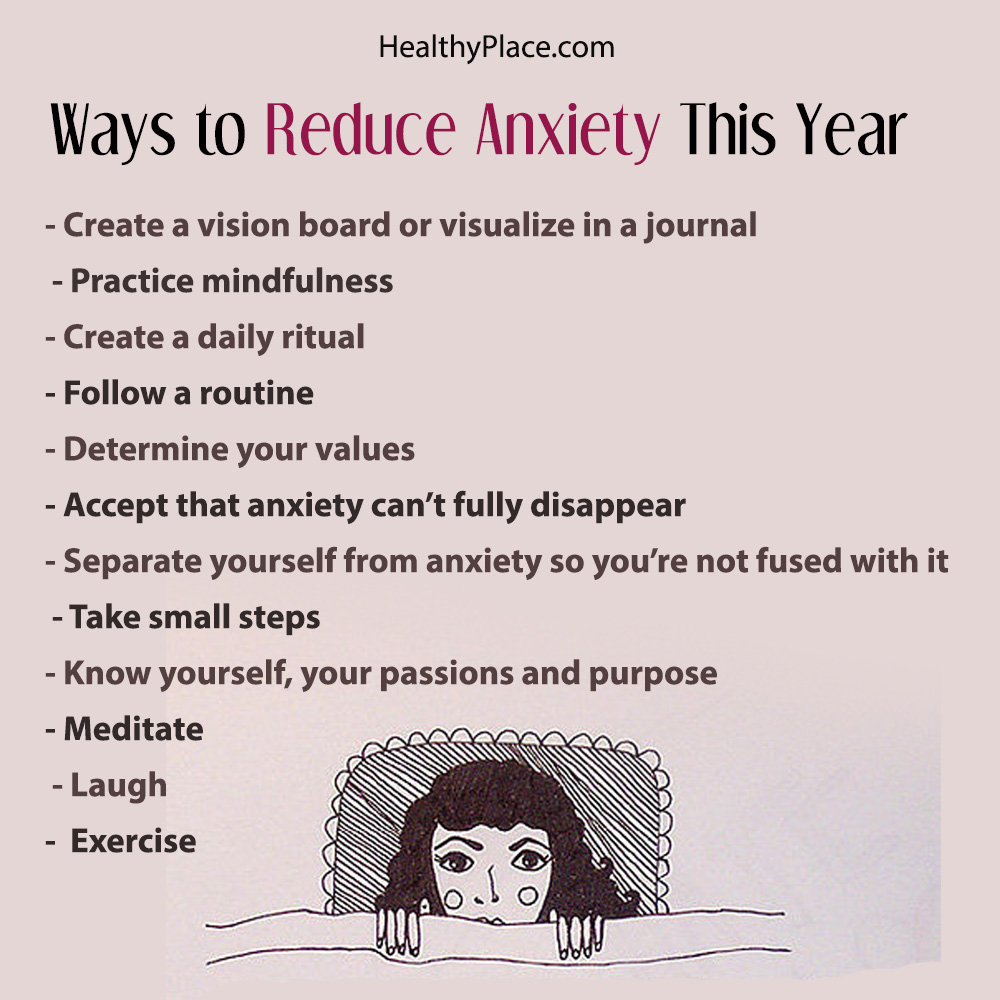 APA Reference
Peterson, T. (2018, January 3). 18 Ways to Reduce Anxiety This Year, HealthyPlace. Retrieved on 2023, December 11 from https://www.healthyplace.com/blogs/anxiety-schmanxiety/2018/01/18-ways-to-reduce-anxiety-in-2018
Author: Tanya J. Peterson, MS, NCC, DAIS
This has helped a lot with stress and anxiety.
My friend has some of the worst anxiety I've ever seen, and I get quite worried about her. It was great that this article mentioned to separate yourself from anxiety, as labeling yourself as bad in social situations will only make you feel worse. I also think that reading some self-help books could help, as you'll feel connected to the other individuals in the narratives. My friend will greatly benefit from these tips, so thank you for sharing them!
Hi Bethany,
Thank you for mentioning self-help books! I'm a bag fan of them for many reasons, including the connection you mentioned. It seems like you are providing positive help for your friend. That alone is likely quite helpful. :)
I am so gratefull for this post, I felt tears weld up behind my eyes. I continued reading with hope and just camly breathed.
I absolutely love the visual of our anxiety as a the New Year's ball dropping -- truly brilliant. What a beautiful gift. I think every single number on that list is wonderfully insightful, and helpful. That being said, I think one of the most important pieces might be this -- "Perhaps start with one or two on the list and gradually add more as the year progresses. Trying to do them all at once might increase anxiety," Yes! Being realistic is absolutely key when it comes to anxiety. Thank you for this reminder.
Leave a reply