How To Stop PTSD Anxiety, Flashbacks and Panic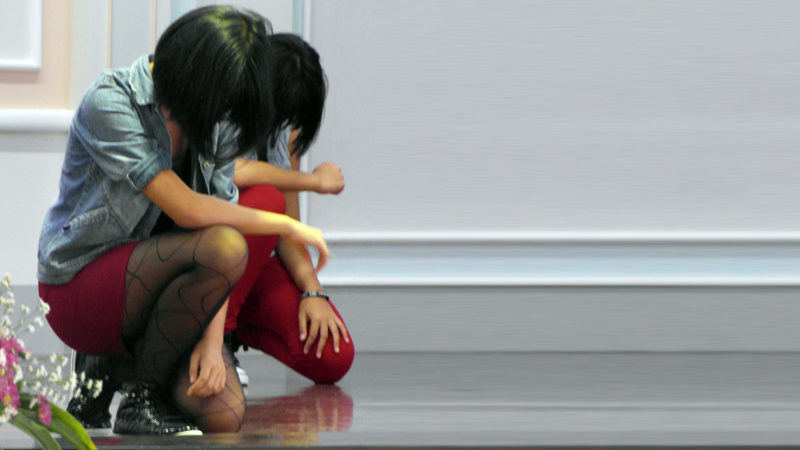 When Dr. Dan Siegel talks about posttraumatic stress disorder (PTSD) and integration in trauma recovery, he explains PTSD symptoms as pulling survivors between the two extremes of a riverbank: On one side is rigidity and on the other side, chaos.
I know from my own PTSD struggle (which went on for over 25 years before I finally healed), with PTSD you feel out of control so often, so many times and in so many ways that eventually – or even right away – it's easy to slip into a mode of just giving in to the chaos. (If you've felt this way, too, leave me a simple "yes" in the comments so I know I'm not alone!)
The problem with giving into the chaos is that when you do that--when you allow yourself to swirl along without any attempt at finding a way to steer--recovery becomes more and more out of reach.
Reclaiming your ability to make choices and take actions is critical. How do you do that? One way is to look at how being intentional works in mindfulness. I sat down to chat with my colleague, Megan Ross, the Trauma Therapy Coordinator at Timberline Knolls to chat about these two ideas.
Putting Mindfulness and Intention into Action
Mindfulness is the intended awareness that one develops of the present moment. It's not just becoming aware, but it's having clarity around your awareness so that your awareness can develop into regulation and organization. Awareness itself can be a stepping stone and it's incredibly useful, however it's not necessarily action oriented so to have intention around awareness, around the present moment ends up providing you with the next layer of mindfulness being able to work for you.
We have a tendency during, and even after, trauma to get stuck in the freeze response and paralysis. We stop acting and live in default mode. You are activating the recovery experience when you say the difference between awareness--which is not action-oriented--and intention, which is.
Historically, mindfulness comes from an Asian perspective. The root of mindfulness is how to have 'right being' or clarity of being, or purity in being. So, there is an added element of being aware and one of our translations for that is intention. To have intention around your awareness so there is reason with it and purpose, and to develop purpose through the trauma recovery process is, in fact, what many of us struggle with.

How do we redefine our own purpose through recovery? Mindfulness, as a practice as well as an orientation to the way you are in the world. If you have intention with it, and you have clarity and purity with it, then you are turning over that leaf toward a new purpose. That new purpose lives inside of the present moment through mindfulness.
Let's get a working definition for term intention. I love that word. I use it a lot in the work I do with PTSD survivors because it can be so useful in terms of helping them shift out of feeling powerless and into feeling powerful because being intentional is all about reclaiming your ability to choose which, when followed by an action, shifts you out of a mentality focused on victimhood or submissiveness. What do you mean when you use the word, "intention?"
Knowing why it is you engage in the behaviors and the experiences that you do then it is very easy to 'float' and the float can be experienced as dissociation, a disconnection between yourself and the relationships or the place that you're in. So, to place intention in there, you are effectively aligning the purpose of yourself in the moment.
I've written previously about PTSD symptoms and how mindfulness can help. It's a powerful, and yet very simple, process that can yield incredible results in a survivor trying to reclaim a sense of calm, control and connection. Most especially in how it allows you to build a practice of exactly what Megan identified: giving you a purpose in the moment. With purpose comes focus, and with focus comes control.
All of this goes a long way in laying the groundwork for what to do in those critical moments when you want to interrupt or prevent PTSD flashbacks. How to do that will be the subject of my next post in two weeks. (Cliffhangers are the worst, I know, but bear with me as this post is already getting too long!)
Michele is the author of Your Life After Trauma: Powerful Practices to Reclaim Your Identity. Connect with her on Google+, LinkedIn, Facebook, Twitter and her website, HealMyPTSD.com.
APA Reference
Rosenthal, M. (2014, May 14). How To Stop PTSD Anxiety, Flashbacks and Panic, HealthyPlace. Retrieved on 2019, September 23 from https://www.healthyplace.com/blogs/traumaptsdblog/2014/05/how-to-stop-anxiety-flashbacks-and-panic-part-1
Author: Michele Rosenthal