Coronavirus Isolation and Depression When Working from Home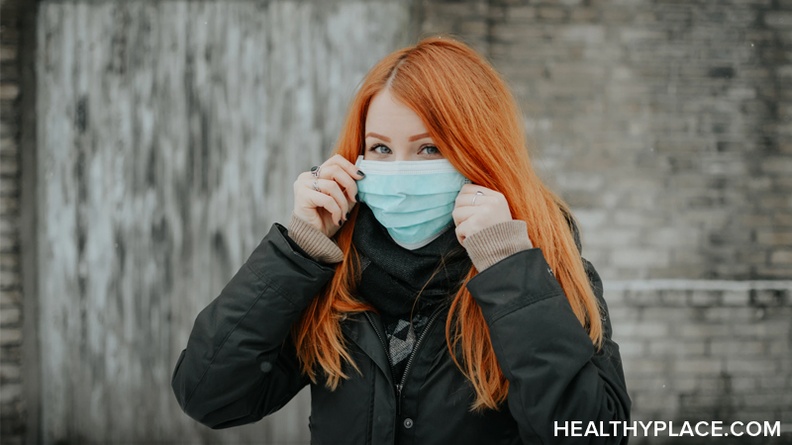 Coronavirus isolation is new, but here's the thing: coronavirus has made our planet its home for a while now. Although it showed up in December 2019, it is only in the month of March that we have decided to take it seriously. To contain the virus, many countries have prohibited people from leaving their homes and asked them to practice social distancing instead. This has naturally taken on a toll on the mental health of extroverts and ambiverts. And over time, it will affect introverts too (if it hasn't already). I speak from experience because I am an introvert whose depression has already worsened due to coronavirus isolation. Let me elaborate. 
Coronavirus Isolation Is DIfficult (Even Though Working from Home Is Normal for Me)
For personal reasons, I have been exclusively working from home as a writer from 2017 to date. I usually don't go out much, maybe once in seven or 10 days. I used to go for a daily morning walk but stopped it a while back as my sleeping patterns changed. Still, since I live with my family, I don't feel lonely and I like being able to work by myself. This isolated lifestyle suits me as an introvert, so I thought this coronavirus isolation wouldn't affect me much.
Well, I was wrong. It has only been 12 days since I last left home and I have been yearning to go out since day four. I guess it boils down to basic human psychology -- sometimes, we want something just because it is forbidden to us. That's the only explanation I have for my newfound urge to go out every single day.
Coronavirus Isolation Is Making Me Feel Like a Bird in a Cage
Honestly, I am feeling trapped, like a prisoner who has been placed under house arrest. I even feel suffocated from time to time, irrespective of whether the windows are open or shut. And standing on my balcony barely makes a difference.
I am easily irritable and bored. I've got cabin fever all right, and it's worsened my depression. My productivity has gone to the dogs (I am submitting this article a day late and I have missed other clients' deadlines as well) and it's really difficult to get out of bed.
I would give anything to see a puppy up close or smile at a kind stranger. But I am tired of complaining about it because not only is it a waste of time, this coronavirus isolation is unlikely to change anytime soon.
The Best Solution to These Depressing Times Is to Focus on the Things You Can Control
Way too many well-meaning but ignorant people are pushing the "be positive" ideology on anyone who dares to admit they are feeling low or depressed. What they don't realize is that their advice is meaningless because, first of all, people are stressed for good reason and secondly, depression robs you of the will to think positively. And as it gets worse, it takes away your energy and zest for both work and play. Ultimately, you feel mentally and physically drained and have nothing to look forward to.
I got a taste of that as I had an extremely bad mental health day yesterday: I was unable to get out of bed for the most part of the day and felt angry and helpless. So when I felt a little better today, the first thing I did was make a list of ways to deal with coronavirus isolation that would help you and I. Because let's face it, not everyone is lucky enough to work from home, companies are shutting down, and it is imperative for us to do the best work we can to keep our clients and/or jobs. 
Watch the video below to know what I came up with to control depression during coronavirus isolation.
Today, more than ever before, it is important to not leave depression untreated because it is natural to feel hopeless and lonely under these circumstances. And depression may result in suicidal ideation and consequently, suicide attempts and death. Make sure you stay virtually connected with as many people as possible, especially if they live by themselves or have been quarantined. 
Around the world, all of us are going through a stressful and challenging period. It is important that we try our best to be kind and compassionate to not just our friends and family, but also to those who are less privileged than us. Let's not forget to take care of our plant and animal friends too. We are all in this together. And remember, history is proof that when we come together as one, we humans are able to survive the most adverse conditions.
If you have any tips, hacks, and coping mechanisms of your own for dealing with coronavirus isolation, do share them in the comments below.
APA Reference
Shaikh, M. (2020, March 26). Coronavirus Isolation and Depression When Working from Home, HealthyPlace. Retrieved on 2023, September 28 from https://www.healthyplace.com/blogs/workandbipolarordepression/2020/3/coronavirus-isolation-and-depression-when-working-from-home
Author: Mahevash Shaikh
I'm a retired paramedic who is now a trauma and stress therapist. I got the virus 5 weeks ago - a moderate case, so I've been recovering. As a result of this , I work from home VERY part-time. During the pandemic and especially during my enforced isolation in a separate part of the house, I have faced the same things many others face with cabin fever and bouts of accumulating stress and anxiety or depression settling in. Here are some things I recommend to my clients that really work and that I use myself during this time:
1) Instead of the news, wake up to a playlist that makes you feel like the world will be back to normal soon. Call it your 'wake up positive' or 'resilience' playlist.
2) Do deep breathing for 1-5 minutes one to three times a day. Think to yourself while doing it: Calm in and stress/ anxiety out..basically, say whatever emotional state you need with the inhale, then say to yourself whatever emotional state you want to discharge out of your system. It takes a bit of practice, but it works - even if you just do the breathing..
3) Find time to laugh: go for non-mean spirited, apolitical comedy! It will help decrease the cortisol from stress and chase away the depression and anxiety clouds .
4) Take advantage of online mental health support groups like this one and others.
Thank you for sharing your tips. We are all in this together!
What we are going through is absolute hell. I agree it's crucial to focus on whatever we can control right now.
This lockdown is tough especially because I have two kids and I am a single parent. Will try out what you suggested. Hope it works because I am at the end of my tether
I needed this!!!! Going batshit crazy stuck at home. I work best when I have some structure. Gotta incorporate that again
Leave a reply