What To Say To A Victim Of Domestic Violence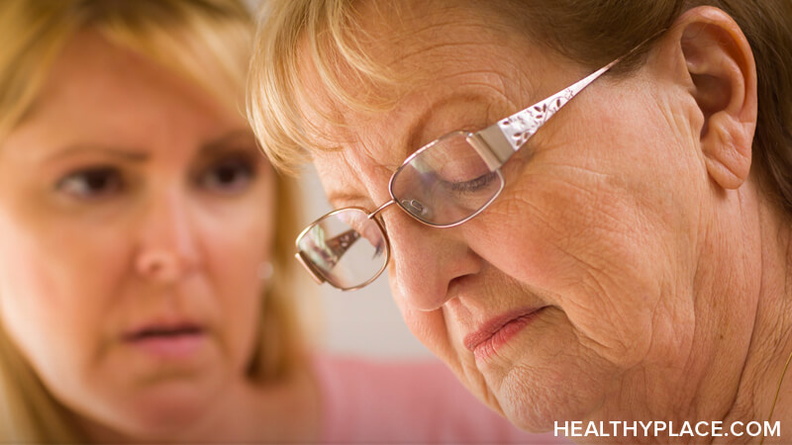 So what do we say to a victim of domestic violence? More specifically, what should we say to a friend who is abused if they come to us for help? The confusion over what to say is warranted. Even my mother didn't know what to say to me when I cried to her about the abuse, and my mother is brilliant. However, since I've been an abuser's target, I have a good idea of what to say to a victim of domestic violence, and I'll tell you all about it.
For years before I left my abusive marriage, I didn't even understand that my husband abused me. If someone flat out said, "Kellie Jo, that jerk is abusive. You're a victim of domestic violence!" I probably would have wanted to kick them where the sun don't shine. I wouldn't have, because physical violence of all kinds is wrong, but that's how I would have felt (see Trapped In An Abusive Relationship).
However, I may have responded to something like this:
I am so sorry to hear that you're feeling (depressed, scared, hurt, etc.). I can't imagine how bad it must feel for someone you love to say/do those things to you. I know you care for them deeply, so when this happens it must hurt more than I can imagine. I wish I could take away your pain, but I know I can't.

You know, dear one, many people who get angry at the ones they love want to preserve their relationship (just as you do). Yet, when you describe your relationship to me, I feel that s/he lashes out unfairly. I don't know what I can do unless you tell me what I can do to help. What can I do to help?
I know it doesn't seem like enough. I know you want to run to the house and give what's-his/her-name a piece of your mind and slam the door in his/her face after grabbing all your loved one's things. But that is not going to work.
What You Say to a Victim of Domestic Violence Changes Her Reality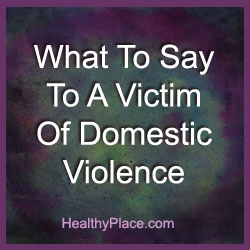 In speaking to your loved one in the matter described, you subtly remind him or her that there are three people involved in the current conversation: you, him/her, and the abuser. You remind him/her that he/she are separate from his/her abuser, which helps to detach from the abuse and remind him/her that he/she has his/her own choice to make. You can't make any choice for him/her although you greatly sympathize with his/her pain.
This type of conversation will be different from the others your friend encounters after an abusive episode. You see, with other friends, your loved one gets the chance to reverse course. When other friends attack the abuser, your loved one has the opportunity to defend the abuser and, by doing so, convince him or herself to stay in the abusive relationship.
The best thing you can do is to not give her (or him) the opportunity to defend the abuser. Let him/her be separate from the abuser, let him/her stay in his/her own mind for awhile. Ask what you can do to help, then wait for the answer.
For more, see How To Help Someone Leave An Abusive Relationship
You can also find Kellie Jo Holly on her website, Google+, Facebook and Twitter.
*Both women and men could be abusers or victims, so please do not take my pronoun choices as an implication that one gender abuses and the other is victimized.
APA Reference
Holly, K. (2015, May 16). What To Say To A Victim Of Domestic Violence, HealthyPlace. Retrieved on 2019, May 22 from https://www.healthyplace.com/blogs/verbalabuseinrelationships/2015/05/what-to-say-to-a-victim-of-domestic-violence
Author: Kellie Jo Holly
Blessed, Thank you for reaching out! I am so sorry for all you've dealt with through the years and I commend you for seeking help and information online, that's a big step and a great way to work toward a better life for yourself and your children. I think there are many resources that you could take advantage of, resources for women who have suffered, and/or are currently suffering abuse. Legal help, help to get paired with a great therapist, etc. I think getting a therapist may be really helpful for you, I know getting therapy was instrumental in my journey. Here is a link to a page with some links and hotline numbers that may get you the care and help that you deserve. <a href="https://www.healthyplace.com/other-info/resources/mental-health-hotline-numbers-and-referral-resources/" target="_blank" rel="noopener nofollow">Mental Health and Abuse Resources</a>

Thank you again for reaching out. -Emily
Hi I am a mother of a abused daughter. My question is, what do I say to my daughter if she won't leave her abuser, after I have said I think your being abused and I'm worried about your safety and so on everything I have read that's good to say? And she refuses to admit and talk about the abuse, what do I say then, and what do I continue to do, if she won't talk about it?
And they wonder why I kept going back! Well you aren't sitting in your home alone, depressed, hurt, an emotional wreck, mentally unstable not a friend in the world to talk to.
I hear you so loudly & clearly. I am so alone because my one friend blamed me when I told her about it. She kept asking me, "But what did you do?" As if anyone would knowingly do something to bring on such cruelty from their mate? No, I am not to blame for any of his behavior.
I thank God for the inner strength to stand fast in what I know is true and right and good for me.
I stand all alone, it sucks badly sometimes, but it's better than having my soul ripped to shreds by a charming ghoul.
The first mutual friend I told after I left (after many months) responded with "there's two sides to every story". It took me several more months to realize what they basically said was "hey, you must have given them a REASON to treat you like that". That's the worst thing anyone could say. Already a victim, and giving more validity to the idea that you deserve it.
Leave a reply