How To Find Some Peace In An Abusive Relationship
I tried to write this post earlier today, but evidently there were some comments and stories I needed to read first. Stories from addicts, ministers and other abuse survivors reminded me of how much I used to fight my abuser. I fought with my ex-husband so often that I accepted some isolation to spare myself the embarrassment of fighting in front of his friends. At the end, I think every one of the people my ex hung out with knew that I couldn't stand to look at him.
No wonder they believed his stories that I was miserable and unstable. I couldn't open my mouth without something negative about my ex sliding out. My feelings for him surrounded me like a prickly heat and they made me seem like someone I was not. Ugly. Hateful. Mean. My feelings for my ex made it easy for his friends to feel sorry for him, give him a place to stay, and believe his side of whatever story he told.
Was There Peace In My Abusive Relationship - Peace Inside of Me?
I was not at peace. I was in turmoil, seeking peace. I thought that forcing my ex to change would bring me peace, so I fought hard. The more I fought, the less like myself I became. I yelled and screamed. I called him names. I did these things in front of our children. I thought I was standing up for myself. I thought that acting like him would make him listen to me, but over time, I knew he wasn't listening to me. Still, my fight continued and I came to like myself less and less.
Fighting Cannot Produce Peace In Abusive Relationships
I lived a lot of years searching for peace. I was frustrated, confused, aggravated, upset and in turmoil. Now I enjoy peace. But I might never have found it if I'd stopped looking for it, because God wanted to teach me to pursue it. Sometimes we wish for things to change but are unwilling to do what it takes to make things better. ~Joyce Meyer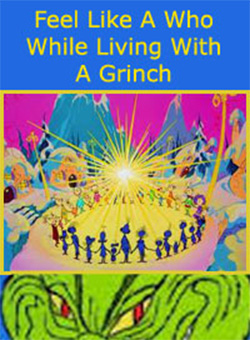 In despair, I broke down. I felt ashamed and mad at myself for moving far away from my true heart. I prayed and begged for God to change things for me. I baited Him, praying, "I know you could do it, so please change this misery!" If you've heard the bible story of Jesus in the desert, you know that the devil tempted Him to use his powers to relieve His suffering, too. I acted like a little devil to God, and like all devils, God easily and repeatedly said, "No".
It isn't up to God or your abuser's friends or their family or you whether or not your abuser ever changes so you can have peace. If change comes, it won't be to give you peace anyway! It will come because your abuser wants to change.
I felt God abandoned me. I felt alone in all the world and had a big ol' pity party for myself. When I couldn't cry anymore, I decided that what I was doing was not working. "Insanity is doing the same thing over and over again while expecting different results" began to make sense to me. Praying in the manner I prayed and fighting my ex in the way I'd fought would never work to bring me peace. But what would?
Peace In Abusive Relationships Requires You To Build A Life Worth Fighting For
Throughout those years of misery, I never focused on my life. Sure, I was mad at my ex for making it difficult to attend college and begin a business. I was mad at my ex for telling me who I was and what I wanted. I was mad at him for many things with good reason! But if you had asked me what I wanted to go to school to become, I couldn't answer you. Likewise, if you asked me how I defined myself or what I wanted for my life, I could not have answered you.
I fought him so hard that I forgot what I was fighting for.
I have to build a life for myself that I want to fight for. And being miserable in some place where they take away all the things I actually do love about life seems totally counterproductive. Stripping me of joy and hope isn't going to do help me make healthier decisions. ~Nic Sheff
Nic Sheff speaks about sober houses in the quote above, but it fits living in abuse, too. Victims of abuse need to (re)build their lives and feel valuable. But they cannot do that in a relationship that takes away all they love about themselves and erases joy and hope. You cannot build a great life fighting someone else for the right to build it.
How to Stop Fighting And Find Peace In Abusive Relationships
STOP fighting. Just like that. Stop it. Quit yelling and sniping. Stop trying to one-up the abuser. Stop co-creating the abuser's path of escalation. When you stop acting like someone you are not, you are forced to decide who you are.
How do you decide who you are? That's easy enough. Set personal boundaries and enforce them peacefully. A boundary is only you deciding what you like and what you don't like, then expressing your feelings non-confrontationally and taking actions that make it very hard for your abuser to "make" you feel miserable and angry (5 Ways of Dealing With Verbally Abusive Relationships).
Personal boundaries remind you to be you. I requested a commenter to the blog to do this:
When you hear yourself saying things that you don't like, shut your mouth. When you feel like doing something that does not align with who you want to be, do not do that thing.

The abuser is likely to attack viciously when you put your boundaries in place. It is difficult to keep your mouth shut or walk away when someone says hateful things to you, but with practice it will get easier.
Boundaries let you be you - and your abuser to be themselves. Over time, you will come to see that you deserve much more out of life. You will want to create a life worth fighting for instead of fighting someone for the life you want.
-----
I wish you all a very peaceful holiday season. Remember that abuse can increase throughout the holidays, so give yourself the gift of peace as often as possible.
You can find Kellie Jo Holly on her website, Google+, Facebook and Twitter.
*Both women and men could be abusers or victims, so do not take my pronoun choices as an implication that one gender abuses and the other is victimized.
APA Reference
Holly, K. (2013, December 4). How To Find Some Peace In An Abusive Relationship, HealthyPlace. Retrieved on 2019, July 19 from https://www.healthyplace.com/blogs/verbalabuseinrelationships/2013/12/fighting-for-peace
Author: Kellie Jo Holly
Instead of waiting for that house to fall, you could fill out a safety plan. Doing that will help you prepare for the worst of it. I've found that most people who complete the safety plan grow less tolerant. And less tolerance is what makes houses fall. Here's a link to the plan: http://verbalabusejournals.com/how-stop-abuse/safety-planning/
Scroll down the article to the bottom and download it for free.
Leslee I'm so sorry you're going through this. I understand completely as I'm in the same situation. I am currently listening to his ranting after I stood up to him ridiculing our eldest so once again. I decided I needed to rise above it so went to google for answers, come across this blog.
What made me feel better was knowing others are going through the same thing then I realised something else. I've learnt how to recognise trauma and the fight or flight response, I've taught my children how to use their breath when dealing with their twat of a father once he's been drinking but I failed to do it myself.
Breath in for the count of 4, hold for the count of 7, breath out for 8 repeat as necessary. It really helps and I see things differently, calmly. Hopefully it can help you too xx
Dear Joy, please don't be so hard on yourself. Writing that statement, I knew it was easier said than done, but I wanted to put the idea in my readers' heads because it is, truthfully, the best thing to do. The key, and I believe I'll write this in my next post, is to fill your head with ALTERNATIVE reactions. This is where setting boundaries, visualization, and taking time out to focus on what you want come into play. Setting boundaries gives you something to say (or to THINK) when your abuser is doing/saying something that causes your head to spin, wonder what the true story is, etc. The goal of visualization enables you to play future movies in your head where you see yourself acting and reacting in strong healthy ways. Focusing on what you need and want will help you to set your boundaries and create the visualizations that empower you to act THAT way in real life.

When you start changing the story in your head, it plays out your way in reality. You can never truly anticipate what your abuser will do, yet we spend countless hours reliving our abuse in our minds because it hurts and because we want to figure out how we could have done things differently. Repeatedly hurting ourselves with these horrible memories helps create depression, ptsd, anxiety, etc., yet at times, it seems like all we can do. But it isn't. Replacing those thoughts with the things I mentioned above creates a healthier mind-environment from which we become able to "STOP".

Joy, use the statement as a GOAL, not an immediate mandate. Sometimes you will fall into the trap, but in time you will fall MUCH less often until it is not a war to stay mind-healthy.
Thank you for this post Kellie Jo. I know you wrote it a few years back, but it's reaffirmed what ive been trying to do. Can't argue if there's no-one to argue with can you?
Leave a reply