Accepting Verbal Abuse as Truth
In the beginning, he told me stories about the hardships he'd endured, and I thought I could be the one to show him what happiness felt like; I thought I could coax his mind away from the anger he held and fill his heart with love despite the pain he felt inside. I wanted him to have brightness and beauty in his life to rival the heartbreak and anger. I never thought I would become the source of his anger, the reason for his pain, or hated.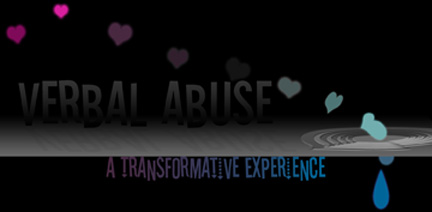 I Changed My Behavior
In an effort to ease some of his anger, I altered my behavior. I rationalized it by thinking he was trying to protect me when he told me to "Stop touching people when you talk - they are getting the wrong idea." I became ashamed of being a female in uniform when he'd say, "Military women are whores - not you - but they're whores, and everyone knows it."
I became hyper-vigilant and fearful of going to work when he started calling me one of the few names he ever called me, "Whore!" I knew it wasn't true, but I thought I must be doing something wrong for him to call me such an ugly word.
I decided that if he could see my heart for its goodness and flaws, then he would see me and the truth would ease his mind. I loved him despite his mistaken perceptions, so I opened up to him more deeply. I expected that he would do the same, but asking him to move into a deeper realm of intimacy was like begging a brick wall to speak.
He Never Changed
His stories never changed, new ones never added. He'd refer back to his formative stories to explain why he was "right" or simply repeat the same old tale to me as if I'd never heard it before. When I tried to talk of feelings I presently held or indicate that my thoughts were changing, he'd shut me down quickly by referring to a point in the past and indicating that I was either making a mistake or didn't understand the reality of the situation ( "Don't you ever learn?!"). I loved him; I believed he held my best interests at heart, so I listened.
During these early days, I didn't think that I'd already heard his whole story. I thought there was more to come. I fought to bring him closer. I tried so hard to provide an environment for intimacy that I became willing to overlook his lack of participation. I'd exit an "intimate" conversation feeling like someone had rolled me through the wringer of an old washing machine.
I Traded My Voice for His
Although I offered up pieces of myself, he hadn't reciprocated. It felt like he shared something with me because he had taken the opportunity to judge and blame me, implant seeds of doubt in my mind, or gently insist that I was making a mountain out of mole-hill. Usually, he did this in a loving tone.
In the process of turning myself over to him, I collapsed inside; my own voice became tiny and annoying. I handed my power over to him on a trusting platter. I came to believe he knew me better than I knew myself, when in reality, he didn't know me at all. He only knew who he wanted me to be.