Effect of Combat PTSD on Spouses – Secondary Traumatic Stress
A while back I wrote an article on how symptoms of combat posttraumatic stress disorder (PTSD) can be seen in the children of veterans. Not surprisingly, PTSD symptoms can also be seen in some spouses of those with combat PTSD, even though the spouse never directly went through the trauma the veteran did. This is often known as secondary traumatic stress or secondary traumatic stress disorder.
What is Secondary Traumatic Stress?
Secondary traumatic stress can be thought of as PTSD symptoms seen in those directly related to a sufferer of PTSD not emerging due to a lived trauma. In other words, PTSD is passed from veteran to spouse by way of their close relationship and through transmitted knowledge of the traumatic event.
According to Problems in families of male Vietnam veterans with posttraumatic stress disorder, when compared to spouses of veterans without PTSD, spouses of veterans that have combat PTSD report:
Severe and diffuse problems in marital and family adjustment
Problems in parenting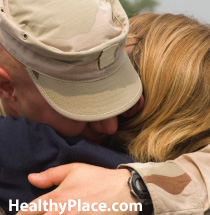 These types of problems would be expected in a veteran with combat PTSD but we now know these problems occur in his or her spouse as well.
Research suggests that secondary traumatic stress manifests almost identically to PTSD. Noted in the study, Distress in Spouses of Service Members with Symptoms of Combat-Related PTSD: Secondary Traumatic Stress or General Psychological Distress?, those suffering from secondary traumatic stress are seen to have,
. . . PTSD-like reactions, specifically including re-experiencing or avoidance symptoms related to the event(s) experienced by the significant other (e.g., dreams about the significant other experiencing the event, avoiding reminders of the event).
This study found that between 21.6-42.6% of wives reported symptoms severe enough to quality as PTSD in the spouse.
(Almost all research centers around male veterans with female spouses; however, there is no reason to believe that male spouses would fair any differently.)
Caregiver Burden and Secondary Traumatic Stress
In addition to the manifestation of secondary traumatic stress, the caregiver (most often the spouse) also experiences a burden in caring for the person with the mental health issue. Caregiver burden is more pronounced in spouses of veterans with more severe combat PTSD. This caregiver burden is thought to possibility contribute to the secondary distress felt by spouses.
What Can Be Done about Secondary Traumatic Stress in Spouses?
At this time, there is no research that notes the most effective way of handling secondary traumatic stress in spouses. However, that being said, as their symptoms appear to parallel PTSD, it only makes sense that the therapies for PTSD would also be effective for spouses with secondary traumatic stress.
Additionally, treatment of the veteran with combat PTSD is thought to improve the spouse's distress levels as well. Once this happens, the spouses are able to be more effective caregivers which may help the veterans further. In other words, if one spouse experiences less distress, the other spouse may follow suit.
No matter what, though, ignoring the symptoms of secondary traumatic stress in spouses is not an option any more than ignoring combat PTSD in veterans is. Just as one partner improving helps the other, one partner worsening can bring the other partner down too. So what matters most is that secondary traumatic stress be properly evaluated and treated by a professional (such as a psychotherapist) so that it takes as little a toll on the family as possible.
You can also connect with Dr. Harry Croft on his website, Google+, Facebook, Linkedin and Twitter.
APA Reference
M.D., H. (2014, October 8). Effect of Combat PTSD on Spouses – Secondary Traumatic Stress, HealthyPlace. Retrieved on 2019, June 27 from https://www.healthyplace.com/blogs/understandingcombatptsd/2014/10/effect-combat-ptsd-spouses-secondary-traumatic-stress
Author: Harry Croft, M.D.
I'm the widow of a Vietnam veteran who had severe PTSD. We were together for over 40 yrs married for 40. We have 3 adult sons. He's been gone for almost 6 yrs now died from cirossis & liver disease/cancer from contracting Hep C in Vietnam. I won't attempt to tell my story I would have to write a book. I know I have been affected by living basically my entire adult life with someone who had PTSD and have been looking for some kind of specialized help in my area.
Leave a reply