Alternative Therapy for PTSD – Acupuncture
Posttraumatic stress disorder (PTSD) is a problem not just for veterans, but also for people who have experienced other types of trauma such as a natural disaster or an assault. Because of this, many types of therapy have been tried to treat PTSD including alternative therapies.
One such alternative therapy for PTSD is acupuncture. While many consider sticking pins (not technically a needle as it is not typically hollow) in various locations throughout the body to be a fringe practice, there have actually been four randomized controlled trials and two uncontrolled trials on this practice and their results are promising.
Acupuncture for Mental Illness Treatment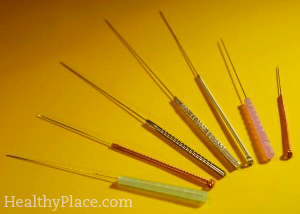 Acupuncture is known as a complementary and alternative medicine (CAM) and acupuncture is sometimes used in the treatment of many mental illnesses including anxiety disorders, dementia, schizophrenia, eating disorders, sleep disorders and substance use disorders. PTSD itself, is typically classified as an anxiety disorder. Acupuncture is generally considered safe and well-tolerated for the average person.
Evidence for Acupuncture Use in PTSD Treatment
The review, Acupuncture for Posttraumatic Stress Disorder: A Systematic Review of Randomized Controlled Trials and Prospective Clinical Trials, found that:
One, high-quality randomized controlled trial (RCT) found that acupuncture was effective when compared to a waitlist control (those who had no received the treatment) and that acupuncture was as effective as cognitive behavioral therapy (CBT – common in PTSD treatment).
One RTC showed no statistical difference between treating PTSD with acupuncture and treating it with a selective serotonin reuptake inhibitor (SSRI – a common medication used in PTSD treatment).
One RTC showed that adding a variant of acupuncture (acupoint stimulation) to CBT treatment improved the effectiveness of treatment.
A meta-analysis revealed that acupuncture plus moxibustion (a traditional Chinese medical therapy) fared better than treatment with an SSRI alone.
What Does this Mean for People Suffering from Combat PTSD?
The studies evaluating acupuncture for PTSD treatment are not combat PTSD specific, but that doesn't mean their results wouldn't translate to that population (and some veterans were in the study populations). We don't know for sure one way or another.
The one well-designed study, noted above, did show that acupuncture was effective in treating PTSD and that is promising, but the evidence is relatively scarce and based on what we know, nothing definitive can be pronounced.
However, that doesn't mean that acupuncture might not be a good part of your combat PTSD treatment regimen. While I wouldn't recommend dropping other proven treatments like an SSRI or CBT, adding acupuncture might be something you could consider and talk to your doctor about.
You can also connect with Dr. Harry Croft on his website, Google+,Facebook, Linkedinand Twitter.
APA Reference
M.D., H. (2014, May 7). Alternative Therapy for PTSD – Acupuncture, HealthyPlace. Retrieved on 2019, July 20 from https://www.healthyplace.com/blogs/understandingcombatptsd/2014/05/alternative-therapy-ptsd-acupuncture
Author: Harry Croft, M.D.