When Anxiety Is a Barrier to Your Goals in the New Year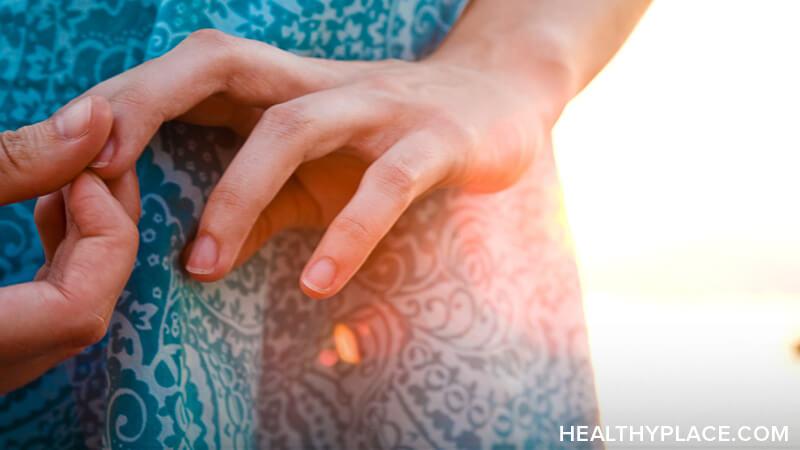 The start of a new year usually brings new goals and resolutions, but anxiety can sometimes be a barrier to actually accomplishing those goals. Because of my anxiety, there have been many times that I have established New Year's resolutions that I had every intention of following, only to find myself unsuccessful at following through for one reason or another.
Being aware of this means identifying and acknowledging ways that my anxiety affects me. And being aware of this also means that it has become crucial that I think about ways to stay the course and persevere through times when I want to give up on goals that I've set. Despite the many things that I know I have accomplished in my life, this is a continuous work in progress for me, and the new year is always a reminder of it.
How Anxiety Might Put Up a Barrier to Your New Year's Resolutions
Maybe at the start of the new year, you are intent on sticking to your resolutions. Maybe you feel motivated and ready to put in the work to accomplish the goals you set for yourself. But then the fears start to kick in, the doubts, and the worries, and this prevents you from taking a step forward. This leads to finding reasons not to move forward and making excuses for yourself that aren't realistic.
This is one of the things that happens with anxiety when it comes to goals. I know that there have been many times that I have missed out on an opportunity to accomplish a goal or felt frozen in place and unable to move forward with a goal as I had planned, simply because of the fears and overwhelming worry that I experience. This can also contribute to a lack of confidence, which can lead to simply going through the motions of each day, terrified to step out of your comfort zone, finding it much easier to hide in the shadows where you don't risk stepping out of them and into a threatening situation. Anxiety's lure is sometimes safety and comfort, which also becomes a threat to moving onward and accomplishing things you want to achieve.
How to Stop Anxiety from Being a Barrier to Your Goals
So what can you do to prevent your anxiety from becoming a barrier to your goals, especially when it comes to the New Year's resolutions you have just set for yourself? These are steps that I take -- and recommend -- for helping overcome anxiety-related obstacles:
Acknowledge the anxiety. First of all, acknowledge that anxiety is there. This is something that has taken me years to do for myself. Accept that your anxiety exists and focus that anxious energy into strategizing ways to cope, manage, and overcome.
Identify what your fears are. You feel anxious, but do you know what it is you are afraid of? Taking an honest look at this is critical in taking steps to cope with those fears. Sometimes, when I take a truthful look at my fears, I realize that they are manageable and something I can deal with. This, in and of itself, can instantly make me feel better and boost my confidence.
Set goals that are specific and realistic to achieve. Consider those fears and what you want to accomplish, and set goals that are realistic for you to reach, as well as specific enough that you can check them off a list once you do reach them. This may require you to set smaller, short-term goals, which is absolutely fine. Those small goals can be stepping stones to long-term ones, but as you achieve them, they can help calm that anxiety and build your confidence.
Take the leap. As you build that confidence, capitalize on opportunities that present themselves. When you start to hear yourself making excuses or finding reasons not to move forward, take that leap before giving that anxious voice the opportunity to break through and take over.
As you set goals and resolutions for yourself in the new year, try taking these steps to help you accomplish those things that you want for yourself. If there are steps that you plan to take this year to help you overcome your anxiety, please share them in the comments below.
APA Reference
Bermio-Gonzalez, R. (2022, January 4). When Anxiety Is a Barrier to Your Goals in the New Year, HealthyPlace. Retrieved on 2023, May 28 from https://www.healthyplace.com/blogs/treatinganxiety/2022/1/when-anxiety-is-a-barrier-to-your-goals-in-the-new-year
Author: Rizza Bermio-Gonzalez
This is a beautiful read. I love all your suggestions but two really stuck out to me. Identify what your fears are and take the leap. Both of these are so good and so important. They may seem obvious but they are often the first things we overlook or forget to do when we're in that anxious space.
Hi Lizanne,
Thank you for your comments! It can indeed seem like such obvious steps to realize what you are afraid of and take that leap, but when you are anxious, they are sometimes some of the hardest things to actually do. I think reminding yourself that you can take these steps can sometimes help get you past that anxious block.
I appreciate your thoughts!
Stay safe and well,
Rizza
Leave a reply