PTSD Stigma: Why People with PTSD Can't 'Just Get Over It'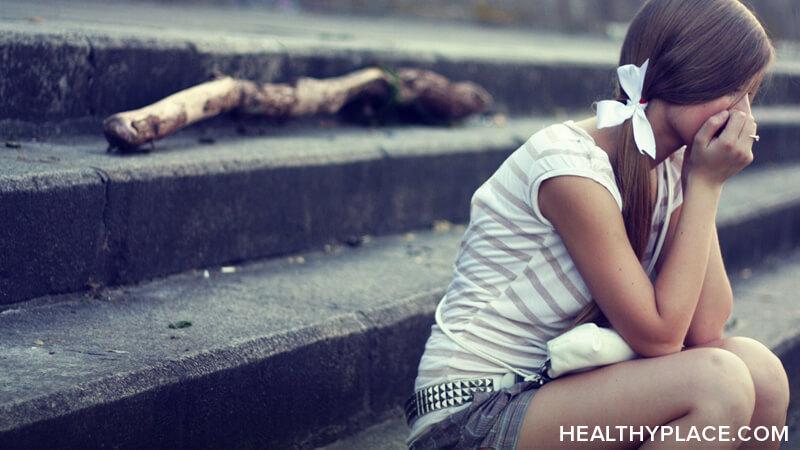 Posttraumatic stress disorder (PTSD) stigma is alive and well. If you have PTSD, you've probably heard someone tell you to "just get over" your trauma. Maybe it was a well-meaning friend or family member, like my father who was frightened by my suicidal ideations. Or maybe it was a less well-meaning stranger, like the rude New Yorker who recently commented on my blog telling me to, "Grow up and take responsibility for [my] life." Whether the statement comes from a place of love or PTSD stigma, it doesn't make sense. Here's why.
Why PTSD Stigma Doesn't Make Sense
The PTSD stigma that says we should "just get over trauma" ignores three key facts about PTSD and PTSD symptoms.
The Trauma that Caused PTSD Doesn't Stay in the Past: It Exists in the Present
When people "get over" upsetting events, it's usually due to the passage of time. Take a breakup, for example. When a relationship ends, there is typically a period of grieving which may involve crying, talking to friends, getting a makeover, or having a rebound. These common post-breakup activities represent rituals that we use to process the event in the context of a cohesive temporal passage. But trauma is not the same as a breakup (PTSD Causes: Causes of Posttraumatic Stress Disorder).
While doing research on PTSD, I had the opportunity to speak with Bessel van der Kolk, a renowned trauma specialist who authored The Body Keeps The Score. One of the first statements he made during our call was that trauma is:
"not a story about the past. It's about how the past continues to live in your body . . . you're in a constant state of heartbreak and gutwrench."
I don't think there's a better way to describe PTSD.
For those of us who have undergone or witnessed a severe, life-threatening or sexual trauma, that experience becomes trapped in our minds and our bodies. Even when we are unable to clearly remember the details of the event during the everyday, we can suddenly become transported to that moment as though it is taking place once again. Trauma doesn't feel like something that happened a long time ago. It feels like it's just happened, or is still happening. How does a person get over something that is still going on?
Childhood Trauma Can Stunt Emotional Growth
For people who experienced trauma during childhood, there may be an added component of neurological damage that affects memory and emotional regulation.1 Even before this relatively recent biological discovery, psychology has long recognized the phenomenon of arrested emotional development, which is associated both with early trauma and early drug use. Essentially, someone who experiences a disruptive event during a time period when she is still maturing can become emotionally arrested at that age.
If someone is emotionally stuck at an earlier developmental stage than his physical age, he is likely to exhibit behaviors that others might find odd or immature. It doesn't mean that everything he says or does will sound like a 10-year-old. This is not an intellectual deficit. It does, however, mean that someone who experienced trauma at age 10 might respond to disappointment by raging or "throwing a tantrum" due to emotional stunting. This can also manifest in less obvious ways, like an under-developed perspective on the world, often labeled as "black-and-white thinking."
For people who experienced childhood and early adolescent trauma, moving past the event includes the added difficulty of correcting emotional stunting that likely results from neurological changes. That is no easy feat. It's certainly not reasonable to expect that person to magically get better if you tell him to "just get over it."
The Trauma that Causes PTSD Is Extreme
Finally, you need to remember that if someone has PTSD, she has experienced an event so extreme it disrupts her cohesive life experience.2 Traumatic events are so affecting because they fall radically beyond the expected human experience. They cause people to make illogical connections, such as between success and danger. If you have never experienced an event that makes you question the very nature of reality, then you simply cannot understand what it's like to be traumatized. Which is wonderful--but don't expect that a person who is traumatized will share your perspective of time, reality, and social conventions.
Sources
https://www.theguardian.com/science/2012/feb/13/childhood-abuse-growth-brain-emotions
https://www.ncbi.nlm.nih.gov/pmc/articles/PMC4166378/
APA Reference
Brico, E. (2018, March 14). PTSD Stigma: Why People with PTSD Can't 'Just Get Over It', HealthyPlace. Retrieved on 2019, August 18 from https://www.healthyplace.com/blogs/traumaptsdblog/2018/03/we-cant-just-get-over-it
Author: Elizabeth Brico