Complex PTSD and Perfectionism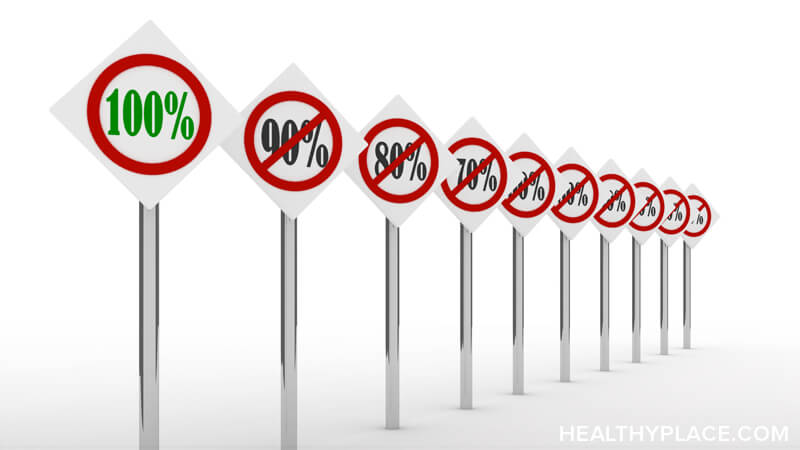 Complex posttraumatic stress disorder (C-PTSD) and perfectionism often occur together. What drives someone with C-PTSD towards clinically significant perfectionism? Generally speaking, perfectionism becomes clinically significant when it results in an excessive or unrealistic need to perform to exceedingly high, self-imposed standards. The drive for perfection is so strong that it can interfere with work, education or relationships. For individuals with C-PTSD, the need for absolute excellence can become a means of dealing with fear and anxiety created by ongoing trauma. Let's examine how trauma drives these unrealistic expectations, and how to set more realistic goals.
C-PTSD with Perfectionism as a Coping Mechanism
When PTSD stems from prolonged trauma, perfectionism often becomes a coping mechanism. For some, having lived in an environment where every action was monitored and dictated by an abuser, perfectionism stems from the need to take control of at least one aspect of life. Likewise, when one's every moved is watched and criticized, a fear of failure can develop. Perfectionism then becomes a response to avoid criticism and punishment. Finally, the same abusive environment can be so demanding and unpredictable that perfectionism grows out of a fear of abandonment from doing or saying the wrong thing. For many, the need to be perfect becomes deeply ingrained, reflexive, and difficult to recognize.
Identifying Perfectionism in C-PTSD
Clinically significant perfectionism goes hand-in-hand with poor self-esteem. It is often unrecognized because an individual driven to perfectionism typically believes they can never be good enough to live up to the expectations of others. They see themselves as far from perfect. Here are some indicators that your PTSD and perfectionism has become problematic:
You set expectations for yourself that you would not expect of anyone else in your position.
You consistently put off self-care and recreational activities to make your work flawless.
You check and recheck your work for mistakes even when you can no longer find anything to correct.
You expect negative feedback even when you have exceeded the expectations of others.
You overperform, often realizing later that you did not need to do as much work as you did.
You stress over the quality of even routine tasks.
Managing Perfectionism with PTSD
So how can you moderate this inner drive for over-the-top excellence? The first hurdle is recognizing that you have unrealistic expectations for yourself. If you see yourself in any of the indicators above, you might find it helpful to dialog with a friend or counselor about the expectations you place on yourself.
Once you identify the areas where you are overly demanding on yourself, try looking at your expectations as if you were assigning them to someone else. What would you consider to be an acceptable, quality outcome from someone else? I usually find myself defining a more straightforward plan to achieve respectable results when I envision judging someone else's performance of my tasks.
At the workplace, consider discussing expectations with your supervisor or a valued coworker. Whether you choose to be open about your PTSD or not, you can still explain your desire to set reasonable, quality goals.
Finally, be kind to yourself. It takes time to put aside a habit that served to keep you feeling safer or more in control. Try to identify your positive accomplishments on a daily basis, and know that you are capable and productive.
Managing Perfectionism Can Assist in PTSD Recovery
Perfectionism often goes unaddressed when other symptoms of PTSD such as flashbacks, anxiety, and depression are predominant. Often, perfectionism is one of the last difficulties to be identified and addressed in PTSD recovery. However, understanding and managing perfectionism earlier in treatment can reduce some of the stress and negative self-esteem that feeds the more predominant symptoms, helping speed the process of overall recovery.
Do you have issues with perfectionism and PTSD? Do you hold yourself to higher standards than you expect from others? Please share your thoughts and comments; I'd love to read them.
Sources
Shrinking the Inner Critic
Perfection and Rumination in Posttraumatic Stress Disorder
When Striving for Excellence Gets You Down
APA Reference
Hollowood, T. (2018, March 7). Complex PTSD and Perfectionism, HealthyPlace. Retrieved on 2019, September 21 from https://www.healthyplace.com/blogs/traumaptsdblog/2018/03/complex-ptsd-and-perfectionism
Author: Tia Hollowood