How to Talk with Someone Who Has PTSD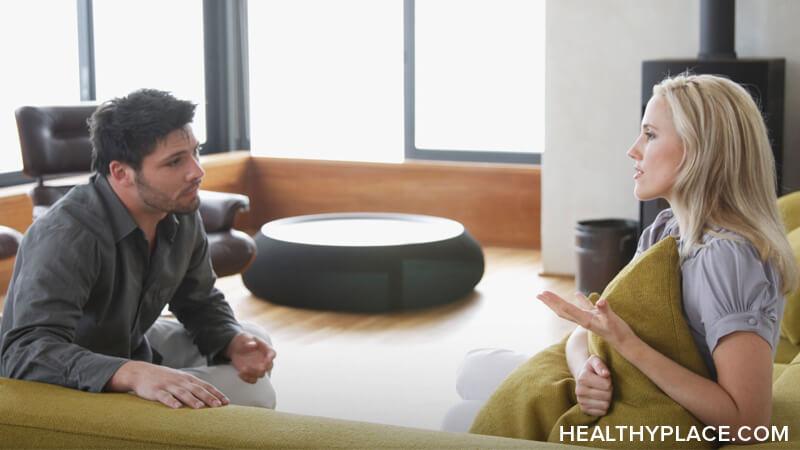 When someone who has posttraumatic stress disorder (PTSD) tells you about the illness, she also entrusts you with an important piece of her life. For most people, having PTSD is not something that pops up in casual conversation. Even for someone who has PTSD who is ready to talk about their experience fears the possible unsupportive response. I'm convinced that in most situations, people simply don't know how to react to PTSD disclosures, and are reluctant to ask. Here is what I'd like everyone to about talking with someone who has PTSD.
Common Mistakes When Talking with Someone Who Has PTSD
Let's imagine you just learned from someone she has PTSD. Perhaps you're uncomfortable with this new information. You may envision hearing details about their trauma that you don't want to know. This might completely change how you see the person confiding in you. You might even think that you should be embarrassed for the one with PTSD. I have encountered all of these responses. To be frank, they are all emotional responses that come from a lack of education and understanding about PTSD.
How to Support Someone Who Has PTSD When She Discloses
When someone decides to tell you about her PTSD, here are some ideas that will help you react in a supportive manner, address your concerns and learn more about how to maintain your relationship in light of this new information.
First of all, don't change the subject. Now is an opportunity to explain that you do not know much about PTSD and that you are not sure how to respond.
Ask how you can best support her considering this new information. Here are some good questions to ask:
It is also a good time to share any concerns regarding reactions you might be worried about experiencing. For example, if I am speaking with someone who has experienced the same type of trauma as I have, I let her know that I cannot discuss details of her experience as the details could trigger my PTSD.
With a little discussion and honesty, knowing that someone has PTSD quickly becomes just one more piece of who they are and lays the groundwork for building an even stronger relationship.
Is there something you've always wondered about PTSD or wanted other people to know? Please share your thoughts in the comments section.