Use Visualization and Guided Imagery for Anxiety or Depression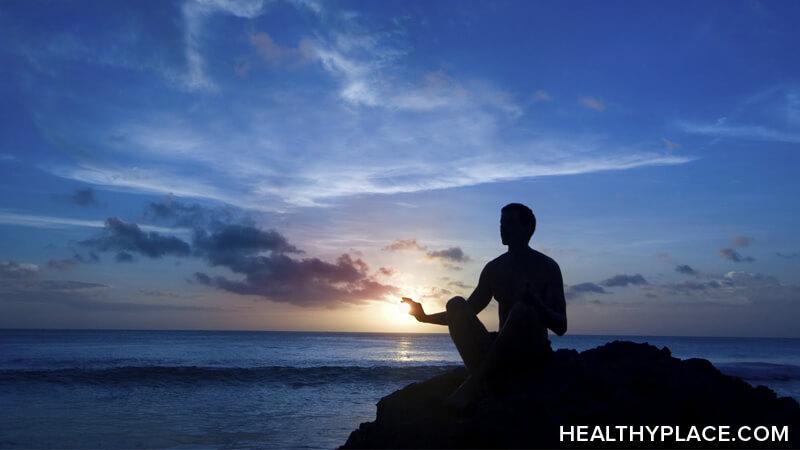 Visualization and guided imagery can relieve the feeling of being stuck in your head that depression and anxiety can cause. It can be dark and scary there. By using visualization and guided imagery, you can temporarily escape all of your negative thoughts and stress at the present moment. To learn about how you can benefit from visualization and guided imagery, read this article.
What Are the Visualization and Guided Imagery Techniques?
Visualization is a type of self-instructed meditation that allows you to mentally transport yourself to a pleasant place or memory. This is a really good strategy if you enjoy making up your own stories or reliving parts of the past in great detail.
Guided imagery is a little different, as it allows a meditator to describe a pleasant place and/or event for you. This relaxation strategy works really well if you are new to meditation.
How to Do the Visualization Technique
Since visualization requires creativity, it helps to either lay down or sit up straight in a quiet room. If writing seems to be a healthy outlet for you, it might help to have a journal in front of you and play some relaxing music. Just make sure that you will not become distracted by your thoughts or other people. A positive and relaxing atmosphere is very important for this exercise.
As you relax, imagine a safe place you would like to visit. Think about the five senses, and describe what you notice in as much detail as possible. After you do this for about 10 minutes, you can spend the next 10 or 15 minutes mentally visiting that place.
How to Do the Guided Imagery Technique 
If you have trouble coming up with the atmosphere through visualization, you can start with guided imagery. Preparing for guided imagery takes a little less time than visualization because the atmosphere and story are already created for you. All you have to do is listen to the guide's instructions before you begin.
If you are new to guided imagery, you might struggle to focus on the place and/or the story. That is okay. You can do the same meditation several times, or you can choose another meditation video and/or audio recording. Two guides whom I highly recommend are Michael Sealey and Jason Stephenson, as they have soothing voices and include a lot of detail in their imagery audio.
Length of Time for Visualization and Guided Imagery
Intense visualization and long guided imagery audio can take anywhere from 20 minutes to an hour, as you want to fully relax and engage all of your senses to imagine yourself in a different place. If you are in a high-stress situation that requires your immediate attention, these techniques can become negative distractions. However, if your stress is so high that you cannot function, you can do very brief visualization by imagining that you are accomplishing something. This can give you the confidence to rise above your stress and complete a difficult task.
To learn more about guided imagery and visualization, watch the video below.
APA Reference
Lueck, M. (2020, February 9). Use Visualization and Guided Imagery for Anxiety or Depression, HealthyPlace. Retrieved on 2023, December 11 from https://www.healthyplace.com/blogs/toughtimes/2020/2/use-visualization-and-guided-imagery-for-anxiety-or-depression
Author: Martha Lueck
Such powerful tools! I love your suggestions for working with visualization and then offering guided imagery as well. These are the kind of offerings that can be wonderful to work with, but if you're not familiar with them, they can feel a tad daunting at first. I think your approach is so accessible and applicable. I love the idea of using visualization as a way of seeing yourself doing something, overcoming a present hurdle and bringing that into a present reality. Powerful!
Thank you very much, Lizanne! 🙂
-Martha
Leave a reply