An Easy Journal Prompt to Strengthen Mental Health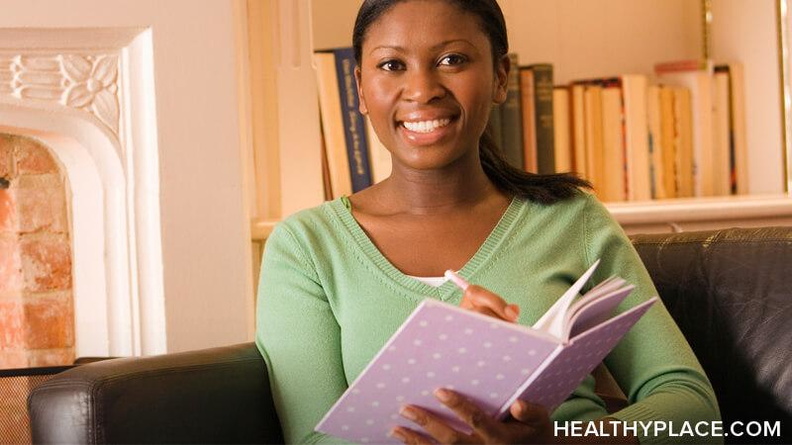 Journal prompts make it easier to journal consistently, but I haven't been using them. It came to my attention while I was sitting in the waiting room before my therapist appointment. A million thoughts raced through my head. "So many things have happened since my last visit. Where did we leave off last time? What do I say?"
Across from me, another patient held a journal. When I saw it, I realized what I'd been missing. I didn't have a record about events that triggered my depression and anxiety. Having a written record of moods, events, and triggers would have been really helpful at that time. I know journaling strengthens my mental health and journal prompts can help facilitate this. Here is an easy journal prompt that you can use for your mental health.
A Good Journal Prompt Can Reframe Your Thoughts
Maybe you've gone to a nerve-racking appointment or a difficult event with a scattered mind and nothing to help you feel centered.
In our busy lives, this is understandable. We don't always have time to think about how we feel or how we can reframe our thoughts. With mental health conditions, life can be really stressful and sometimes just downright painful. I have found that it helps just to have a journal with me, even if I don't get a chance to use it.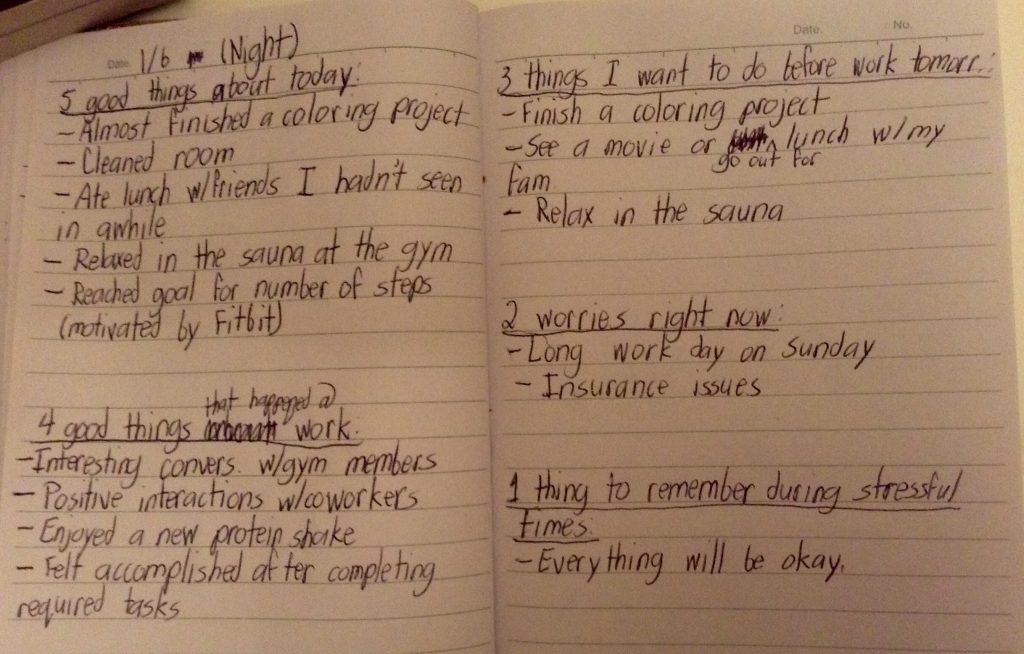 Being a writer, I always used to think, "I have to write 10 pages for this to actually be considered writing." But I was wrong--any number of written words counts as writing. Any amount of writing is beneficial (Depression and Writing as an Outlet). And if an easy journal prompt helps you write even a little, it can help your everyday mental health.
The 5-4-3-2-1 Journal Prompt
When it's hard for me to write, I try to think of topics for lists. Given the time issue, lists can provide a great way to just include a few words for memory or a sense of creativity.
A few months ago, I learned about the 5-4-3-2-1 coping technique, which is meant specifically for the senses. I took the number concept to write lists with topics related to my depression, anxiety, and obsessive-compulsive disorder (OCD).
It's not always easy to figure out which topics you want to include in your lists. Here are two examples of my favorite topics for the morning and night.
Morning journal prompts for mental health:
Five thoughts I have this morning
Four things I have to do before work
Three things I'm looking forward to about today
Two positive quotes
One thing I'd like to accomplish today
Journal prompts at night:
Five thoughts I've had today
Four moods I've experienced
Three nice things I've done
Two people I talked to
One accomplishment I made
Sometimes, it helps to come up with different topics or orders for them. The nice thing about this is that you don't have to come up with everything, or you can come up with more things when you have time. The number concept is just meant to remind you that writing doesn't have to be long and drawn out. Sometimes a short list is just fine.
Journal Prompts for Mental Health Don't Have to Be Serious
Writing lists doesn't have to be tremendously emotional. The topics don't have to be serious (e.g. how I felt, what I thought, mistakes I made, etc.). Rather, they can be light (e.g. new bands I heard, new hobbies I'd like to try, new strengths I found, etc.). The former is intended to help yourself deal with triggers. The latter is intended to distract from anxiety or depression and inspire positive thinking.
On days when you don't have work but struggle with anxiety and depression over issues at home, you can try to spend time reading back through old lists and reflecting on thoughts and feelings that you didn't write down before. This will help you recall many events in less time. Some days, you might find that you can write lists for several hours.
This method doesn't work for everyone, but there are many other methods of therapeutic writing exercises that can also strengthen your mental health (23 Journal Prompts to Improve Self-Esteem) .
For more, see What Is a Depression Journal and Why Should You Keep One? or Four Ways to Journal for Your Mental Health
APA Reference
Lueck, M. (2017, January 10). An Easy Journal Prompt to Strengthen Mental Health, HealthyPlace. Retrieved on 2023, December 11 from https://www.healthyplace.com/blogs/toughtimes/2017/01/lists-for-therapeutic-writing
Author: Martha Lueck
I enjoyed the introduction to begun my journal ,as i sit here reading your article.
Interesting Idea. This is the kind of thing I would have shrugged off just a few years ago as being some kind of liberal hippy dippy nonsense. But I have reconsidered this and started my own Blog to help me structure and work through my retirement depression issues.
Thanks for the article... anyone interested in looking at mine can find it at: <href=retiredhusband.com" title="RetiredHusband.com"
Hi Bill,
I am glad that you found this article interesting and that you are writing to help with your depression. I think writing has more power than some people realize! :)
Keep it up!
-Martha
Leave a reply