The Cost of Self-Stigma
Do you ever feel as if you're not good enough?
Do you ever wake up at night and think, If others really knew me...
Do you ever walk around looking at others, knowing they are better/smarter/more beautiful than you?
Yes.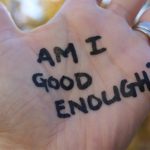 For weeks, I've struggled with what to write in this space.
I had plenty of good ideas — the military and mental health stigma, the roots of stigma, and the upcoming conference with former Rep. Patrick Kennedy (Mental Health Stigma: An Interview with Patrick Kennedy) and others addressing mental health and stigma were just a few ideas that I had.
But I started a new job in September.
I love it. I am able to help the military, veterans, and their families. I write and I meet people and I get to do fun things with kids, such as going to the apple orchard and eat cinnamon doughnuts and drink coffee while getting paid.
I love my co-workers; they are some of the most warm and welcoming people I have ever worked with.
But...
The Voices of Self-Stigma
I'm not good enough.
My writing is boring.
My people skills non-existent.
I don't know how to make casual conversation.
And that old stand-by: I'm fat. People are looking at me, and all they see is fat.
I know a million ways to tear myself down. I've been doing it for decades.
This is what it has cost me:
a finance
a full-ride scholarship to Stanford University
self-respect
several jobs
my marriage
and almost, my life
Effect of Self-Stigma
The problem with self-doubt and self-stigma, at least for me, is that it stops me from doing things. It keeps me from reading and writing and being with friends. It stops me from voicing my opinion and taking part in conversations. It holds me back from realizing my full potential, from using all my gifts fully. The pain of self-stigma is real.
It tells the world that I am less because I struggle with depression and anxiety, because I have struggled with anorexia in the past.
It tells society that my input is less than others.
The problem I continue to face it how to stop this self-stigma. How do I completely let go of the self-hatred, and allow myself to live? How do I stop measuring myself by impossible standards, trying to be thin and witty and beautiful, trying to pretend I'm not in my late forties and have wrinkles and graying hair and a body that has soften with age.
These are the things I have been thinking about lately, searching for answers. I have yet to find any, but that doesn't mean I will stop looking.
Angela E. Gambrel can also be found on Google+, Twitter and Facebook.
APA Reference
Gambrel, A. (2013, October 24). The Cost of Self-Stigma, HealthyPlace. Retrieved on 2019, August 18 from https://www.healthyplace.com/blogs/survivingmentalhealthstigma/2013/10/the-cost-of-self-stigma
Author: Angela E. Gambrel
It's definitely important to remember that no one is perfect, for sure. Although I appreciate your encouragement to others to stop with being self-accusatory and self-depricating, it's not quite that easy. We're all works in progress and have to learn out to get there. I think baby steps and small goals are definitely valuable in getting there before we jump to things like trying to find meaning in our existence. :)
Leave a reply