Exploring the Link Between Creativity and Mental Illness
According to a recent study of 1.2 million people, the link between creativity and mental illness has been confirmed.
I have believed this to be the case since reading the eye-opening book by Dr. Kay Redfield Jameson 'Touched with Fire: Manic Depressive Illness and the Artistic Temperament' back in 1996 and am endlessly pleased that such a comprehensive study with a large sample size has found comparable results to her initial hypothesis.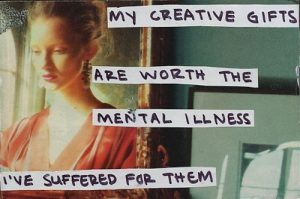 Changing the Way We View Mental Illness
I came across this book in high school when a psychiatrist had managed to convince me that I suffered from bipolar disorder. This book gave me hope. It gave me hope that this daunting label that I had on my shoulders didn't have to be all bad; that perhaps, there were even some benefits. That maybe, just maybe, my life wasn't over.
The exciting thing about this study is that it could potentially change the way that mental illness is viewed, and treated. Simon Kyaga, one of the study's authors, stated that 'if one takes the view that certain phenomenon associated with the patient's illness are beneficial, it opens the way for a new approach to treatment. In that case, the doctor and patient must come to an agreement on what is to be treated, and at what cost.'
He goes on say 'in psychiatry and medicine generally there has been a tradition to see the disease in black-and-white terms and to endeavour to treat the patient by removing everything regarded as morbid.'
The Benefits of Mental Illness
As a survivor of mental illness and also as someone who considers himself to be quite creative, these words ring true in a very personal manner. For many years, I didn't understand why the very 'symptoms' that were etched in my most intense creative bursts had to be drowned with medication.
I think this study should free us to think of mental illness in a whole new way. That essentially, it isn't all bad and in fact, there could even be some great benefits.
Of course, any depression that results in social withdrawal, suicidal thoughts and distorted thinking needs to be immediately addressed. But what about the depression that allows an author to come up with the most twisted fiction of his career? Or the hypomania that allows for the creation of a symphony or the paranoia that is the root of an award-winning psychological thriller?
Cure the Madness, Kill the Creativity?
I wrote some of my best music when I was 'mentally ill.' I even released a five song EP alongside my memoir of songs that I wrote in the desperate lows of depression and during the flowery highs of psychosis. This isn't to say that I haven't written material that I am equally proud of in a totally mentally healthy state but these tunes capture something a little different.
When I was mis-diagnosed as having bipolar disorder (a topic for another column) I was placed on mood stabilizers that completely numbed every creative bone in my body. I couldn't get in touch with those deep, often troubling emotions that fueled my art. I could barely feel any feelings, whether good or bad. It's no wonder that I, alongside millions of people, decided to stop taking them.
We need to stop viewing mental illness in black and white terms. For some people, that very depression that we are trying to cure is the one thing that makes them feel real. And for others, those late-night writing streaks are all that connects them to the rest of the world.
There is a fine line between the sick and the well, and this study has just blurred the line even further.
What I at least will take from this study is that creativity and mental illness are inextricably intertwined.
And we cannot affect one, without affecting the other.
The Completely in Blue website is here. Chris is also on Google+, Twitter and Facebook.
APA Reference
Curry, C. (2012, November 26). Exploring the Link Between Creativity and Mental Illness, HealthyPlace. Retrieved on 2019, July 21 from https://www.healthyplace.com/blogs/survivingmentalhealthstigma/2012/11/exploring-the-link-between-creativity-and-mental-illness
Author: Chris Curry
Hi Travis,

I just read over the blog you're talking about and I can definitely see where you're coming from. What I think that blog is trying to say is that something positive can come from mental illness, but it's a tricky situation to not then romanticize it. As you say, the creativeness can stem from being alone with our own thoughts and act as an escapist activity rather than facing what we're going through head on. It's a matter of recognizing when it goes back to being a negative again.

Thanks so much for your input.

-Laura
Whatever you once had, you can have again! If you can get the depression managed, the writing can come back. I wasn't able to write for a long time as well but it eventually came back. Don't give up hope!
Thanks for reading Tim. I hope you get that journal completed soon!
Leave a reply